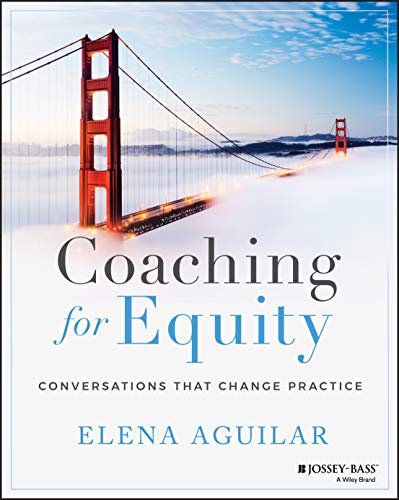 
 
Coaching for Equity: Conversations That Change Practice
Book Overview
Your Guide to Creating Equitable Schools
If we are going to interrupt educational inequities and create schools in which every child thrives, we must refine our conversation skills. Coaching for Equity offers extensive strategies for talking about race, power, and systems of oppression, strategies which lead to changes in a teacher's practice. This book is for teachers, leaders, and coaches who accept responsibility for interrupting inequities in schools and who want to build the knowledge and skills to coach for equity.
Coaching for Equity contains an updated Transformational Coaching framework and the tools and rubrics that are necessary to implement this model of coaching. In addition, personal narratives demonstrate what coaching for equity looks like and help us see how we can make every conversation count towards building a more just and equitable world.
This book is for every teacher, leader, coach, and educational practitioner who seeks to interrupt educational inequities. Elena shares her vulnerability and insights, embraces the power of emotions, and deepens our understanding so we can expand our skillsets--helping us to put relationship before task and keep equity at the core.
--Tamisha Williams, Dean of Adult Equity & Inclusion, Lick-Wilmerding High School
Finally! Elena Aguilar's Coaching for Equity is Read More chevron_right
Frequently Asked Questions About Coaching for Equity: Conversations That Change Practice
Book Reviews
(9)
Did you read Coaching for Equity: Conversations That Change Practice? Please provide your feedback and rating to help other readers.
Don't bother, there's much better

Derived From Web

, Jul 31, 2021

Everything about race, class, religion or other perceived inequities should not be a factor in making a decision, he said. However, these and other cognitive mechanisms are useful and healthy, too. Turner's lawyers asked him to stop work and called for a meeting.
An Essential Resource for Shifting Mindsets and Oppressive Systems in Organizations

Derived From Web

, May 5, 2021

It is not uncommon, especially these past several years, to encounter people who hold low expectations and deficit mindsets, and who operate in ways that foster inequities, said Robert Reichert, a professor at George Washington University. The Coaching for Equity program is an invaluable resource for leadership and coaching, and for teachers and students in general. The book is an easy-to-read and open source of essential information and strategies that are presented in a compassionate and relevant way. The book invites readers to go on a journey toward equitable schools alongside Elena as she offers insights from her own experience, just enough research to support claims, strategies, and additional resources for digging deeper into each area. This is an excellent resource and one that I refer to myself and recommend to others.
A must read!

Derived From Web

, Apr 11, 2021

After reading her first book, Onward and The Art of Coaching Teams, it was a must to read her latest, Coaching for Equity. I recommend this book to anyone trying to embark on coaching with an equitable lens and validation.
This book is not just for coaches!

Derived From Web

, Apr 11, 2021

ELENA Aguilar's new book is a timely read, and it is not just for coaches! This book is for everyone because we all are interconnected and for each and every student to thrive, we need to all participate in the healing conversations Elena Aguilar references in this book, he said. It's the kind of book you want to discuss with a group of friends. It's a thought-provoking read. At times she will step on your toes and challenge your behavior, beliefs and who you want to be. When you finish reading it, you'll realize that you're better equipped to join in the conversation around equity. While this book is relevant for classroom teachers and coaches, I highly recommend it for school leaders too. The book offers practical steps we can each take to ensure our students have the educational experiences worthy of them, he said.
A Coach's Best Resource!

Derived From Web

, Dec 10, 2020

This book is so timely for coaching right now, said Paul Byrd, executive director of the National Association of Basketball Coaches. She has done a phenomenal job of making herself vulnerable in order to connect with other coaches who are experiencing similar issues. I think it's amazing, and I think all coaches can benefit from it, too.
Every Educator and Person in the World Should Read This Book

Derived From Web

, Dec 10, 2020

I have a long admiration for Elena Aguilar and the work of the Bright Morning team. This book was a long time coming and I have read and reread it several times since arriving in August. This book feels like the missing piece in so much work that schools are trying to do in the areas of transforming systems and equity, he said. Educators have a good intention, but it is often too late. Many of the problems stem from deep-seated belief systems and backgrounds. Our inability to take on the issue of race and acting in ways to actively dismantle systemic oppression are big issues for our schools, he said. What I love about this book is that Elena is so vulnerable, writes EL James. I also appreciate the book for providing access to tools for educators of color, as well as white educators, he said. If you are committed to equity work, you will not be disappointed if you buy this book. ELENA Aguilar has written a must-read book for teachers.
If you're a coach, this is a must read!

Derived From Web

, Dec 10, 2020

I am halfway through my coaching. In a biblical passage, the Lord says, "Wounds from a friend can be trusted." Her ability to be vulnerable and open about her thoughts, reactions, and challenges in her own coaching cycles and professional learning journey cut to the heart and then soothed. The two have come together to discuss how the book has opened us up where it stings and where salve has been applied. And back to the proverb, I feel like Elena has come alongside us and is difficult exposing, uncomfortable things to think about and acknowledge while also saying, Me, too. She also said that by trusting her words, she makes it easier to trust her insight. This work of coaching for equity requires so much courage, compassion, and inner strength, said Dr. Elizabeth D. Lee, director of the Institute for Coaching for Equity. The book is guiding us in how to do it, bit by bit.
Reflective, relevant, relatable, and transforming

Derived From Web

, Dec 10, 2020

I'm only 25% into the book right now, but it came at a perfect time for my coaching journey, Melissa said. I love the coaching scenarios that weave through them like stories. This is, in fact, a book to read quickly. Since I first picked up the Art of Coaching, I have felt like Elena speaks to my soul. This book reinforces that sense of wonder.
What the world needs now...

Derived From Web

, Sep 17, 2020

ELENA'S new book has the power to change the face of learning in America's schools. Learning how to have conversations with educators while employing your compassion, curiosity, and lack of judgment supports coaches in developing trusting relationships with their clients while helping them shift their belief systems, he said. I am extremely grateful to have read this book and taken Elena's Coaching for Master Equity Class, he said. It empowers us and gives us the tools to have powerful conversations about race and systems of oppression that result in deepening our self-awareness and support us in building effective habits of mind that result in creating more equitable schools, he said.