Buy 3 Get 1 Free
Our Best Sale Yet! Add 4 Books Priced Under $5 To Your Cart Learn more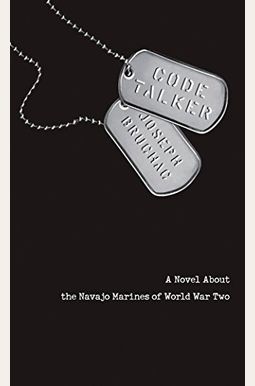 
 
Code Talker: A Novel About The Navajo Marines Of World War Two
Book Overview
Readers who choose the book for the attraction of Navajo code talking and the heat of battle will come away with more than they ever expected to find.--Booklist, starred review
Throughout World War I, in the conflict fought against Japan, Navajo code talkers were a crucial part of the U.S. effort, sending messages back and forth in an unbreakable code that used their native language. They braved some of the heaviest fighting of the war, and with their code, they saved countless American lives. Yet their story remained classified for more than twenty years.
But now Joseph Bruchac brings their stories to life for young adults through the riveting fictional tale of Ned Begay, a sixteen-year-old Navajo boy who becomes a code talker. His grueling journey is eye-opening and inspiring. This deeply affecting novel honors all of those young men, like Ned, who dared to serve, and it honors the culture and language of the Navajo Indians.
An ALA Best Book for Young Adults
Nonsensational and accurate, Bruchac's tale is quietly inspiring.--
School Library Journal
Frequently bought together
Frequently Asked Questions About Code Talker: A Novel About The Navajo Marines Of World War Two
Book Reviews
(14)
Did you read Code Talker: A Novel About The Navajo Marines Of World War Two? Please provide your feedback and rating to help other readers.
Excellent

Derived From Web

, Apr 20, 2022

This book was very interesting, well written, fast paced and very readable. I learned so much '' and enjoyed a lot, too. It gave such a great picture of not only what the Navajos endured during World War II, but also a great glimpse into other areas of their lives. I also learned a lot about Japanese culture at that time. It was powerfully gripping and compelling. It handled difficult subjects very well, giving a good picture of atrocities without ever being graphic or disturbing. I would recommend it highly.
Good story and I like the way it is narrated

Derived From Web

, Apr 20, 2022

The story caught my attention and I read the book in 2 sittings. I could not put it down ''. I like the way it is told, and I like the way it is narrated. I think this book was written for teenagers, but I am 59 and enjoyed it immensely.
The subject matter was very good and had so much potential

Derived From Web

, Apr 20, 2022

Our book club read this book for our middle school. We gave it a C- grade. We gave it a C- rating. The subject was very good and had so much potential. We felt it could have been a great story, but it was a very boring read. We were really disappointed in this book. We were really disappointed.
There's more to this story....

Derived From Web

, Apr 20, 2022

The book gave me so much more information about these brave and dedicated men. And again, we have to realize that discrimination played a significant part in the lives of Americans in this regard.
Not bad, but more "historical" than "fiction"

Derived From Web

, Jan 19, 2022

This is not a bad book. It is not a good book. It tells a dramatized version of a story about which more people should know. Bruchac is a transferable storyteller. In the notes, he mentions that he had to warn his editor about his first draft, because it was too full of facts and figures and not enough story. This definitely comes through in the final product, but is still there in the final product. Especially given that this is a young adult-oriented book, I just don't know if it holds the attention well enough. There is a memoir of the same title by Bruchac that I would recommend before this book. Still, if you are interested in code - talkers and the Pacific War, you could certainly do worse than Chester Nez'; s tale. Bruchac did his homework, since it is almost like reading the same story from a different perspective. After reading Nez's memoir, it is clear that Bruchac did his.
Profoundly Moving and accurate

Derived From Web

, Apr 18, 2021

This book is interesting, while it is deeply accurate and readable. Ned Begay's experiences as an Indian Navajo in the Indian School are just what a roommate experienced mine. I grew up on my first engineering job for six months with a full-blooded comanche and this story matches his experiences well. He moved to the president of the Phillips Oil Company and then rose into finance. With Ned, his courage and intelligence are one. It was our fathers of an age to fight in the Second World War, but we remember it as children. This book gives a broad insight into the Navajo Code Talkers and also makes the Japanese natives on the islands the Pacific War fought on, and yes, human opponents as well. I highly recommend '' this book on many levels. From it, I learned much.
Interesting but sloooow start

Derived From Web

, Feb 18, 2021

Ultimately, this book becomes interesting, but I had to go through about 3 -- 5 chapters before it really caught my attention. I prefer readings that draw you almost immediately. This was a little slow to draw. I, however, read something about the author and what his goal was with this book, and I think he hit the nail on the head with that. I finished the book with a deep and renewed appreciation for what the Native American soldiers not only endured, but also made a very strong contribution to the war. Since then, I have looked for similar texts to continue learning more. Overall, a good start, but a little slow story.
This is a story anyone can relate to appreciate and love.

Derived From Web

, Feb 29, 2020

This autobiographical novel is so plainly written and humbly charms it shaves your socks off. The Marine Navaho Code Talkers of World War Two won most likely the South Pacific portion of the war for America. Yet this book is so simple and so honestly written that you can 't help, but admire Bruchac's humility. This is a story that anyone can appreciate, relate and love.
Great read and will hold your attention

Derived From Web

, Jul 20, 2019

I bought this for my 11-year-old son and loved it. A lot about history is a lot about growing up as a young boy and learning a lot about what it is to become a man. My son asked me if there was another book written as a sequel or something similar, so that we tried to look. I would recommend this to anyone 11 years or older. He even left something on it at the school and the teacher was interested and he wrote it for one of the other students to read at school for one of the other students.
Interesting

Derived From Web

, Jun 26, 2019

This is the second code talker book I have recently read and I thought I liked the detail in the memoir by Chester Nez a little better, but this code talker story is so recurrent and remarkable. I love this piece of the WWII story. I admire the Navajo people so much - they are truly warriors. This story of Ned Begay, who grew up to board the school, where they tried to objure the Navajo language and culture from the minds of the Navajos. At the age of 16, he joined the Marines to fight for a country that had mistreated his people for many years. The Navajo Tribal Council issued a profound statement shortly after Pearl Harbor, asking their men to fight for the US, moving and bringing me to tears. I gained so much respect for the Navajo tribe and their culture. The story continues to describe how the code - talkers in the South Pacific during WWII were able to turn the tide of war and eventually defeat the Japanese.