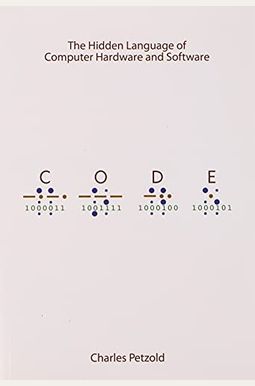 
 
Code: The Hidden Language of Computer Hardware and Software
Book Overview
What do flashlights, the British invasion, black cats, and seesaws have to do with computers? In CODE, they show us the ingenious ways we manipulate language and invent new means of communicating with each other. And through CODE, we see how this ingenuity and our very human compulsion to communicate have driven the technological innovations of the past two centuries.
Using everyday objects and familiar language systems such as Braille and Morse code, author Charles Petzold weaves an illuminating narrative for anyone who's ever wondered about the secret inner life of computers and other smart machines.
It's a cleverly illustrated and eminently comprehensible story--and along the way, you'll discover you've gained a real context for understanding today's world of PCs, digital media, and the Internet. No matter what your level of technical savvy, CODE will charm you--and perhaps even awaken the technophile within.
Frequently bought together
Frequently Asked Questions About Code: The Hidden Language of Computer Hardware and Software
Books like Code: The Hidden Language of Computer Hardware and Software
Book Reviews
(15)
Did you read Code: The Hidden Language of Computer Hardware and Software? Please provide your feedback and rating to help other readers.
however after some reading I've got to love it very quickly

Derived From Web

, May 1, 2022

I'm an electronics engineer, so I was not expecting to find much new stuff of this book when I first browsed the table of contents, but after some reading I've got to love it very quickly. Chances are that most of the devices described along the pages are familiar to many people, specially for those with engineering degrees, but the way this book takes you from one to the next is as natural as that new relationship starts to appear right away. As I read, I learned more about the many difficulties that our peers from the past had to deal with to solve their problems and, ultimately, create the technology of today.
Buy it, love it, share it.

Derived From Web

, May 1, 2022

If you are the kind of person who needs to understand where things came from to really understand them, then this is a great book. The book is truly a book on code, and not just how to code or what to do with code, but what on earth is code and where did it come from? It explains computers and computing in more usable terms than more technical books on the same subject, which it focuses on history and scope rather than technical depth. For a reader like me, who asked every teacher from elementary school through college why do we count to 10, it's just how it's always been done until reading this book.
Awsome introduction to computer systems

Derived From Web

, May 1, 2022

I first saw this book in a bricks and mortar store, picked it up and read a few pages. I was impressed in the simplicity in which he introduced primitive communication that I knew this was a must for my library to share when I had novice or curious minds ask me about the internal workings of a computer. Unfortunately with all the circulating it out circulated, so I had to replace it. So if you are looking to have a book you can reference or share to help educate people on the inner workings of a computer then this is a must have.
Well, that was amazing.

Derived From Web

, May 1, 2022

In "The PC: The Story of the Modern World's Most Popular Computer," Frank Petzold tells the story of how the PC came to exist, including each step of the technology and science needed to make it possible. He keeps things light, and interesting as he connects various moments of human evolution into our modern computers. This book is recommended reading for anyone in programming or IT.
Poorly Printed Paperback!

Derived From Web

, Jul 5, 2021

Many of the customers have reported similar problems with the product.
Missing Diagrams

Derived From Web

, Mar 10, 2021

I don't know what's wrong with this printing, but I definitely got a misprinted copy of the book. However, the diagrams are incomplete. I dont know why the return window is so short.. it was a gift that wasnt opened until past the return window. there is no easy way to request a refund.
Missing letters and diagrams.

Derived From Web

, Jan 22, 2021

Just about everything about this book will set records, even if you don't buy the paperback. Several large letters are missing from the middle of the book. Only a few of the diagrams are missing and only the top letters in several sentences are missing. Thanks to Microsoft Press.
Missprinted characters, good book, but prin quality is really poor.

Derived From Web

, Jan 4, 2021

The book is very good, Simon said. The error was corrected when the writer corrected the spelling of the first letter. Some of the problems are resolved in the second half, Morgenthau said, adding that the problems "are mostly mechanical." It doesn't affect the reading, but it's not the print I expected from Amazon. com. Also, paper and book quality is quite low compared with other books I've purchased from Amazon in the past months. As I read more and more, it becomes unreadable. Yes, it affects the reading. We're losing money on useless products, Hollingworth said.
Diagrams Missing Renders The Book Not Understandable

Derived From Web

, Dec 30, 2020

The book uses diagrams to illustrate the core concepts of computing. However, the diagrams are not printed properly which makes it impossible to properly communicate the author's idea across. The book is great, however the quality of the printed pages was not up to the standard.
A very well written book

Derived From Web

, Mar 2, 2020

The book helped me understand a lot about programming and I would recommend it to anyone who wants to learn more about computers. For someone with no background it will be hard to understand the last few chapters where Transistors and Circuits are included.