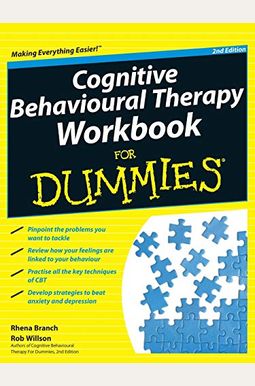 
 
Cognitive Behavioural Therapy Workbook for Dummies
Book Overview
Dozens of practical exercises and easy to perform techniques for banishing negative thoughts before they take hold
Whether you're trying to overcome anxiety and depression, boost self-esteem, beat addiction, lose weight, or simply improve your outlook, cognitive behavioural therapy (CBT) offers a practical, sensible approach to mastering your thoughts and thinking constructively. In this updated and expanded edition of the companion workbook to their bestselling Cognitive Behavioural Therapy For Dummies, professional therapists Rhena Branch and Rob Wilson show you, step-by-step, how to put the lessons provided in their book into practice. Inside you'll find a huge number of hands-on exercises and techniques to help you remove roadblocks to change and regain control over your life.
Cognitive Behavioural Therapy Workbook For Dummies, Second Edition
Develops the ideas and concepts that presented in the bestselling Cognitive Behavioural Therapy For Dummies, Second Edition and provides exercises to put those ideas into practice
Features a range of hands-on CBT exercises and techniques for beating anxiety or depression, boosting your self-esteem, losing weight, or simply improving your outlook on life
Rhena Branch and Rob Willson are CBT therapists at the Priory Clinic in London, and the authors of Cognitive Behavioural Therapy For Dummies.
Frequently Asked Questions About Cognitive Behavioural Therapy Workbook for Dummies
Books like Cognitive Behavioural Therapy Workbook for Dummies
Book Reviews
(8)
Did you read Cognitive Behavioural Therapy Workbook for Dummies? Please provide your feedback and rating to help other readers.
In addition it can be useful for working things out on your own

Derived From Web

, Feb 11, 2022

The book is very well done. I can say that it is very accurate to the school and methodology because I have been trained in it. It explains things well and is understandable to people who don't know a lot about the field, in fact I have quoted it in therapy sessions to help explain concepts to clients! It's useful for working things out on your own, and it's also helpful in dealing with some of my own anxious thoughts. An excellent book, and would recommend it to others.
My go-to book

Derived From Web

, Feb 11, 2022

The book is broken down to its most minute concept, so I use it faithfully with my clients. The homework assignments in it are easy to follow and break down the various illnesses such as depression, anger, anxiety and other ailments that client's really have thatAHA moment when doing the homework. They don't want to. The books in the Dummies series have helped. Some of my clients have returned my books in favor of buying their own so they could highlight in them and share their knowledge with family and friends.
If this book was made mandatory reading in every senior school, what a wonderful world it would be.

Derived From Web

, Feb 11, 2022

I have done cognitive therapy myself and found huge success in my life. It's now second nature for me to handle things with ease. I recommend this book to every parent and child who is struggling with a problem. Everyone can benefit from cognitive therapy. It's the answer to the fight against anxiety and depression. I purchased it for a friend of mine but she wasn't ready for it, my mum also rejected it, which was a shame because I know that it would have turned their lives around 180 degrees. My daughter in law is reaping the benefits after taking it willingly.
Don't let the silly name fool you, this is really good!

Derived From Web

, May 7, 2021

It is the real deal, recommended by my therapist. Well written, great value. This book is very helpful for anyone, unlike other books that seem to be more about phobias.
Excellet must have

Derived From Web

, Dec 28, 2020

It's a go to reference for every therapist, and it gets heavy use from those newer to therapy. Many people take it home to read and look at when they need ideas. I'd use this to teach CBT. It is useful for clients. I am a licensed psychologist and many of our therapists are LCSW and professional counselors so great no matter what your background is.
Excellent book

Derived From Web

, Feb 22, 2020

I can't say enough great things about this. You can fill out the forms in the workbook to work through the problems and find out what you like about thought processes. You can change the way you look at things. The inclinations of many people are very insightful. There is a relationship between thoughts, feelings and behaviors. I am very happy that I ordered this. The Cognitive Behavioural Therapy For Dummies book is a wonderful complement to it. I think the two of them should be placed together.
Great book, difficult to use with clients

Derived From Web

, Jan 30, 2018

It's difficult to make copies for clients. It would be great if there was a website to print off the worksheets for those who purchased the book.
Great for every type of learner! Never boring!

Derived From Web

, Aug 18, 2017

This book is wonderful. It was much bigger than I expected. I just got it and it's great. It's easy to comprehend. They took into account that everyone learns differently and use multiple techniques to explain with introductions in each chapter, definitions, pictures, scenarios, examples and quick summaries. Very helpful and not boring. I would recommend!