Buy 3 Get 1 Free
Our Best Sale Yet! Add 4 Books Priced Under $5 To Your Cart Learn more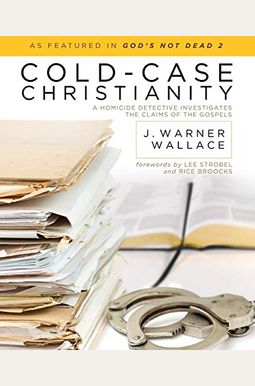 
 
Cold-Case Christianity: A Homicide Detective Investigates The Claims Of The Gospels
Book Overview
This Description may be from another edition of this product.
The existence of God: It's one of life's most meaningful and challenging questions. For many of us, diving into this question can be daunting and fraught with challenges to separate fact from fiction for ourselves. But what if we approached this question in the same way a detective might approach investigating a homicide? What if digging into the forensics helped us understand if God left His fingerprints all around this crime scene called the universe?
Join renowned cold-case detective, author, and speaker J. Warner Wallace in this compelling eight-session video series with facilitator's guide. Determine for yourself if everything we see in the universe can be explained solely from causes found within the natural realm, or if there is evidence of an outside intruder--or rather, God.
Frequently Asked Questions About Cold-Case Christianity: A Homicide Detective Investigates The Claims Of The Gospels
Books like Cold-Case Christianity: A Homicide Detective Investigates The Claims Of The Gospels
Book Reviews
(10)
Did you read Cold-Case Christianity: A Homicide Detective Investigates The Claims Of The Gospels? Please provide your feedback and rating to help other readers.
Worth the read. For all skeptics.

Derived From Web

, Feb 18, 2022

This book changed my life. It changed my life. The Lord used this book to open my eyes. I went from believing in all religions to hating in the Lord wholeheartedly in the Lord. It is impossible, but sounds good through him. Worth the read : Try to prove the logical facts wrong by proving the logical facts.
A great read and tool to help with Christian apologetics.

Derived From Web

, Jun 30, 2021

I found the book to be a great resource ''. Our family is fascinated for Forensic detective shows and will greatly help provide this perspective when witnessing.
Extremely helpful

Derived From Web

, Feb 4, 2020

J. Warner Wallace's experience as a cold case detective is well served by investigating and giving evidence for Christian faith. I loved the way he kept coming back to the courtroom '', I loved the way he came back to the courtroom. The evidences are presented for a case and the jury must make a decision beyond a reasonable doubt. This book will equip every Christian to answer Skeptics confidently. You don 't have to have a fancy degree to become what Wallace calls a two-decision Christian.
Interesting book

Derived From Web

, Jan 25, 2020

We are going through this book in my adult Sunday school class. Has some very interesting points and is an easy read. The writer ties in cold cases he has worked in and applies them in the investigation of Jesus's killing and his resurrection. I am only through the first few chapters, but highly enjoyable. I have also purchased the workbook, but I am not that excited about it. I would not recommend the workbook, but would highly recommend this actual book.
Solid Undisputable Proof for the Believer and Skeptic Alike

Derived From Web

, Dec 7, 2019

After discrediting the claims of the Bible, its foundations, credibility, etc... like a true skeptic which he was originally '', Warner goes on to find much more reason to believe and trust in its authenticity than not. Not only does he uses logic and reason to make his points, but also uses all the skills that anyone seeking to solve a mystery would use... say a detective! Of course, he is, and a top-notch one at that. After reading this book, one could not believe in the credibility of the Bible due to its sheer will and determination to NOT... i.e. Regardless of the facts, you would have to believe a person who simply chose not to be. A must read book, a great read for believers as well as skeptics.
One of the Best Reference Books on the Resurrection of Jesus

Derived From Web

, Mar 9, 2019

As someone who has heard almost all of William Lane Craig's debates and lectures on the resurrection, I was not expecting much new from this book. I was wrong, however! Not only did I learn some new details, but I also appreciated having a go-to resource for all relevant facts relating to Jesus'resurrection. I bought this book in audio and then in Kindle form just so that I could have ready access to the information. Very well done!
... have read a lot of books about everything from intelligent design to the historicity of the Bible

Derived From Web

, Jul 31, 2018

I have read a lot of books about everything from historic design to the intelligent history of the Bible, and this book is at the top of my list. Wallace '' makes a very clear and robust case for Christianity that inspires you in your faith. I recommend this book to Christians of every stage in their lives, as well as to those who are not yet Christians, but would like to know why sane people would believe in such a thing as Jesus.
Provides a new approach to study the bible and recommends focusing on developing areas of interest as a case maker.

Derived From Web

, Jun 26, 2018

After reading an article by J. Warner Wallace for Fox News, I found that I was intrigued by Mr. Wallace's approach to the research. A Homicide Detective investigates then a link to Cold-Case Christianity A Homicide Detective... I bought his last three books. For me, I tend not to read christian written books or other books for this matter, but I was not able to put it down. The approach of Mr. Wallace to proving the authenticity of the Bible and the eyewitness accounts was relatable to how I approach my own profession as a safety and quality assurance inspector. I believe that reading Mr. Wallace's books has provided me with a relatable way to focus my studies and a strong desire to be an effective Christian case maker. Two weeks after purchasing the series, I found out that Mr. Wallace was coming to speak in my church, which further convinced me that I was on the right path.
... material but with a twist that made it more fun and interesting to read

Derived From Web

, Jun 21, 2018

It was a well-done text book - review of material, but with a twist that made it more fun and interesting to read. His referring back to homicide cases to show how the rules of the evidence work, and references to jurist instructions to show how the evidence should be interpreted to make it fun and believable to read. The minute details in Wallace that noticed and showed significance were very enlightening.
This book was very inspirational to my journey.

Derived From Web

, Jun 19, 2017

This book was awesome. I try people in court by eyewitness accounts, I have some law enforcement experience so that it really hits home. For years, I've struggled to accept Christianity. As a former atheist, I looked at the evidence several times but struggles to believe it, even though it appeared reasonable. This book and the analogies from criminal cases hit home and resonated with me. I can 't believe how much more the gospels look authentic by looking at them as eyewitnesses. I never saw that before this book, and it really jumps out at me now.