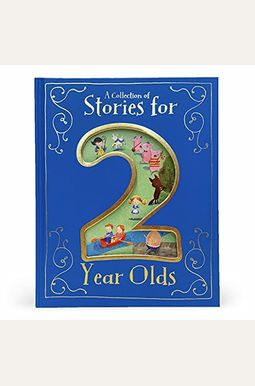 
 
A Collection of Stories for 2 Year Olds
Book Overview
Snuggle up to your favorite nursery rhymes and drift into the magical worlds of all your most beloved fairytale characters with this unique collection of enchanting stories carefully selected to enthrall 2-year-olds. Enjoy the classic tales of The Three Little Pigs and Goldilocks along with exciting new stories and rhymes in this sturdy collectible format filled with playful illustrations your toddler will adore. A perfect book to celebrate your favorite 2-year-old
Short, easy-to-read stories ideal for capturing the attention of toddlers
Playful illustrations fill every page perfect for keeping toddlers entertained and engaged
Includes 10 classic stories, fairy tales, and rhymes designed to delight your little one during storytime
Wonderful gift for any occasion: birthdays, holidays, and more
Collect the series for every milestone Ages 2-5 available
Frequently bought together
Frequently Asked Questions About A Collection of Stories for 2 Year Olds
Book Reviews
(13)
Did you read A Collection of Stories for 2 Year Olds? Please provide your feedback and rating to help other readers.
Meh

Derived From Web

, Apr 20, 2022

The book is all over the place. There are different styles of illustration and only a few long stories. It's difficult to find good books for this age range.
Quality and workman ship of the book

Derived From Web

, Jun 1, 2021

The book is lovely and tells all the old and new mysteries of my childhood.
So special

Derived From Web

, Mar 23, 2021

I love the stories, the books, and the fact that our kids can look back on it through the years.
No cultural representation

Derived From Web

, Nov 15, 2020

There are only three actual stories. Is it possible to have children of other races besides white. There are no little brown boys or girls in the book. I will not be buying the 3s book because my son loves to see children who look like him.
Daughter Loves It

Derived From Web

, Nov 14, 2020

My daughter loves this book. She loves every single one of the 3 stories and the rest of the nursery rhymes. She likes to read every story and nursery rhyme, but her favorites are "Goldilocks and the Three Bears", "Ring Around the Rosie" and "This Little Piggy". She got this as her top gift when she was 2 years old. She always asks me to read it.
Don't recommend at all.

Derived From Web

, Nov 11, 2020

There are only a few stories in the book, then the rest of the pages are songs. Not sure at all. It's not clear why it's called A Collection of Stories for 2 Year Olds. There were 92 pages. There are 17 story titles in the table of contents. WOW! There were only 4 stories for the first 67 pages. Some may be songs. I can't tell!
Only 3 Stories

Derived From Web

, Sep 30, 2020

It is not true at all. There are only 3 stories in the collection. The rest are just one page songs. Not worth it at all!
Poorly made!

Derived From Web

, Sep 29, 2020

We bought this book for my daughter's 2nd birthday because I loved the idea of it. The cover is on the wrong way. Imagine holding a book so that you can read the cover, then opening the book and having the guts of the book be upside-down. If you flip it over, you should expect a proper book that is properly put together. I was hoping my daughter would remember this gift for the rest of her life. I think it is memorable, but not the way I wanted it to be. Thumbs down!
Daughter loves the nursery rhymes

Derived From Web

, Apr 23, 2020

My two year old has never sat through any of the stories in the book, even though it only had 3 actual stories. She gets bored and skips to the nursery rhymes at the end and likes to point at the pictures and name the things she recognizes. The book has been collecting dust in the corner because she had zero interest when I first bought it. She decided this is her new favorite book just 2 days ago and I think she'll like the longer stories when she gets older. It was win-win.
Nice

Derived From Web

, Jan 5, 2020

There were 3 real stories. There is a random story about a boy and his dog. The rest of the book has nursery rhymes. The illustrations are pretty, but they leave a lot to be desired. It should be called A collection of nursery rhymes and stories.