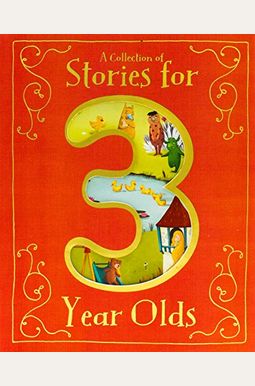 
 
Collection Of Stories For 3 Year Olds
Book Overview
This Description may be from another edition of this product.
Snuggle up to your favorite nursery rhymes and drift into the magical worlds of all your most beloved fairytale characters with this unique collection of enchanting stories carefully selected to enthrall 3-year-olds. Enjoy the classic tales of Chicken Little and Rapunzel along with exciting new stories and rhymes in this sturdy collectible format filled with playful illustrations your toddler will adore. A perfect book to celebrate your favorite 3-year-old
Short, easy-to-read stories ideal for capturing the attention of toddlers
Playful illustrations fill every page perfect for keeping toddlers entertained and engaged
Includes 10 classic stories, fairy tales, and rhymes designed to delight your little one during storytime
Wonderful gift for any occasion: birthdays, holidays, and more
Collect the series for every milestone Ages 2-5 available
Frequently bought together
Frequently Asked Questions About Collection Of Stories For 3 Year Olds
Book Reviews
(15)
Did you read Collection Of Stories For 3 Year Olds? Please provide your feedback and rating to help other readers.
A book for boys

Derived From Web

, Apr 20, 2022

The book is definitely a book for boys, not girls. The main characters in the stories are boys and the only story with a girl as a central character is Rapunzel, who does nothing but wait for her prince. And even in this one girl story, her parents are referred to as a man and his wife, rather than the inclusive husband and wife. I bought it, sight unseen,for my 3 year old nephew and give it to him, but I don 't like its male centrism. If he were my niece instead of nephew, I wouldn t give it to her.
My three-year-old does actually love this book

Derived From Web

, Apr 20, 2022

My three-year-old does actually love this book, in particular the story of Rapunzel. In most cases, however, I find myself changing the wording because it is clumsily written. The nursery rhymes seem to be thrown in at the end without any sense of continuity. The illustrations are mostly nice. My child enjoys the whole book, but in my opinion it lacks just as much polish.
Not that great. Somewhat inappropriate. Not all "stories"

Derived From Web

, Apr 20, 2022

My daughter likes this book, but I find some of the stories for 3 year olds a little inappropriate or unnecessary. A story about Rapunzel, which talks about thorns rubbing the eyes of the prince making him blind? For 3 year olds, there are so many nicer stories out there. The other story about the fox trying to eat the little animals is a little unnecessary at this age. Afterwards, some of the stories in this book are really just 1-2 page nursery rhymes. I don 't have a problem with that, because it doesn't fit in a book called Stories for 3 year olds.
The book came torn

Derived From Web

, Mar 2, 2022

I bought this book a week ago for my three-year-old girl, we love stories, but we received the book already torn. Very disappointed, very.
The full story is not printed out

Derived From Web

, Sep 20, 2021

It prints only the first verse and tells you to repeat it as needed. When I teach a 3 year old to follow, I feel that this is just not a great idea. I pointing out the word five and saying three.
Big book hard cover

Derived From Web

, Sep 3, 2021

What I like about this book is that every adorable story is there. It is my book to read to my grandson, he knows it's time to listen. It is not a book for him to play with.
Horrible book!

Derived From Web

, Mar 29, 2021

These stories could be advised for a 3 year old, but NO WAY. I bought it for my 3 yo twin grandchildren and almost every single story was some dark fairytale embellished to the max with evil looking drawings in dark colors. So unnecessary. Especially for this age, especially for this age. I threw the book away in the trash. This book should not even be for sale. I knew that it would do nothing but scare those children. There are so many excellent books out there, and I am a huge book buyer and reader for children. Even children know how to discriminate and tell a good book from a bad one.
Some content not appropriate for 3 year olds

Derived From Web

, Feb 4, 2021

I agree that some of the items in this book are not things I want to teach my three-year-old. Why couldn t they use the rated version of Three Blind Mice, that I hear when I ask Alexa to play this song? In this book, the poetsong talks about cutting tails, which goes against my constant teaching of being respectful of living things. The story of Rapunzel tells about a witch stealing a new baby from its parents, as well as a blinded man, so these are some scary things to talk about at this age. I really like art and graphics, but I do not like some of the stories.
Best Stories for 3 Year Olds

Derived From Web

, Nov 21, 2020

Good selection of stories to keep your 3 year old entertained for a bit. Unfortunately, I would have liked a few more stories in there, but I am just picking nit. The stories are cute and quite reasonably long for the attention span of a 3 year old. Nursery rhymes in the back are a cute added surprise, I didn 't know was there until my toddler and I go back to the back of the book.
Not what I hoped for

Derived From Web

, Aug 10, 2020

This book is pretty and put together nicely. However, it is not what I wanted or was looking for. I was expecting for bedtime several short stories. It is actually 4 very repetitive stories and then 6 nursery rhymes like 3 blind mice and the first part of Hickory Dickory Dock. My three-year-old was bored and disappointed with it, as was I. If I had been able to look through this book before buying it, I would have passed it on.