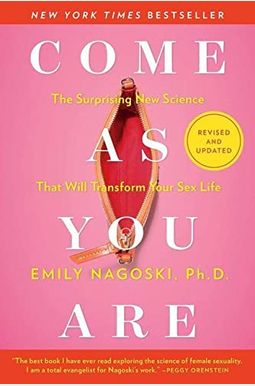  
Come as You Are: Revised and Updated: The Surprising New Science That Will Transform Your Sex Life
Frequently Asked Questions About Come as You Are: Revised and Updated: The Surprising New Science That Will Transform Your Sex Life
Book Reviews
(5)
Did you read Come as You Are: Revised and Updated: The Surprising New Science That Will Transform Your Sex Life? Please provide your feedback and rating to help other readers.
Promises much, and delivers nothing

Derived From Web

, Sep 27, 2021

I spent a lot of time reading this book. Everyone has different bodies, that is okay. Everyone has different levels of arousal. That is also okay. Go for something that turns you on. If you change your mind, you will change your sex life. That is all. The reader keeps reading because the author keeps promising solutions to sexual problems in later chapters. Nope, that's right. Get nuthin'. Fix your head and you will have a great sex life, says the author. I spent a lot of time reading this drivel.
Ladies. Read it.

Derived From Web

, May 20, 2021

Every woman should read this. When it comes to sex, we should not have to live our lives feeling broken because we are expected to work like men. Your sex drive is affected by your stress load.
Recommended by my therapist

Derived From Web

, Apr 26, 2021

The book helped me. I'm in a mid 30's and have been in a slump that was causing serious strain on my marriage. The book helped me and my husband accept that I'm not broken if I have a slower and more sensitive break.
A milestone revision of my sexuality, sensuality and outlook

Derived From Web

, Apr 25, 2021

The book helped me shift my sexual relationships and poor body image into a wonderful, powerful journey with my partner, as a well adversed, richly experienced 64 year old male. Thank you.
This book breaks it ALL down beautifully, logically and, most of all, gently.

Derived From Web

, Apr 13, 2021

I would love to give this book to every woman I know. Women's bodies are sexually wired differently than men's, just like men's heart attack symptoms are different from women's. This book breaks it down nicely and logically. The Shame and Blame Game was started because we have been misled about how women's bodies operate. You can give the gift of updated information by buying this book. You will learn something that could change your life. Absolutely, seriously.