Buy 3 Get 1 Free
Our Best Sale Yet! Add 4 Books Priced Under $5 To Your Cart Learn more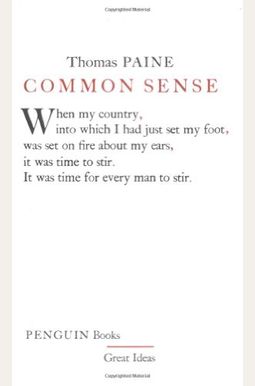  
Frequently Asked Questions About Common Sense
Book Reviews
(17)
Did you read Common Sense? Please provide your feedback and rating to help other readers.
A Review of Why We Fought For Freedom From British Rule

Derived From Web

, May 23, 2022

I decided to revisit this book in Light of the disgust that I feel towards our current political system! I have watched the debates, all 3 of them, and at this point, I believe that we have rightly reverted to 1775, when it came right down to them! We are certainly not subject to the whims of a kings, but in this country we are almost ruled by the aristocracy. When we claim our independence, we need to be reminded that GOD would be our only king! Not money, not the weak, not the powerful, not the bullies, not the rich! We need to meditate and reflect on the reasons we have fought to be free!
History as History should be!

Derived From Web

, May 23, 2022

It is an explanation of the early history and formation of the government and what was going on in the world that demanded its creation. Containing some of the true intent of the early development of the law, it provides a step back in time and reflects what is not taught anymore in schools, but should be understood where it came to be and why.
This is a very good book. It is a little hard to read ...

Derived From Web

, May 23, 2022

It is a little hard to read at the beginning, although as you read it seems to go away and it smooths out. This book shows how much thought and direction went into building this great nation. It also shows what a large part of the imagining of this nation was and is dependant on the morals and integritty of the people who live and govern here. Good read, Mike.
Critical thinking in RIghts of man

Derived From Web

, May 23, 2022

Get some insight into the thinking of the founders when they were drafting the Constitution of the United States. These philosophical minds purported timeless truths that influenced many who were instrumental in our foundational documents. Jefferson and Hamilton and others read and studied these, and n the bio you can get a feel for what Paine influenced to write these folk.
Achievable

Derived From Web

, Feb 16, 2021

I was not interested in history as a child, but as I grew older, a Hispanic child living and growing up in Harlem witnessed racism firsthand and made me curious and now I can 't get enough of history, "our history " and how we have more power with our voices and our votes than we can imagine. Power is knowledge!
Not a real book. You can't read it.

Derived From Web

, Jan 14, 2021

Due to the poor printing the book is not readable. The image shows that the company has printed the words into the folds of the book. If I had known this would be on the front of the book Chump Change Edition '' with a picture of a monkey screaming, I would not have purchased this edition of the book. I 'll ask for a refund. Don 't spend banknote money on this mockery of literature.
A classic argument for civil rights.

Derived From Web

, Nov 5, 2020

While Jefferson and Franklin were in France, Payne was so adamant that the Bill of Rights should be part of the Constitution, that several states made their ratification dependent on the Bill of Rights. In Common Sense, we see the seeds of Payne's passion for certain key rights, expressed in the Declaration of Independence and more fully in the Bill of Rights.
price

Derived From Web

, Mar 21, 2020

I bought this for my son... for ah little common sense.. Just like the movie.. National Treasure If you saw the movie, you know. Makes for good reading too.
Recommended for anyone interested in US history.

Derived From Web

, Feb 26, 2020

This should be a standard reading for high school students, even in standard school.
Not "Complete Works" As Title Indicates

Derived From Web

, Oct 12, 2019

The Kindle version of this book contains only two of Paine's works, namely Reason '' and The Age of Constant '', while the price is low, I can 't imagine why only two of his books appear under the title of Complete Works ''. I wanted to read all his works so that this was a deal breaker for me. Another thing that disturbed me about this ebook was that it showed some 4-6 large colorful advertisements for other ebooks within serious content unrelated to this material. I was really concerned at the author's decision to inject these distractions in the pages of serious, dignified writing. Because of these objections, I purchased the book and returned a copy of Paine's Complete Works... one that actually does what the title promises.