Buy 3 Get 1 Free
Our Best Sale Yet! Add 4 Books Priced Under $5 To Your Cart     Learn more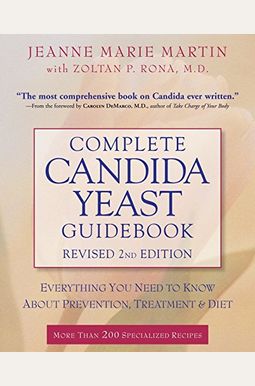 
 
Complete Candida Yeast Guidebook: Everything You Need To Know About Prevention, Treatment, & Diet
Book Overview
This Description may be from another edition of this product.
All aboard for Dreamland The Goodnight Train is taking off on a rollicking, rhyming, bedtime ride that's sure to become your family's every-night read.
Soar past mermaids, leaping sheep, and ice-cream clouds. You won't want to miss a thing, so whatever you do, don't . . . close . . . your . . . eyes With soothing, lyrical words and magical illustrations, June Sobel and Laura Huliska-Beith created a nighttime fantasy that's guaranteed to make even the most resistant sleeper snuggle up tight. Ready to keep rolling? The companion board books T
he Goodnight Train Rolls On
and
Santa and the Goodnight Train
are now available
Frequently bought together
Frequently Asked Questions About Complete Candida Yeast Guidebook: Everything You Need To Know About Prevention, Treatment, & Diet
Books like Complete Candida Yeast Guidebook: Everything You Need To Know About Prevention, Treatment, & Diet
Book Reviews
(13)
Did you read Complete Candida Yeast Guidebook: Everything You Need To Know About Prevention, Treatment, & Diet? Please provide your feedback and rating to help other readers.
Love this book!

Derived From Web

, Apr 20, 2022

This book saved me! I am an artist and I burned myself out making jewelry and I had no energy left for anything. This book turned me completely around. Not only did I lose the bounce back in my step, I gain 20 pounds, my skin was clearer than ever before and I had pretty clear skin, and I was healed within 2 months. The recipes are really good . Chickpea Carrot Casserole tastes good, but is delicious! Even the dog ate it hunker down so that one could take it from him, which is strange because he does not eat that with any other food. I am going to do this diet again because I am feeling a little run down again. It takes a little time to get used to the rules, but it is so worth it. Take your time and slowly add the good and let go of the bad and soon you will be eating the diet. BTW, I would be a little skeptical of some of the purges, especially the H2O2 therapy. Stick with the diet and you are good.
This book's title is CORRECT - EVERYTHING you need to know about Candida Yeast

Derived From Web

, Apr 20, 2022

Unfortunately, I have an overgrowth of the candida yeast. Medicines eliminated it, but did not curtailed it. My doctor recommended that I find a book on the subject that includes a diet plan. He said that many people believe that a low-carb diet does the trick. I'm sure that would help, but this book explains the difference between a low-carb - diet and a diet for candida yeast. It truly does discuss everything you would ever need to know about this disease and some ways to control it mainly through diet. I am glad that I bought it ''. It will be a great reference book for many years to come.
Great Combo of Yeast Info & Recipes

Derived From Web

, Apr 20, 2022

If you just started your anti-yeast Diet and need a book with info as well as recipes, this is your book. If you want recipes just tryCandida Albican Yeast-Free Cookbook, The How Good Nutrition Can Help Fight the Epidemic of Yeast-related diseases. If you want just simple, concise info, get the Bible Cure for Candida and Yeast Infections. What I really like is that she covers almost every supplement that could help you with yeast. The author is also a patient and offers case studies. Get your post-it notepad and highlighter out. In this book there is lots of info!
tons of info, but very strict diet

Derived From Web

, Apr 20, 2022

This book was written by knowledgable and caring authors and has tons of information, but the diet is so strict that I don 't think I could follow it very well. The author also bans common foods, because they are many allergy triggers. And they don 't always specify why a food is banned, whether because it promotes candida, or if it is an allergy. If you have candida and lots of allergies, follow the diet of this book. If you are not an allergic person, try a book such as Back to Health by Remington and Higa. Because this book does not have Candida or yeast in the title, many sufferers will miss it when they are doing searches. The book Back to Health has a liveable diet and it helped me years ago with my candida and I am now doing this program again.
Books recipes very disappointing

Derived From Web

, Apr 20, 2022

I would recommend this book to those who are newly diagnosed with Candida. From it, there is a lot of information that they can glean from it. However, I find that information varies from book to book, so I would not take everything that is there as gospel truth. So disappointed with the recipes '', I was so disappointed. They did not sound appealing to me and contained a number of ingredients I have never heard and don 't keep in my kitchen.
Great recipes

Derived From Web

, Apr 20, 2022

I lost 25 lbs in 3 weeks on the candida diet. The lbs dropped off at 1 to 1.5 lbs a day just dropped off. It was awesome. This book didn't teach me anything I didn't already know from my doctor, but it does have great dressing recipes. I recommend it to anyone who has high allergic reactions or a seasonal candida count. I also recommend it to newbies.
Yeast Problems Gone Completely, also added bonus of size 6 to size 0!

Derived From Web

, Apr 20, 2022

I first used this book in 2008 for the first time. I used it in 2008, when I first used it. I permanently cleared my candida - yeast ''. I followed it perfectly for 3 months and then slowly reintegrated a more normal diet, sticking strictly to it 80% of the time. I also lost 15-20 lbs and went from a size 6 to a 0! It changed just the way that fat was stored in my body. This is definitely very clean eating. This is definitely very refreshing ''. With moving continents and a new career direction, I slipped back into some bad eating habits and have gotten a few yeast infections. I purchased this as an ebook so that I can do a few months of it again. It really works. The recipes are good, but once you get the general idea, you can use a lot of your own recipes and it becomes very easy to integrate. Just make sure you prepare in advance and always bring your own lunch to work for the first part! But it's easy and very effective and very.
???

Derived From Web

, Apr 20, 2022

I ordered the book Eating Your Way To Good Health. This book is helpful, but I do not find it informative as it does not correspond to what my doctor says : I can eat this diet.
Recommend this seller

Derived From Web

, Apr 20, 2022

I was very pleased with the speed of shipping and the price of this book. It was listed as damaged and came with a slightly new corner and looked as if it may have been read a few times. The overall condition was very good, so I would recommend this seller.
Don't bother with this garbage

Derived From Web

, Apr 20, 2022

This book is another low Fat High Carb is the way to go '' and a vegetarian diet is the best for every single piece of junk. The authors have limited nutritional knowledge and at a point recommend a vegetable fast for diabetics! I found it to be very poor and I advise you to avoid it.