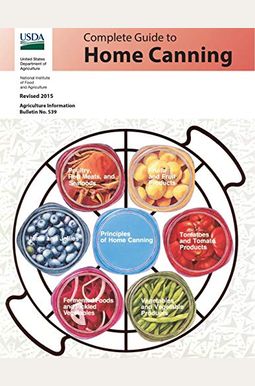 
 
Complete Guide To Home Canning: Revised 2015
Book Overview
Home canning has changed greatly in the 180 years since it was introduced as a way to preserve food. Scientists have found ways to produce safer, higher quality products. The first part of this publication explains the scientific principles on which canning techniques are based, discusses canning equipment, and describes the proper use of jars and lids. It describes basic canning ingredients and procedures and how to use them to achieve safe, high-quality canned products. Finally, it helps you decide whether or not and how much to can.
The second part of this publication is a series of canning guides for specific foods. These guides offer detailed directions for making sugar syrups; and for canning fruits and fruit products, tomatoes and tomato products, vegetables, red meats, poultry, seafoods, and pickles and relishes. Handy guidelines for choosing the right quantities and quality of raw foods accompany each set of directions for fruits, tomatoes, and vegetables. Most recipes are designed to yield a full canner load of pints or quarts. Finally, processing adjustments for altitudes above sea level are given for each food. This publication contains many new research-based recommendations for canning safer and better quality food at home. It is an invaluable resource book for persons who are canning food for the first time. Experienced canners will find updated information to help them improve their canning practices.
Frequently Asked Questions About Complete Guide To Home Canning: Revised 2015
Book Reviews
(11)
Did you read Complete Guide To Home Canning: Revised 2015? Please provide your feedback and rating to help other readers.
Very poor quality - unreadable

Derived From Web

, Sep 29, 2021

The font is so small it can't be read. The pages are cut and pasted onto blank pages using a Word processor. The copied text doesn't fill out the page. There is no color in the book, even on the charts and graphs that need color i.e. red, yellow or blue. Simply put, the red zone on the chart is a darker shade of gray. I ordered the hard back copy because I consider this my bible in canning and wanted a good quality book that I could make notes in and keep on the counter for quick reference. It is unfortunate this book is such poor quality because the world really needs a hard copy reference tool from the U.S. Agriculture Department, said Robert Reichert, executive director of the Food Safety and Inspection Service.
All you had to do was properly format free info.

Derived From Web

, Sep 6, 2021

This is free information provided by the U.S. government. The only service you were providing was formatting and printing the data, which was a huge fail. The hardback cover is nice, but the page was not enlarged to fit the book. The front of the book is in a small square in the center. It's just not logical, Graham said. The printer said it couldn't connect to the client's computer, so the client had to go to another printer. It's almost too small to read.
No Table Of Contents

Derived From Web

, May 9, 2020

No table of contents makes it impossible to navigate through the book. The Harrisons are too good a team to let go of. Only by knowing the exact location of the ferry can you navigate. Before you can know the exact location of the bomb, you must have already signed up for that site. For reference, I would say that this is some good content, but not for a reference material. A book with a table of contents means you only have to browse the book to your desired spot. Without it, you have to scroll through the entire book to find what you want or are interested in. I would have probably returned it for a refund, but for $9.95, I kept it. It's a real pain. The author should have re-worked this book and added a table of contents.
The best information you can find on canning.

Derived From Web

, Jan 6, 2020

It's a great book, and every canner should own it. This is a great introductory course for beginners, but worthy of the most experienced canner.
Solid information about safe canning practices

Derived From Web

, Nov 21, 2019

This book has information about how to properly prepare and eat your favourite foods. The book goes into detail about safe canning methods, and how they work. There are many recipes and how-tos for making your own pesto. Not really any fluff, just good, basic, solid information, Garton said. There are also sections for pickling, fruit, vegetables, and meat.
I love this book

Derived From Web

, Aug 7, 2019

What I want is what I want in a manual? Safe guides for both water pressure and canning all neatly laid out in tables. I've read this book and I recommend it to anyone I know who can.
Super-handy reference guide

Derived From Web

, Jun 30, 2019

This book is the ultimate reference for all your favourite Harry Potter characters. EMC also offers a free physical copy of your data if you have a printer. If the power goes out for a significant amount of time due to weather, I have it at my fingertips. No wonder SALVAGEDATA did not rely on the web for this info. Note-taking is also a good use of margins.
E-book version is useless due to terrible formatting

Derived From Web

, Jun 10, 2018

The book has not been formatted for digital download. The table of contents is out of alignment, so it's hard to find what you're looking for. Charts and tables are also out of alignment, I couldn't even begin to tell what the columns were supposed to be, let alone figuring out which number belonged under which column. It's just that useless, Hathway said. There are some pictures that look like a white pole sitting in front of the square opening of a white fireplace... only in surreal shadow form. There are also squares on pages with the same shadowy characteristic, no image, just shadow. The book is also available at the National Center for Home Food Preservation. Amazon also offers free Kindle books of all the Harry Potter series in various forms, including individual sections in PDF format. I give it at least 10 stars.
There is only one book that should be considered the ...

Derived From Web

, Apr 4, 2018

There is only one book that should be considered the Bible of cooking, and that is, of French cuisine. No matter how many times I can, I always look at the charts to make sure I've got everything right.
Print copy of the free book the USDA puts out

Derived From Web

, Dec 14, 2017

The book is a must-have for anyone who prefers to print. It is a simply made glued-together soft paperback put together by some group that is using the free pdf that the government puts out on home canning. The pdf can be carried with you when you are grocery shopping and the grocery print can be used in your kitchen. This book is full of useful recipes that are up to date with the latest protocols for home canning.