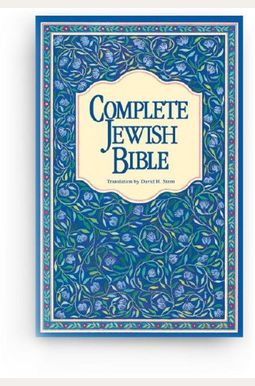  
Product is currently Out of Stock.
You can add it to your wishlist and you will be notified once we receive a copy.
Book Overview
This Description may be from another edition of this product.
Now, the most widely used Messianic Jewish Bible around the world, has updated text with introductions added to each book, written from a biblically Jewish perspective. The CJB is a unified Jewish book, a version for Jews and non-Jews alike; to connect Jews with the Jewishness of the Messiah, and non-Jews with their Jewish roots. Names and terms are returned to their original Hebrew and presented in easy-to-understand transliterations, enabling the reader to say them the way Yeshua (Jesus) did
Frequently Asked Questions About Complete Jewish Bible-Oe
Books like Complete Jewish Bible-Oe
Book Reviews
(8)
Did you read Complete Jewish Bible-Oe? Please provide your feedback and rating to help other readers.
My preferred bible

Derived From Web

, Jul 14, 2021

I love this Bible, translated by David Stern from the original texts. For a Messianic Gentile or a Christianian, this is a wonderful read, as it contains the Jewish origins of the Old and New Covenants - Scriptures. It provides context and understanding and a greater insight. It becomes clear that the new testament builds on the books of Moses and the prophets. It is Jesus'apos ; clarification of the same. For he said, 7Do not think that I have come to abolish the law or the prophets. I did not come to fulfil them, but to abolish them. 18For I tell you that until heaven and earth pass away, not a single jot, not a stroke of a pen, will disappear from the law until everything is accomplished. It is really the complete Bible, one that is easy to read and understand, full of context, which is often missing from Christian Bibles ''. I highly recommend '' this version.
Missing Books of the Bible

Derived From Web

, Jun 15, 2020

I am missing the whole contents of 2Corinthian, ephesians, and the first two chapters if Phillipians are ambiguous.
Every serious Christian should have this Bible

Derived From Web

, Jan 27, 2020

This is a Jewish Old and New Testaments, including Messianic Biblical texts. If you are tired or know that the original and exact church has messed with the Bible - scriptures, here you will find the most denominational translation. My husband and I have read many Bibles and we'll stay with this one. You learn the real names of the people in the Bible and the real prayers that were given to us.
still has quite a few translator's bias so be careful

Derived From Web

, Dec 22, 2019

The layout for this second issue as well as the cover are great improvements from the earlier hardbound edition, but for a book supposedly written by a Messianic Jew, I was kind of disappointed that it did not even have an explanation for its real origin, and was clearly out of context. Yeshua never canceled Leviticus 11. kind of disappointment, but then i guess there is not really no perfect translation out there. They would always have some measure of the translator's bias, so if you're really keen on studying the Bible, never rely on just 1 translation.
The Complete Jewish Bible is ...Complete!

Derived From Web

, May 28, 2018

The language is rich and the text is easy to read, the passages of the first testament in the second are referenced at the bottom of each page, and there is an extensive explanation as a prologue. Both a glossary and a reverse glossary are included during the different biblical times, along with maps.
Love this version

Derived From Web

, Nov 13, 2017

I love this version because it really puts the scriptures back into perspective for their Jewish roots. For the Tanakh, I still like my Artscroll Stone Edition, but this makes a nice merged English version of the Tanakh and B'rit Hadasha for Messianic believers, and I recommend this to anyone interested in reading the scriptures in a more accurate way.
My earlier Kindle review (awful!) is NOT reflective of the hard copy (paperback) edition - excellent!

Derived From Web

, Sep 25, 2017

Recently purchased the Kindle version and was DEEPLY disappointed if you want to use it in the Kindle's way. But this version is obviously very user-friendly. Each night we do, and this stays open in front of us for further clarification as we do so. Construction seems decent so I don 't expect it to fall apart quickly. The appearance is also nice. There is excellent reference material in the earlier part of this book, and the scriptural content is a major enhancement for our daily Bible study. I expect this will be a keeper and see many years from now onwards still daily.
CJB updated, hardback

Derived From Web

, May 17, 2017

Poor quality, see through paper makes it difficult to read. Expected smaller print than small. It seems that they tried to compact it as much as possible, which is sad because it makes it unusable for most of them. The introduction pages are so full of perhaps and maybes making the authors sound so unsure of their information that one wonders why they bothered writing it in the first place. Disappointed and wouldn 't recommend.