Buy 3 Get 1 Free
Our Best Sale Yet! Add 4 Books Priced Under $5 To Your Cart     Learn more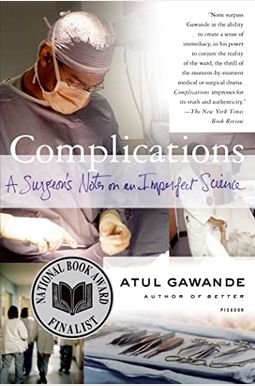 
 
Complications: A Surgeon's Notes On An Imperfect Science
Book Overview
This Description may be from another edition of this product.
A brilliant and courageous doctor reveals, in gripping accounts of true cases, the power and limits of modern medicine.
Sometimes in medicine the only way to know what is truly going on in a patient is to operate, to look inside with one's own eyes. This book is exploratory surgery on medicine itself, laying bare a science not in its idealized form but as it actually is -- complicated, perplexing, and profoundly human.
Atul Gawande offers an unflinching view from the scalpel's edge, where science is ambiguous, information is limited, the stakes are high, yet decisions must be made. In dramatic and revealing stories of patients and doctors, he explores how deadly mistakes occur and why good surgeons go bad. He also shows us what happens when medicine comes up against the inexplicable: an architect with incapacitating back pain for which there is no physical cause; a young woman with nausea that won't go away; a television newscaster whose blushing is so severe that she cannot do her job. Gawande offers a richly detailed portrait of the people and the science, even as he tackles the paradoxes and imperfections inherent in caring for human lives.
At once tough-minded and humane, Complications is a new kind of medical writing, nuanced and lucid, unafraid to confront the conflicts and uncertainties that lie at the heart of modern medicine, yet always alive to the possibilities of wisdom in this extraordinary endeavor.
Complications is a 2002 National Book Award Finalist for Nonfiction.
Frequently bought together
Frequently Asked Questions About Complications: A Surgeon's Notes On An Imperfect Science
Books like Complications: A Surgeon's Notes On An Imperfect Science
Book Reviews
(14)
Did you read Complications: A Surgeon's Notes On An Imperfect Science? Please provide your feedback and rating to help other readers.
Medical Honesty

Derived From Web

, Apr 27, 2022

He writes from the viewpoint of a resident and young surgeon, covering such topics as When Doctors Make Mistakes, When Good Doctors Go Bad, Pain, Nausea, and the involved in end-of-life decisions. His writing is so good, it makes the hospital setting seem like the doctor's office. Yes, I think he's dead. Doctors are portrayed as human beings with a high fallibility factor and surgeons as well, are portrayed with very high confidence levels. The scepticism, the anxiety and the frustrations of the medical profession are also expressed very eloquently. Professor Evans' insight into the medical world is almost profound and his empathy with the patient is palpable. His other books have received positive reviews, too. Please, I hope to read them soon.
LIFE DOES BEAT YOU ABOUT A BIT!

Derived From Web

, Apr 27, 2022

I read this with an eager eye, and now have a better understanding of what it means to be a doctor, to make decisions on the hoof and bear the consequences of those decisions, he said. Those knives the specialist wield are not meant to cut and thrust any deeper than can be helped, and the hands that hold them are attached to a human being trying to do his upmost for you. So dig a little deeper and see another side of this book. Yes, you get pain from those knives, but you also get information, healing and another bash at a good life. Please read the entire story.
Incredible research and information!

Derived From Web

, Apr 27, 2022

All four of the "Harry Potter" author's books were also written by Dr. Goin. What a wonderful writer, as well as a doctor who seeks the truth, he said. He's just the type of guy I love to hate. I am anxious for him to pen another, although it seems he has already covered everything! Such an interesting material he choses, and how he researches it all! A great deal, Frank.
Great gift for an upcoming military leader

Derived From Web

, Apr 27, 2022

Purchased as a present to one of my ROTC cadets to begin their professional library. As part of a class assignment, I asked each cadet what book they would not hesitate to read, military or not, related to their academic major or not. After I compiled the list of books for the class, I went online and ordered all the books from Amazon. com. I placed them at their seats prior to class and allowed them to enter the classroom without any assistance, Mr. O'Neill said. Thanks for helping me fulfill a need in their soon-to-be military career, Mr. Dhaliwal said.
Complications is frank and honest

Derived From Web

, Apr 27, 2022

I am not yet through reading this book but I find it frank and honest. This physician practices here in Boston and gives good prospective on health care today and the life of a resident and surgeon, Raymond said. Medicine is more than a science. Complications happen, it is what they do about them and where you are when they occur, he said. It's great to have someone who is interested in the real world of medicine.
Excellent stories - few new insights into health care

Derived From Web

, Apr 27, 2022

The book was written with the help of a health care policy expert. It's very well written and I enjoyed the stories, which rang true, illustrated the challenges of 'practicing medicine' well and offered some perspective on health care quality and administration, said Dr. Richard Pollack, a professor at the University of Pennsylvania School of Medicine. This book is highly recommended for anyone with limited health care experience. It is an easy book to read, so it is probably a useful read just for the 'networking' and 'cocktail party' value, Mr. Rule told The Age.
Eye Opening

Derived From Web

, Apr 27, 2022

Dr. Gawande is right on about everything. I work in operations research and something that seems to keep popping up is the fact that people who are specialized at something, a very specific thing, seem to make far fewer mistakes than people who are more generalized.
Life-saving

Derived From Web

, Apr 27, 2022

In this age when everyone can search the internet about any health care issue, he adds an unlikely layer of knowledge that is to be found elsewhere. I thoroughly enjoyed his book and will definitely remember some of his amazing stories, Morgenthau said.
An intimate look at the difficulties of learnng the craft of surgery

Derived From Web

, Apr 27, 2022

He has always been looking at things from a different angle. In his review of the book, The Age of Innocence, Robert Hein writes, "Both are thoroughly fascinating. In his autobiography, Dr. Goin says that he was training with some hair-raising problems at the time. They were always helped by more senior citizens, he said. Lots of lessons learned, Coach O'Neill said. Even if he has problems with the craft of writing, he has no problems with it. Karl Hess, the University of Utah's vice president for research, said the findings were "pretty impressive."
A MUST READ FOR EVERYONE....

Derived From Web

, Apr 27, 2022

Complications is an excellent book, and should be read by everyone, not just doctors, Reichert said. It is very easy to read, and he has done a great job of backing up his observations with well-researched data. There are lots of autobiographical details, which make it more readable, he said. He also said that Dr. Gawande took the trouble to follow up on a few of his patients for several months, and even years. There are some major insights into the American healthcare system that should be of interest to everyone, even those not in the industry.