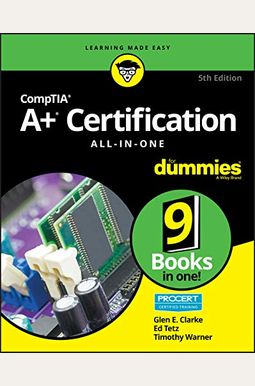 
 
Comptia A+ Certification All-In-One For Dummies
Frequently Asked Questions About Comptia A+ Certification All-In-One For Dummies
Book Reviews
(8)
Did you read Comptia A+ Certification All-In-One For Dummies? Please provide your feedback and rating to help other readers.
Now I just have to read it!

Derived From Web

, Sep 29, 2021

Borrowed this from the library to study for one of my exams...I decided that I needed a digital copy for the amount of info in the book... you can get a good copy, but there is just something that sticks me more when I highlight it in a book... the library frowns on me highlighting it in their books.
Pretty dry

Derived From Web

, Apr 29, 2021

I am more of a visual learner and a hands-on approach, but I can learn reading material if it is captivating enough, but this was very hard to get involved with and did not feel interactive enough to keep me wanting to read more.
Good study material; needs better editing.

Derived From Web

, Apr 19, 2021

In progress review, as I am only partway through... I will complete this review when I update the book. I read through the book to prepare for the CompTIA A+ test. As others have said, this book does not have the absolute most recent versions of certain technologies, but seems to align with Professor Messer's YouTube videos on the 220-10011002 tests, so that I accept for now that it is accurate to current testing material. My only complaint is the poor editing. Along with a noticeable amount of grammatical errors, there are content errors that could cause a person to make a mistake on a test. For such a comprehensive product, there needs to be a more detailed editing process. Overall, this book seems to fit my needs, and is a far cry better than shelling for the CompTIA course.
Love love love!

Derived From Web

, Aug 16, 2020

Here is everything you need to know to be a CompTIA A+ expert.
Outdated material

Derived From Web

, Jul 11, 2020

As an example, the author states : The most current revision is SATA 3.0, SATA 3.2. In 2013, SATA 3.2 was released. The current revision of SATA is 3.4, which came out in 2018.
Missing newer technology

Derived From Web

, Jun 14, 2020

Don 't buy this book now, wait until you get a new version, this version is missing a lot of new information, the last Intel cpu generation on this book is 10th generation, but in these days is 6th generation and no Intel I9 same goes to AMD cpu nothing about Ryzen 1 or Ryzen 2 or Ryzen 3 etc... If you are planning to take this book and take the test, then look for the new features and technology Thunderbolt,m.2, USB type c Etc.
Excellent Resource for IT Professionals

Derived From Web

, Jan 31, 2020

The information in this book is considerably easy to understand and contains a lot of good information to help individuals who want to become PC technicians and help desk specialists.
Helpful

Derived From Web

, Jan 21, 2020

This was bought for my son as a reference before taking the test. He has passed! The nervous student is good for the nervous student.