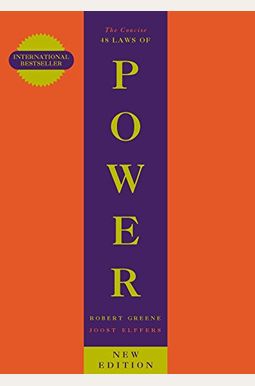 
 
Frequently Asked Questions About Concise 48 Laws Of Power
Book Reviews
(9)
Did you read Concise 48 Laws Of Power? Please provide your feedback and rating to help other readers.
Quick reference

Derived From Web

, Apr 20, 2022

This is the condensed version, but has all the information the real book has. This book is the perfect pocket size or quick reference. The quality of the foam is second to none.
WARNING!!! - THIS IS THE ABRIDGED VERSION.

Derived From Web

, Apr 20, 2022

Great book, but I wanted the full version and did not realize that Concise's meant pocket book edition. Highly recommend the book and the audio book.
You never know

Derived From Web

, Apr 20, 2022

After reading the first five sections, I was amazed at how I could immediately identify three power moves that I had been doing and not realize what it meant. I was engulfed by the book and I had to sift through it all. It was good to see what I can use to gain power, but at the same time, this book has helped me see and understand the actions of others I've come across in Corporate America and other organizations that encompass a Chain of Command, he said. Although my personal constitution has always listened to first, I now listen for certain Power clues in their speeh, actions, etc. Now i know who to watch and how to counter their power moves. This is a definite read for anybody who needs to understand a harsh work-organization environment. The Enemy is still out there, waiting to strike again.
Law 23: Never Commit

Derived From Web

, May 8, 2020

Precisely one of the great books I've read. The laws apply to my daily life, not just my legal status. I prefer it in that way that I am able to attain, practice, and master each law, he said. There are 48 by Robert Greene and with proper application one will become successful at his aim.
Writer comes off as a sociopath

Derived From Web

, Oct 29, 2019

I completely disagree with the writer of this article. Lying, cheating, and backstabbing are apparently advocated. He agrees that power needs to be obtained in a way that is legal. The real power is in being confident and content with your state of being, he said. Not striving to take what you covet from others.
I'm now the CEO, thank you 48 Laws of Power

Derived From Web

, Sep 16, 2018

With only a high school diploma and a 1980s Honda, he was destined for success. Thanks to the 48 Laws of Power, I've moved up a notch.
Great book!

Derived From Web

, Mar 17, 2018

Reflecting the times of the Civil War, the book puts things into perspective. The analogy used to apply it to different situations and how to apply it is mind blowing. I had the original book which was a lot more detailed, but this one is small, gets right to the point and stays in my purse, Tunick said. Whether you are a boss, a team player or just looking for that essential know-how, Bill Gates' book is a must-have.
condensed version of a very good book

Derived From Web

, Jan 17, 2018

be sure you know this is not the full size book which I mistakenly thought I was buying, and gave them to my managers and grand children for insight into business dealings, Mr. Rule told us.
The "HOW TO WIN & INFLUENCE PEOPLE" guide for a new generation

Derived From Web

, Sep 13, 2017

I tried to send this book to my husband, who is in prison. I sent him many books through Amazon, including the autobiography of Malcolm X and The New Jim Crow Massarc Inceration in the Age of Colorblindness. The book was sent to him, but he didn't open it. The officials wouldn't give him a kiss, they kept him in a cell for a long time. The prison sent the book to me at his request and I read it because I was like wow this must be a powerful book if its considered more dangerous to read than prison to a White Globalist conspiracy. I am just shocked, actually, that this little book is considered off-limits to prison inmates, Penguin said. It's kind of a how-to book, sort of. It seems to me if the people who are in prison would read this book and gain insight from it, the result might very well be less people ending up in prison from making stupid mistakes.