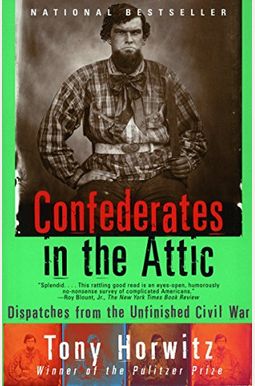 
 
Confederates In The Attic: Dispatches From The Unfinished Civil War
Book Overview
National Bestseller
For all who remain intrigued by the legacy of the Civil War -- reenactors, battlefield visitors, Confederate descendants and other Southerners, history fans, students of current racial conflicts, and more -- this ten-state adventure is part travelogue, part social commentary and always good-humored. When prize-winning war correspondent Tony Horwitz leaves the battlefields of Bosnia and the Middle East for a peaceful corner of the Blue Ridge Mountains, he thinks he's put war zones behind him. But awakened one morning by the crackle of musket fire, Horwitz starts filing front-line dispatches again this time from a war close to home, and to his own heart. Propelled by his boyhood passion for the Civil War, Horwitz embarks on a search for places and people still held in thrall by America's greatest conflict. The result is an adventure into the soul of the unvanquished South, where the ghosts of the Lost Cause are resurrected through ritual and remembrance. In Virginia, Horwitz joins a band of 'hardcore' reenactors who crash-diet to achieve the hollow-eyed look of starved Confederates; in Kentucky, he witnesses Klan rallies and calls for race war sparked by the killing of a white man who brandishes a rebel flag; at Andersonville, he finds that the prison's commander, executed as a war criminal, is now exalted as a martyr and hero; and
Read More chevron_right
Frequently bought together
Frequently Asked Questions About Confederates In The Attic: Dispatches From The Unfinished Civil War
Books like Confederates In The Attic: Dispatches From The Unfinished Civil War
Book Reviews
(15)
Did you read Confederates In The Attic: Dispatches From The Unfinished Civil War? Please provide your feedback and rating to help other readers.
Both hilarious and thought provoking, reads like a travelogue.

Derived From Web

, May 22, 2022

I have been a reader of modern books for over 50 years and none ever made me laugh like this one did, and none covered civil war psychology either. This is not a book to learn specifics about battles and leaders and the war in general, but a book about how many see it today in the South. It is a modern travelogue of the South with reference to the Civil War and its virtual effects. One can read each chapter free of charge if one wants, in any order, and not miss much. The only thread from chapter to some chapters is his reenactor friend, whom he joins from time to time. The author sleeps in the rain and is cold, almost gets beat in redneck bars, and meets a wide variety of characters during his travels. After reading this book, you will understand Southern mentality much better.
You Will Love This Book

Derived From Web

, May 22, 2022

You will get a look at a part of America that you did not know before. The author T. Horwitz is an award winning journalist who took a year out of his life to pursue a passion he had in his childhood, and explores a part of American history that continues to live today. You have lots of discussion to do.
Insights Into A Mystery

Derived From Web

, May 22, 2022

We often shake our heads in bemused bewilderment about the never-ending conflict in the Middle East, but that was long ago! Will you get over it fer cryin 'out loud? But then as an American, read Confederates in the Attic and come to realize that we have similar open-ended wounds in our own back yard. Because it is easy to say to put it behind you and move on is easy for victors to say.
Confederates in The Attic

Derived From Web

, May 22, 2022

One of the best civil war books I have ever read. Tony Horwitz takes the reader through the country side, where we have traveled and wondered and dreamed about the civil war battles. I had just taken a trip to Richmond, so I was thrilled to read the chapter on this area of Virginia. This is a refreshing change from the same Civil War books that all the yawning civil war writers can not seem to get away from. How many times can you read and study about the same battles? The book gets a little too long at the end, but is a wonderful read in the whole. I highly recommend ''.
Read this!

Derived From Web

, May 22, 2022

A book that really makes one think long and hard about the things that are politically correct and who by whom. Horwitz is an author who reads all his books and then read them again before passing them to others.
Witty and Thought Provoking

Derived From Web

, May 22, 2022

Horne has written a very amusing and readable book. Some passages are funny and some are witty or witty. His observations about the memory of the civil war in the South are very illuminating for those of us who have a less than personal attachment to the lost cause. A quick read that entertains and informs.
Awesome book!

Derived From Web

, May 22, 2022

Absolutely fascinating journalism, that I could not force myself to withdraw. Tony Horwitz is a wonderful writer and storyteller. Fresh and insightful perspective on the civil or war between the states. No matter how little or great your subject knowledge is, expect to be surprised and rewarded with a great read.
Good prolonged road trip story, but drags at times

Derived From Web

, Sep 14, 2021

Me : Horwitz covers the multifaceted Southern attitude of attitudes about the War of Southern Rebellion. I think his efforts reveal helpful and informative things and people, but overall there are stretches in the book that drag on and on with little reward at the end. I think his work on Rediscovering the New World - A Long Strange Story '', a later work, is comparatively fabulous, a flowing read and although it is another long road trip, riding with him was worth it. It is amazing how much history we accept as '' real isn ''.
Hideous Cover - Great Read

Derived From Web

, Mar 17, 2021

This book was first published decades ago, but I bought and read it just now. What a great read! I have been reading historical books and visiting the sites and battlefields my life and the ones Tony Horwitz describes are visually accurate and the civil vignettes are spot on. Mr Horwitz ponders all sorts of civil war questions big and small with welcomed humor making this an enjoyable read. The cover of this book is one of the ugliest on my bookshelf and its title Confederates in the Attic '' has me off for years. I have now retired with the time to read some books I had originally passed. I wish I had read Confederates in the Attic '' years earlier.
Great Story telling

Derived From Web

, Jan 15, 2021

The author takes a well balanced look at the South Memory of the Civil War and its aftermath.