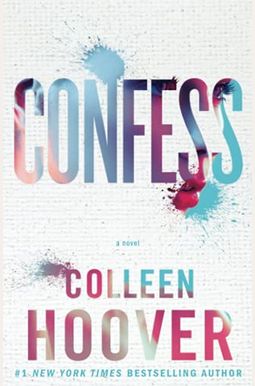 
 
Book Overview
From #1 New York Times bestselling author Colleen Hoover, a new novel about risking everything for love and finding your heart somewhere between the truth and lies.
At age twenty-one, Auburn Reed has already lost everything important to her. In her fight to rebuild her shattered life, she has her goals in sight and there is no room for mistakes. But when she walks into a Dallas art studio in search of a job, she doesn t expect to find a deep attraction to the enigmatic artist who works there, Owen Gentry.
For once, Auburn takes a chance and puts her heart in control, only to discover that Owen is keeping a major secret from coming out. The magnitude of his past threatens to destroy everything important to Auburn, and the only way to get her life back on track is to cut Owen out of it.
To save their relationship, all Owen needs to do is confess. But in this case, the confession could be much more destructive than the actual sin.
Frequently Asked Questions About Confess
Book Reviews
(6)
Did you read Confess? Please provide your feedback and rating to help other readers.
Another home run!

Derived From Web

, Apr 20, 2022

I avoided reviews and discussion groups so that I could enjoy what I knew would be perfect. I went into this book with an open heart and open eyes and I was not disappointed. Colleen Hoover's story of two souls destined to be together was once again knocked out of the park. I became the biggest cheerleader and supporter. I wanted to know who Owen was and what made him into the man he is. I was rooting for two people who faced every obstacle in their path with determination. I won't ruin it for the next person, I will say that Confess gives you everything you expect from a Colleen Hoover book and then some. These are adults that have had to grow up too quickly and face life changes that they hope never happen. Colleen Hoover has done a lot to bring us such amazing stories.
Beautiful story

Derived From Web

, Dec 15, 2020

The author's words with a plot twist stopped my heart. The heart was hanging by a thread. I cried my heart out in the first chapter. When I thought life was moving one way and my emotions were in check, they went south. I thought that the tale of a second chance of love would never happen. The author takes you on a ride with characters you love and ones you just want to punch. Colleen hit you with an amazing twist of fate when you thought the wrongs had been corrected.
It gets better

Derived From Web

, Dec 4, 2020

Even if it means taking on a second job at a strange art gallery with an enigmatic artist named Owen, auburn is willing to do whatever it takes to move her life forward. When the two of them meet, they find an instant connection. Despite this connection, the two of them are still hiding secrets, which they refer to as "Confessions." Will these confessions be the end of their relationship or could this end up turning into something epic? This book made me feel like Purl was choosing me to hang out with when he first met me. It was great. I like how Owen and Auburn were given similarities in common, rather than just being desperate girls and desperate boys. I hated it initially, but I ended up loving it.
Started strong and then completely derailed

Derived From Web

, Jun 26, 2019

I was so excited for the first 20% of the book, I thought it was going to be great. The hero was smart and had a sense of humor. The chemistry between Owen and auburn was good. It all fell apart. They were so in love after only a few hours that they didn't want to put in the work to make sense of it. Our strong female protag turns into a weak, witless, doormat after a while. I threw it away at 85% because I couldn't finish it. It was a nice touch to include Owen's art, but the actual artist signed the work and the names don't match. Why include it?
I still love you CoHo

Derived From Web

, Aug 23, 2017

I have been waiting for my review to be posted. I am coming to terms with the book. I liked it, but it wasn't one of my favorites, CoHo is amazing, but I feel this book fell short of my expectations. I feel like it was a rush of emotions all at once, and then the middle was very platonic, and then the end. I tried not to judge the book, but I do love it. ... It made me angry and annoyed, still not judging.
Wowwww

Derived From Web

, Mar 22, 2017

Another Colleen book blew me away. One of my favorite love stories is this one. I'm excited that this is going to be a show, but I'm upset that it took me so long to get this book. I fell in love with colleen hoovers writing when I read her slammed series years ago and she's only made me fall harder with each new book. She knows how to suck you in from the beginning. I get sad when I finish because I don't want her stories to end. I'm in awe of Colleen's work.