BLACK FRIDAY DEALS CONTINUE - SAVE 20% AT CHECKOUT WITH CODE CYBERBOOK. Learn more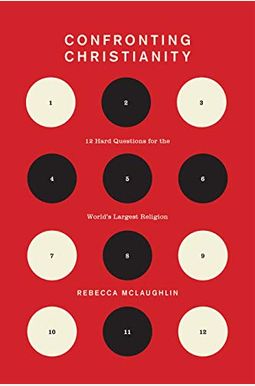 
 
Confronting Christianity: 12 Hard Questions For The World's Largest Religion
Book Overview
Compelling reading, not only because of its intellectual rigor but also because of its honest, empathetic humanity. --John C. Lennox
Named the 2020 Beautiful Orthodoxy Book of the Year by Christianity Today
Christianity is the most widespread global belief system, and promises to remain so well into the future. But for many educated westerners, biblical Christianity is a dangerous idea--challenging some of their deepest beliefs.
Channeling state-of-the-art research, personal stories, and careful biblical study, Confronting Christianity explores 12 questions that keep many of us from considering faith in Christ. Look more closely, McLaughlin argues, and the reality of suffering, the complexity of sexuality, the desire for diversity, the success of science, and other seeming roadblocks to faith become signposts. Jesus becomes not a relic from the ancient world, but our modern world's best hope.
Frequently Asked Questions About Confronting Christianity: 12 Hard Questions For The World's Largest Religion
Books like Confronting Christianity: 12 Hard Questions For The World's Largest Religion
Book Reviews
(12)
Did you read Confronting Christianity: 12 Hard Questions For The World's Largest Religion? Please provide your feedback and rating to help other readers.
Must Read

Derived From Web

, Jun 10, 2021

A great read, a challenging read, and one of the best mysteries of the century. If you think so, I would challenge you to read this book.
If you're not conservative in social views... Don't bother.

Derived From Web

, Feb 17, 2021

Not impressed: Not impressed. Not easy to read, kind of all over the place, and thank goodness I just skipped forward to the chapter to see what that was about, Morgenthau said. As soon as she said she was gay, I shut the book and threw it out. That's that you have homosexual desires but also heterosexual desires, and can simply choose one. The space agency said it would renew its search for new satellites in 2021. Many churches now allow same-sex marriage. I'm a Christian liberal and I'm ready for some new perspectives, he said.
Typical conservative arguments

Derived From Web

, Dec 5, 2020

The author touts her secular education and scholarly background, but her arguments are all from the same conservative American Christian worldview. While she advocates for women's rights, she does not consider the position of the millions of women who are forced into positions that require abortion. Her argument is basically "well the Bible says it's wrong," she said without examining the original Hebrew meaning or intent of the few verses in the Bible that mention homosexuality.
A Book Attempting To Win Back the Christian with Doubts

Derived From Web

, Jul 24, 2020

It was mostly a parody, said Blair, who admitted she did not enjoy the book as she thought. The book is not for you, even if you're an atheist looking for a book on the failings of Christianity. The book is an attempt by Christian apologists to question their religion and glosses over some serious issues while spouting justifications for those failings by pointing out good humans who called themselves Christians. I'm pretty disappointed overall, some good trivia if you can get past the cherry-picked persuasion tactics, he said.
10/10 recommend

Derived From Web

, May 16, 2020

Jordan Barowitz, author of the book, says: "I was recommended this book by my pastor and it has been a life-changing book for me." It was recommended to me by friends and I can't wait to read it again.
Great

Derived From Web

, Dec 29, 2019

A great read, enthralling and eye opening, placing old truths in fresh light. This book is a good introduction to Christian apologetics.
Great read!!

Derived From Web

, Dec 17, 2019

This book is very well researched and written. Contextualizing the biblical account of salvation, the Lord's Supper mission seeks to "challenge the perspectives of churchChristian tradition with Biblical framework."
Liked It Well Enough That I Bought A Second Copy To Share

Derived From Web

, Jul 12, 2019

When I first saw this book being advertised by the publisher for pre-order, I thought it was a book to take Christians to task. That it was, I think, some sort of social justice effort. That would have been my cup o' tea, so glad I read on. This isn't the best defense of Christianity I've ever read, but it's pretty close, McBride writes. One of my all-time favorites is Chapter 4, "The Fall of the Jedi." Please take advantage of Amazon's Look Inside feature so you can get a feel for what the author is addressing and writing style. Like the footnotes, I also found the book to be very useful. Very attractive book. Selling insurance is a lucrative business, even if you don't get rich. As I noted in the title, I liked the book well enough that I bought a second copy to share with my friends.
A thorough exploration of the tough issues surrounding Christianity

Derived From Web

, Jun 30, 2019

If you have ever wondered about some of the tough questions surrounding Christianity, you are not alone. This book is a great place to find answers. Whether you have the time or not, I highly recommend reading this book.
Excellent Apologetic for the Christian Faith

Derived From Web

, May 17, 2019

I can't say enough about this wonderful book. I found it highly readable, well researched, well written, and compassionate, said Dr. Julie Gerberding, director of the federal Centers for Disease Control. It's a great book, and I highly recommend it to Christian skeptics and believers alike. Do yourself a favor and read this excellent book.