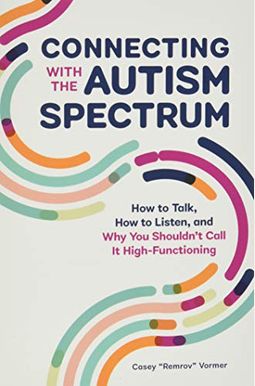 
 
Connecting With The Autism Spectrum: How To Talk, How To Listen, And Why You Shouldn't Call It High-Functioning
Book Overview
The complete guide to connecting with adults on the autism spectrum
For a friend, family member, or co-worker with high functioning autism, communication can be challenging. But Connecting with the Autism Spectrum can help you find common ground with expert tips and helpful insights about talking (and listening) to neurodiverse adults so you can make your interactions more transparent, meaningful, and rewarding for all.
Written by Casey Vormer, a self-taught artist and high functioning autism advocate, this comprehensive guide is a trusted source to understanding neurodiversity, a brief introduction to the autism spectrum, and easy communication strategies like active listening and positive encouragement as well as steps to avoid misunderstandings by teaching how to recognize biases and correct them.
This standout selection on working alongside others with high functioning autism delivers:
A simple approach--Discover the best ways to communicate with those living with high functioning autism.
Situational success--Find the right information for various situations and settings, including school, work, and social relationships.
Sensitive tone--Get valuable information from a clear, honest point-of-view that does not seek to cure or manipulate people with high functioning autism.
Learn how to communicate better with those diagnosed with high functioning autism in this simple book.
Frequently Asked Questions About Connecting With The Autism Spectrum: How To Talk, How To Listen, And Why You Shouldn't Call It High-Functioning
Book Reviews
(7)
Did you read Connecting With The Autism Spectrum: How To Talk, How To Listen, And Why You Shouldn't Call It High-Functioning? Please provide your feedback and rating to help other readers.
Interesting

Derived From Web

, Feb 12, 2022

As an autistic human, this book was not written for me, but I wanted to hear more about the experiences of others. For the most part, I found the book to be fairly well-written. It's very digestible," Blair said of the book. However, we must be careful that no one autistic person can speak for all autistic people. Our needs will vary, so we may not get everything we need.
Absolutely Essential

Derived From Web

, Jun 27, 2021

This book is an extremely informative and well written book from the perspective of someone on the spectrum. There are numerous insights and pieces of advice that have been essential since we were diagnosed. This was also the first time I read critical feedback on ABA and it led to me being able to steer my son away from something that could potentially scar him for life, Melissa said. The only complaint I have is that it is short, but this should be essential reading for spectrum parents.
A Lot Of Valuable Information

Derived From Web

, Jun 8, 2021

I gained a tremendous amount of valuable insight into the everyday challenges that someone on the spectrum faces throughout their lives, said Dr. Goin. Best of all, this book is not a doctor's opinion of what works and doesn't work when communicating with that person, but written by a person with autism. In "The Whole Nine Yards," De Niro follows his life experiences as a misunderstood student through unsuccessful work experiences and difficult attempts at making friends. He also points out how we can learn to appreciate the gifts and attributes that those on the spectrum have and how with patience they have every potential for being successful in work, family and social situations.
Really eye opening

Derived From Web

, May 19, 2021

The book has been described by Amazon as a "roller-coaster ride of emotions." Getting to read about the author's experience in what he deals with on a daily basis and how to better communicate has already been hugely helpful, Mr. Dhaliwal said. It has allowed me to recognize certain behaviors that my son does and why. I'm grateful to have found this book and am still only a part way through. I know this book will be reread many times.
Quick read and SO important!

Derived From Web

, Mar 3, 2021

I finished the book in one day. I think that everyone should read this book, it is so informative about common behaviors and how to connect with someone who is neurodivergent and make them feel loved and understood, she said. The authors personal experience was such a great factor because it lets you into the mind of someone whose mind works differently, he said.
EVERYONE READ

Derived From Web

, Feb 23, 2021

I cannot rave enough about this book. A coworker and close friend of mine's son was diagnosed with autism. This book is great for a basic knowledge of biology. Pauley, also known for his irreverent writing, said: "I would recommend this book to anyone.
A wonderful expression of life

Derived From Web

, Oct 31, 2020

This book is truly an expression of life.