Buy 3 Get 1 Free
Our Best Sale Yet! Add 4 Books Priced Under $5 To Your Cart Learn more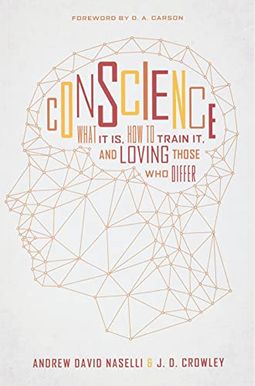 
 
Conscience: What It Is, How To Train It, And Loving Those Who Differ
Product is currently Out of Stock.
You can add it to your wishlist and you will be notified once we receive a copy.
Book Overview
Christian, meet your conscience.
What do you do when you disagree with other Christians? How do you determine which convictions are negotiable and which are not? How do you get along with people who have different personal standards?
All of these questions have to do with the conscience. Yet there is hardly a more neglected topic among Christians. In this much-needed book, a New Testament scholar and a cross-cultural missionary explore all thirty passages in the New Testament that deal with the conscience, showing how your conscience impacts virtually every aspect of life, ministry, and missions. As you come to see your conscience as a gift from God and learn how to calibrate it under the lordship of Jesus Christ, you will not only experience the freedom of a clear conscience but also discover how to lovingly interact with those who hold different convictions.
Frequently Asked Questions About Conscience: What It Is, How To Train It, And Loving Those Who Differ
Books like Conscience: What It Is, How To Train It, And Loving Those Who Differ
Book Reviews
(10)
Did you read Conscience: What It Is, How To Train It, And Loving Those Who Differ? Please provide your feedback and rating to help other readers.
Recommended for everyone.

Derived From Web

, May 28, 2022

How could I recommend this book for everyone in the world? If you want to participate in missions or spend time with someone from another culture, or you want to spend time with someone other than yourself, you are probably going to run into conscience clashes. Learning what our conscience is about, how we can better align it with God's conscience, and understanding why someone's conscience differs from mine has been immensely valuable in my interactions with people.
This is one of the best books I've read in years

Derived From Web

, May 28, 2022

This is one of the best books I have ever read in years. This book has brought my heart to the gospel and brought me much clarity in understanding how my conscience works. I'd even say that it is a page-turner. I preached Romans 14 at my church yesterday and I told our entire congregation that I want every one of them to read this book.
Great read for all Christians.

Derived From Web

, May 28, 2022

This is the best book on my conscience that I have ever read! Naselli and Crowley do a great job presenting the biblical evidence, illustrating it with beautiful triangles and applying it to missions. Their applications were very well thought out and very helpful to the Church. This book will not help answer all your questions, but it will help you think through issues of conscience.
Excellent book on a tricky subject

Galen Esper

, Sep 16, 2021

This book offers a careful biblical-theological analysis of the biblical texts that relate to and use the language of conscience. From this foundation, the authors present a definition of the conscience and then proceed to describe how to shape one's own conscience through biblical instruction and how to relate to other Christians with whom there is disagreement. The charts and graphs in this book are especially helpful!
Fascinating book

Derived From Web

, Oct 28, 2020

My book club does this book, and at first I was not sure what to expect. However, I am so glad that we are reading it! The concepts of how the conscience is developed and shaped are absolutely fascinating. I also had no idea that the Bible said so much about the conscience! I suppose I read the verses then went on. I am in my early 30's, but I highly recommend this book for anyone. It has provided great insight into what is happening in our culture today.
Biblical. Practical. Helpful

Derived From Web

, Jul 8, 2020

Outside of MacArthur's Vanishing Conscience, it seems that very little has been written about the conscience of the Christian. Crowley and Naselli have made a great contribution to the evangelical community. Their writing is clear, concise and practical. I particularly appreciated the examples they used to demonstrate how Christians can disagree on certain issues of conscience. I also appreciate the diagrams, which help me to convey the concepts well. For this reason alone, this book should be a must-read for every believer preparing for cross-cultural missions.
An edifying addition to my library

Derived From Web

, Nov 4, 2017

I read this book as I traveled to the Middle East with Andy Naselli. We first saw how several churches lived in love with each other to serve refugees from areas of surrounding conflict in a constructive ministry to the glory of God. The chapter on the Cross Cultural Ministry was the capstone of this excellent book on Conscience. This book is read from the beginning to the end. It will help you in Christ grow up and be fruitful in ministry. It is an readable book -- that is -- approachable. It is a practical book -- that is based on the authors'personal experience. If any of you lacks wisdom, let him ask God, who generously gives to all men without reproach. This is one of the answers to this prayer. Thank you for your diligence in writing this book. John Mielke was born in John Mielke's.
This book will make you carefully evaluate your convictions.

Derived From Web

, Sep 11, 2017

Not something I would have chosen to read, but appreciated greatly the same. If you find it difficult to love and accept others, you should read this book. It will help you determine where your convictions require realibration and may require upholding Let the Scripture inform your conscience and be flexible with convictions, influenced primarily by culture and tradition.
Great book covering a very important topic

Derived From Web

, Aug 30, 2017

A very important book, covering a great topic. Our Bible - Study - Class in our Church is currently going through a study using this book as the basis for our studies. God's word specifically mentions our conscience many times and the importance of our conscience being properly aligned with truth. Our conscience is a gift from God and we must be fully aware of truth, otherwise our conscience can lead us to make false decisions and have wrong understandings.
Excellent book on an important topic!

Derived From Web

, May 16, 2017

God, however, also chose to equip us with different personalities, interests, cultures, skin colors and languages. This makes living life according to God all the more difficult, especially since we are called to live it out in a simple homogenous community of individuals and not a diverse society. I enjoyed reading it very much!