Buy 3 Get 1 Free
Our Best Sale Yet! Add 4 Books Priced Under $5 To Your Cart Learn more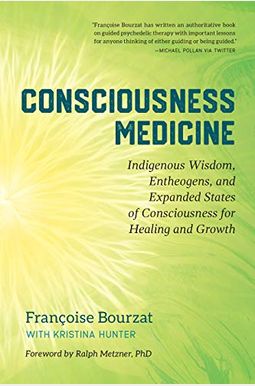 
 
Consciousness Medicine: Indigenous Wisdom, Entheogens, And Expanded States Of Consciousness For Healing And Growth
Book Overview
Fran oise Bourzat has written an authoritative book on guided psychedelic therapy with important lessons for anyone thinking of either guiding or being guided. --Michael Pollan via Twitter

A comprehensive guide to the safe and ethical application of expanded states of consciousness for therapists, healing practitioners, and sincere explorers

Psychedelic medicines also known as entheogens are entering the mainstream. And it's no wonder: despite having access to the latest wellness trends and advances in technology, we're no healthier, happier, or more meaningfully connected. Psilocybin mushrooms, ayahuasca, and LSD--as well as other time-tested techniques with the power to shift consciousness such as drumming, meditation, and vision quests--are now being recognized as potent catalysts for change and healing. But how do we ensure that we're approaching them effectively?
Fran oise Bourzat--a counselor and experienced guide with sanctioned training in the Mazatec and other indigenous traditions--and healer Kristina Hunter introduce a holistic model focusing on the threefold process of preparation, journey, and integration. Drawing from more than thirty years of experience, Bourzat's skillful and heartfelt approach presents the therapeutic application of expanded states, without divorcing them from their traditional contexts.
Consciousness Medicine
delivers a coherent map for navigating nonordinary states of consciousness, offering an invaluable contribution to the field of healing and transformation.
Frequently bought together
Frequently Asked Questions About Consciousness Medicine: Indigenous Wisdom, Entheogens, And Expanded States Of Consciousness For Healing And Growth
Books like Consciousness Medicine: Indigenous Wisdom, Entheogens, And Expanded States Of Consciousness For Healing And Growth
Book Reviews
(10)
Did you read Consciousness Medicine: Indigenous Wisdom, Entheogens, And Expanded States Of Consciousness For Healing And Growth? Please provide your feedback and rating to help other readers.
What is the point?

Derived From Web

, Jul 23, 2021

Don 't expect science in this book. This woman is a thin addict. She likes to be high with native people and lie to herself that it is changing the world. People in denial about their addiction get tricked into thinking that the substance is solving problems. Like potheads always have these amazing projects that they are just starting, but all they do is stay home and get high. I think it will take our sleeves rolling up, working together, using technology and connecting with our own humanity to solve the world's problems. Not sitting around high. But sounds like she's had a very enjoyable, comfortable life while doing so.
If you're planning on taking a journey, this book is invaluable.

Derived From Web

, Jun 23, 2021

Françoise Bourzat has written a practical book with seminal models from which to base your journey. There are always at least four chapters on preparation and integration, each of the best I have ever seen. She's also a poet! And of course, extremely experienced. This is a must-read for anyone seeking psychedelic healing as a way to process and release trauma, whether it is PTSD, addiction, anxiety, or a myriad of other psychological disorders. None of these is currently helped by the traditional Western psychology and it's billion dollar industry of anti-depressants that mask the symptoms only and do not delve into the deepness of the trauma itself to heal. I can 't say enough about this wonderful, amazing book.
Good Read for the Aspiring Practitioner

Derived From Web

, Dec 19, 2020

Francoise was an advocate of psychedelic medicine, and I was eager to read this book after hearing it in several podcasts. This book does elaborate on some of the topics she discussed in podcasts and sheds some of her personal history on how she came to her practice. However, it should be noted that this book is more geared towards an aspiring practitioner of psychedelic medicine than a patient. That is not to say that there isn 't much for the psychonaut to learn, but rather focuses on the practice from the perspective of the guide, rather than the traveler. Additionally, as a guidebook for practitioners, it is complete, and admits as Franciose sells a more incomplete training program through her website.
Disappointing if you expect to learn about Sacred Mushroom Rituals And Ceremonies

Derived From Web

, Nov 13, 2020

The author is a sympathetic person. It is written in a personal style, which elaborates too much for my taste on the author's life instead of the subject. Unfortunately, it omits valuable knowledge about the use of sacred mushrooms in ceremonies and rituals. If you like an academic psychotherapy viewpoint of Sacred Mushroom, you will appreciate this book. I think the author's intentions were to approach the subject from a psychotherapeutic viewpoint, but she was hindered by her training as an indigenous spiritual counselor. If you are interested in Sacred Mushroom rituals, you might want to look elsewhere.
Best read sober

Derived From Web

, Mar 24, 2020

Really? It said, hey, man, maybe you should try reading me when you are sober, but for now let's listen to the sound of Earth humming. And then I dissolved into the wave consciousness and heard the Great Mother singing a lullaby that echoed throughout the cosmos with the message that hey, there is some really cool stuff going on with this universe. I came back to find myself naked, wrapped around a pot containing my new friend, the fern. I look forward to reading the chapter on integration so that I can make sense of it all.
Book has a lot of useful information I did not find in other books

Derived From Web

, Dec 11, 2019

I love this book absolutely ''. I have read several books and this is by far the most informative and practical of them all. Psychedelic guidebook before and after a perfect experience.
The layers of life

Derived From Web

, Sep 3, 2019

After reading Michael Pollen's book on this subject, it is refreshing to see a more feminine perspective. By that, I mean a more holistic perspective that speaks to how our individual actions reverberate in multiple dimensions and how healing not only takes place on the physical and mental plane, but is also necessary on the social, environmental and transpersonal plane. This book is a great guide in this regard.
Complimentary source with some good angles

Derived From Web

, Aug 13, 2019

A scientific mind's approach to explain inexplicable experiences scientifically. In my opinion, the author does a good job of cataloguing the types of medicines said, as it is important to know about variety, but I felt that this attempt unfortunately obscured the question of "why ". I also had a hard time reading past 100 pages because of the storytelling in the book. Its tone was a little more on the me '' side and less about how the medicines really worked. I admired the path she chose for herself and shared it with the world. She is definitely intuitively tuned and has strong empathy, but the book is not a combination of Michael Pollan and Carl Jung.
So, you want to expand your consciousness

Derived From Web

, Jul 26, 2019

This book is arguably one of the most expanded books on the subject of consciousness. It is thought-provoking, it is inspiring, it is a book I wish I had been available when I began my journey into expanded states of consciousness.
Three weeks and my copy's already worn in!

Derived From Web

, Jul 15, 2019

I highlighted this book, underlined, dogeared, and damaged it, as it has been a constant companion since I purchased it. Bourzat's writing is direct, insightful, soulful and above all USEFUL. It seems to me deeply respectful of the traditions from which this work comes and it also leaves room for adaptation and improvisation within the context of healing. I'm very grateful to have this book within reach! ''