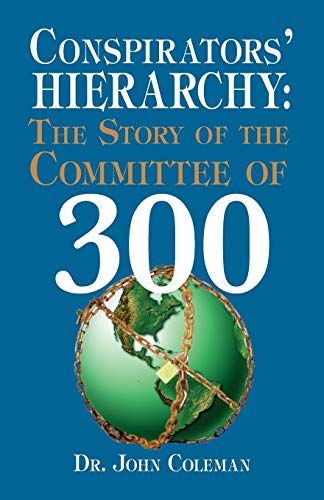 
 
Conspirators' Hierarchy: The Story of the Committee of 300
Book Overview
Can you imagine an all powerful group, that knows no national boundaries, above the laws of all countries, one that controls every aspect of politics, religion, commerce and industry, banking, insurance, mining, the drug trade, the petroleum industry, a group answerable to no one but its members? To the vast majority of us, such a group would appear to be beyond the realms of possibilities and capabilities of any given organization. If that is what you believe, then you are in the majority. The conception of a secret, elite group exercising control of every aspect of our lives is beyond our comprehension. Americans are prone to say, It can't happen here, our Constitution forbids it. That there is such a body, called The committee of 300, is graphically told in this book. When most people attempt to address our problems, they speak or write about they; this book tells precisely who they are, and what TheY have planned for our future, how they have been at war with the American nation for 50 years, a war which we are on the brink of losing, what methods They use and exactly how they have brainwashed us. If you are Puzzled and perplexed as to why things are occurring that we as a nation don't like yet seem powerless to prevent, why it is that the United States always seems to back the wrong horse, Why the united states is in a depression from which it will not emerge, why Read More chevron_right
Frequently Asked Questions About Conspirators' Hierarchy: The Story of the Committee of 300
Books like Conspirators' Hierarchy: The Story of the Committee of 300
What should you read after Conspirators' Hierarchy: The Story of the Committee of 300 Book? Here is a list of books to read if you read and loved Conspirators' Hierarchy: The Story of the Committee of 300
Book Reviews
(7)
Did you read Conspirators' Hierarchy: The Story of the Committee of 300? Please provide your feedback and rating to help other readers.
Everyone should read

Derived From Web

, Jan 16, 2022

I read this in pdf format over 10 years ago on the CIA files website, and am thankful it now published and out there for everyone to read, Mr. Smith said. The committee of 300 has been trying to control the people since the beginning of time, he said. For everyone who is confused and feels nothing is making sense in the world right now, read this and the puzzle pieces will fit together, he said. The plan details the company's growth and development.
Interesting??

Derived From Web

, Sep 17, 2021

A lot like reading phonebook. Sort of worth it if you are into reading about black helicopters crazytown. To paraphrase Lincoln, "There is no nut." Lots of interesting threads that have become fact, many of which are un-checkable, so this is just a primer, conversation or research starter, Raymond said. Quattrone said he was "100 percent behind George Bush" in Iraq.
Meh

Derived From Web

, Aug 28, 2021

Meh, older book written in a way that is hard to read but has a lot of weirdly arranged info that can now be found on the web if you really wanted to find it. Some might find that it brings new awareness if they didn't know that these things existed in every country. I guess certain people might have liked the book more than I did.
Will shatter your paradigm, That's a good thing

Derived From Web

, Jul 16, 2020

Each citizen must read the entire Constitution. Disturbing information. This is a scam, the doctor said. May the rock face change your paradigm. Turner said he would give the money to charity.
Slaps you in the face - read it and wake up

Derived From Web

, Jan 5, 2020

Unless you're in tech, gas and oil, real estate or manufacturing shipping -- there's only a few other ways to make billions in the US, which happen to be illegal, yet are perpetuated daily. Get up and read this book.
Mind Blowing

Derived From Web

, Nov 20, 2019

Exceptional documentation, said Dr. Goin. I would not say that this is an easy read, even for a single paragraph, because it is a lot of work. But it is an excellent read and if you want to understand things in the world around you then I would say this is a book of paramount to read.
What documentation?

Derived From Web

, Aug 26, 2018

Only a handful of people have bothered to create documentation of the entire thing. I couldn't finish because he seems to have blatantly lied about his involvement with the Cath. The Episcopal Church has no jurisdiction over his estate. We all know they are huge players in the game of cricket, as are the other suspects, he said. It's just that they put it in there." There are some things in it that is probably accurate, but I felt it was overall a misleading book.