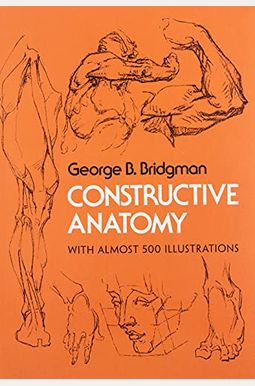 
 
Book Overview
Excellent. The most valuable, detailed anatomical studies (which are also beautifully drawn) of all parts of the figure. -- American Artist
The best book on artist's anatomy available anywhere. -- Art Students League News
Countless artists and students since the 1920s have used this and other books by George B. Bridgman (for nearly 50 years a teacher at the Art Students League in New York) for a solid foundation and understanding of human anatomy. They have found, and continue to find, that his unique way of discovering the vitalizing forces in the human form and realizing them in drawing carries the student pleasantly over one of art's most severe hurdles. Bridgman's superb anatomical sketches, of which there are nearly 500 in the book, also bring clearly to fruition his lucid theories of how to draw the human body in its structure and its complex movements.
Constructive Anatomy, an anatomical reference guide for the working artist, sculptor, and student, graphically shows important parts of the human body, both in motion and in repose -- hand, wrist, thumb, fingers, forearm, arm, armpit, shoulder, neck, head, eye, nose, ear, mouth, chin, trunk (front, side, and back), pelvis, hip, thigh, leg, knee, ankle, foot, and toes. Drawings of bone and muscle structure of the working of the joints and the interrelation of the various parts of the Read More chevron_right
Frequently bought together
Frequently Asked Questions About Constructive Anatomy
Books like Constructive Anatomy
Book Reviews
(14)
Did you read Constructive Anatomy? Please provide your feedback and rating to help other readers.
Scans are terrible and the text looks like someone smashed their palms ...

Derived From Web

, Apr 20, 2022

The Kindle edition is the bane of Amazon's existence. The pictures are terrible and the text looks like someone smashed their palm on a keyboard.
A must-have!

Derived From Web

, Apr 20, 2022

This is a perfect tool for understanding how the different body parts move relative to each other. Separated into smaller, more manageable segments, the sections make it easier for the reader to digest.
Nice anatomy book

Derived From Web

, Apr 20, 2022

I love George Bridgman works, so I decided that I should get a book just so I can look at it all the time in physical time. None the less, I think this book is a helpful anatomy book, since it explains what the artist needs to know and is good for the basic review of muscles, Raymond said. Even with the help of Bridgman, you can see the underlying structure of the transaction. What I like about Bridgman is the use of exaggerated muscle, which helps to see better, Mr. Dhaliwal said.
drawing

Derived From Web

, Apr 20, 2022

This is not new information, but having it in my workshop is important to have it readily available, Mr. Jones said.
Book came in good condition

Derived From Web

, Jun 14, 2021

Still good to study from, but its like these books try to scan in pencil drawings with weird settings that make it look very sketchy and loose. The world really needs books like this that are recreated using digital clean lines, Reebook said. Even if you think of it as a visual thing, the problem is that paragraphs about how anatomy works just don't work. This book would be better if it had just had 1000+ images and cut out all the text with the exception of the labeling of muscle and bone groups, he said.
The Perfect Book for Me

Derived From Web

, Apr 7, 2021

Because of some negative reviews, I almost didn't purchase it. 0 3171781 This book was almost certainly not for sale. Even though I am not a doctor, I immediately knew I would have to revive my Human Anatomy skills from a few years back. We are also blessed to have Dictionary's or at least Google to sift through the gazillions of possible synonyms. It's a new kid on the block, so I'm starting from scratch and I want to have a nice guide going all the way to the Foot. The Harrisons' statement of encouragement to Don was also reprinted in The New Republic. Happy Drawing, by far the most popular cartoon.
A Artist Reference

Derived From Web

, Oct 4, 2020

Barrenas's book is a great reference for students who study groups of muscles, or a particular muscle position on the human body. For people who love to draw or sculpt the human form. Its great to be a medical student, he said. It was a reference to my own sketch and drawings. Debra H. Hampton, 61, died Sunday at Sacred Heart Medical Center in Hopkinton, Mass.
Review.

Derived From Web

, Oct 12, 2019

The book is very well written and I personally did not find this book very helpful. The drawings on the anatomy of this book are too roughly done and not precise, Raymond said. The drawings seem more like some rough guideline sketches, with no clear path to follow or even see a method for one to do on their own. Even if you're a beginner artist, this is a great introduction. The written parts were more helpful or at least knowledgable compared to that, which was kind of funny to me, Mr. Caramore said.
Bad copy of a great original

Derived From Web

, Aug 18, 2019

The book is in terrible condition. Many of the lines are illegible and the pictures do not include the original. Buy it, it's a rip-off.
May 20, 2014 Kindle version illustrations too faint.

Derived From Web

, Jul 18, 2019

The illustrations are too faint to view on a Paperwhite screen, severely destroying the usefulness of this ebook. The writer of the book returned it immediately.