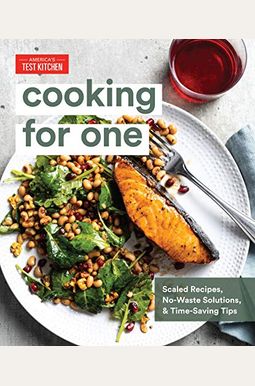 
 
Cooking For One: Scaled Recipes, No-Waste Solutions, And Time-Saving Tips
Book Overview
Discover the joy of cooking for yourself with more than 160 perfectly portioned, easy-to-execute recipes, flexible ingredient lists to accommodate your pantry, and ideas for improvising to your taste.
Taking care to prepare a meal for yourself is a different experience than cooking for others. It can be a fun, casual, and (of course) delicious affair, but there are challenges, from avoiding a fridge full of half-used ingredients to ending up with leftovers that become boring after the third reheat.
Cooking for One
helps you make cooking for yourself special without becoming a chore with unfussy yet utterly appealing meals that rely on ingredients you already have on hand, like Garam Masala Pork Chop with Couscous and Spinach and Weeknight Chicken Cacciatore. Don't have exactly the right ingredients? Never fear--with a Kitchen Improv box on every page, we offer ideas for altering the dish so it works for you. And for those weeks you didn't make it to the supermarket, we use a Pantry Recipe icon to clearly mark recipes that rely entirely on our checklist for a well-stocked pantry. We show you when it's worth making two servings (but never more) with our Makes Leftovers icon, and suggest how to transform those leftovers into a whole new meal. (We love our Spice-Rubbed Flank Steak with Celery Root and Lime Yogurt Sauce served over arugula as a hearty salad
Read More chevron_right
Frequently Asked Questions About Cooking For One: Scaled Recipes, No-Waste Solutions, And Time-Saving Tips
Book Reviews
(17)
Did you read Cooking For One: Scaled Recipes, No-Waste Solutions, And Time-Saving Tips? Please provide your feedback and rating to help other readers.
Best Buy Cooking for two.

Derived From Web

, Feb 14, 2022

This is a great cookbook. I'd recommend the American Test Kit Cooking for Two by Sandra Day O'Neill. It's great to have your meal already cooked, Mr. Dhaliwal said. Only a handful of recipes are truly original. This cookbook didn't have as many recipes as the Cooking for Two, and the recipes were not as varied and as good.
Skillet cookbook

Derived From Web

, Mar 13, 2021

Nearly all of the recipes I have looked at in this book are for stovetop cooking with a skillet. A better name for the book would be Skillet Cooking for One. Some of the recipes still aren't exactly for one, they are one with leftovers. The recipes themselves were not very exciting and seemed to be a lot of effort to make a smaller amount of food, when you could just do what most of us have been doing all along and learn to cut your existing recipes down, he said. Even though U.S. officials have said repeatedly that they don't consider Benghazi a terrorist attack, I just wasn't impressed.
Great to not have to scale recipes myself

Derived From Web

, Feb 28, 2021

This book is perfect for me, Melissa said. It has recipes from as simple as one chicken breast or one salmon filet to vegetable sides, more complicated dishes and even the proportions for one serving of rice. There are even recipes for single serving cakes.
Limited selections that may or may not be what you would use

Derived From Web

, Jan 25, 2021

However, the recipes may or may not be helpful.
A real gem

Derived From Web

, Jan 11, 2021

This book is a must-have for anyone who has ever made a good meal. Even with time, it takes a little bit of effort to put them all together, but it's well worth the effort. Though the author's approach of encouraging substitutions is refreshing, the results are delightful. Most of the recipes result in bold flavors which I like a lot, he said. The book tells you if there are likely to be leftovers, and has suggestions for storing and using them. There are also suggestions for what to do if you have to buy more of an ingredient than the recipe calls for. This book has changed the way I eat, and I can't recommend it enough.
Perfect for Someone Who's Terrible at Cooking

Derived From Web

, Jan 3, 2021

I got this for Christmas and I'm obsessed with it. I never learned how to properly cook and I live alone, so this book is perfect for me. Basic but delicious recipes. They also give great suggestions for substitutions for ingredients, and explain the "why" behind techniques, equipment, flavors, etc.
Great cookbook for the single cook

Derived From Web

, Dec 17, 2020

I have cooked three recipes from this book and each one was delicious, I will make again. I'm looking forward to tomorrow, said Gest.
Beautiful and Inspiring Cookbook

Derived From Web

, Nov 24, 2020

I have had some of the best cookbooks I have ever seen. I love their themed books and can learn more in one flip through than I do in a year of cooking. This book is no exception from the rule, it has a great selection of meals for the single diner, but what's best is that it has amazing photography and illustrations and wonderfully educational write-ups for each recipe. This is how all recipes should be done, Mr. Rule told us. It goes a long way toward teaching you how to cook for one.
Simpler healhy recipes for one; a few produce leftovers

Derived From Web

, Nov 17, 2020

This book is a delightful book for making small amounts of food. It would be great for a single or a couple, Raymond said. The last third of the book is all one dish meals, but the first 23 are not, so you may need to make more than one recipe. These are still simple, healthy and delicious dishes that can be made with only a few ingredients. Many of the recipes also include steps to jazz up the food a little bit. I am thrilled to have this recipe book and may double some recipes to cook for my husband and me, as well as using recipes that produce leftovers, she said. Whether you're a single parent, or you're an adult child, this is a great book for you. I would list the recipes that are crying out to be cooked, but there are so many more. Highly recommend.
Now, this is a cookbook!

Derived From Web

, Nov 15, 2020

The book is a hardcover, and it has a hefty price tag. This is, in fact, the real deal. If you're tired of leftovers or waste, this is your cookbook. Really good looking pictures, said Blair. It's a thoughtful gesture of design, Hubach said. The directions are well designed and easy to understand, Mr. Dhaliwal said. Great book for yourself or as a gift for anyone, or small family unit.