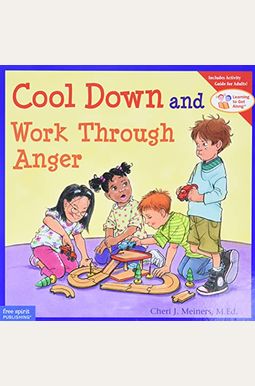 
 
Cool Down and Work Through Anger
Frequently bought together
Frequently Asked Questions About Cool Down and Work Through Anger
Books like Cool Down and Work Through Anger
Book Reviews
(13)
Did you read Cool Down and Work Through Anger? Please provide your feedback and rating to help other readers.
I like the idea

Derived From Web

, May 23, 2022

The idea is appealing to me. I am not sure why everyone who does not follow the rules is brown - skinned and frankly, this bothers me. Why not reflect the way that things are in real life? White and brown children often don 't follow the rules and are equally capable of rudenessnon cooperation. The message is great, but the illustrations, again pointing out what I am, is what I have a problem with. We quickly emptied this book from the rotation. Sometimes messages are internalized subconsciously and I didn 't want my child to know that only a group of people engage in behaviors that can make one angry.
Great book!

Derived From Web

, May 23, 2022

Book is great! I bought this to use with my four-year-old son, who has autism. He has had some aggressive behaviors and this book is just what I was looking for. Great visuals and not too many words per sheet. Recommend it highly.
This is a great book to help introduce and encourage little people to ...

Derived From Web

, May 23, 2022

Some of the elements I like the most include - The book uses positive reinforcement in the way it emphasizes all the many positive routes to manage negative emotions. The book is well illustrated and the colors and pictures draw the audience to pay close attention to the activities of each individual page. The diverse children represented on each page is a huge plus. It is refreshing to see a book that demonstrates that children in many different colors range. The book celebrates the idea that diverse children coexist and thrive together. Keep in mind that the text is written in a style that would be best understood by a young child of 3 years or older. I bought and read to my 2 year old, but there were some ideas that did not quite fit at his level.
Excellent social story book for my special needs son

Derived From Web

, May 23, 2022

I was looking for a series of books that could be teaching tools for my son's special needs. He is 14 and he has some difficulty dealing with emotions. He really relates to this book and asks me to read it over and over again, the pictures and the script are right at his level of understanding and when we read it he had an aha moment, I could see the wheels turning in his head, it opens up great dialogue every time. I think that this book would be an excellent tool for any child who is reactionary or has difficulty coping with their feelings. It is easier for my son to have a meaningful dialogue when he is not the center of it. This book was so good that I bought 3 more by Cheri Meiner, he loves them all so that I may have to buy the entire series! I bought a few other books on the subject by abstract authors on the topic, so that he could not follow ; this one will not disappoint.
My son with Asperger's got a lot out of this book.

Derived From Web

, May 23, 2022

My son, Asperger, got a lot out of this book. He is prone to melt downs and while this book did not solve his problems over night, I think it really helped in addition to the other techniques we used!
Love this book

Derived From Web

, May 23, 2022

This book is my favorite. Kept my ADHD sons attention and he keeps talking about the book when he is confronted with a difficult situation.
Highly recommend

Derived From Web

, May 23, 2022

Good examples on how to handle anger and work through it. I really enjoy these books, they all have great pictures and strategies to help toddlers cope. I highly recommend! ''
Great!

Derived From Web

, May 23, 2022

I highly recommend these books, they are not only a good learning tool, but they are also very entertaining. There are a limit amount of words, but lots of pictures that you can manipulate according to your choosing.
Good book to teach kids about emotions

Derived From Web

, May 6, 2020

Like all the rest, my kids get some big emotions. The writing is simple and engaging for children, so it is not confusing for my 4 year old and helps validate feelings.
Surprisingly blatant racism in a children's book😞

Derived From Web

, Apr 24, 2020

Blatant racism runs through this book. Just like another reviewer, I read the review and still ordered the book with some additional brown kids, as I usually do to make the book more just and reflective of reality, but I was not able to do so with this book. Anyone who doesn 't see a problem with this book, as I usually do, needs a wake-up call and really needs to self-reflect on your own biases. I am just shocked that this book has a copyright date 2010! The text is ok and I would have liked to share it with my children, but since they are young and impressionable, I would never let them read a book that is so biased. I rip out the last two pages of anger management strategies so that it is not a total loss, but I could have just googled that so that this book gets zero stars for me.