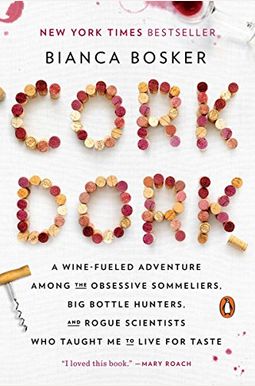  
Cork Dork: A Wine-Fueled Adventure Among The Obsessive Sommeliers, Big Bottle Hunters, And Rogue Scientists Who Taught Me To Live
Book Overview
INSTANT NEW YORK TIMES BESTSELER AND A NEW YORK TIMES CRITICS' PICK
Thrilling . . . told] with gonzo lan . . . When the sommelier and blogger Madeline Puckette writes that this book is the
Kitchen Confidential
of the wine world, she's not wrong, though Bill Buford's
Heat
is probably a shade closer. --
Jennifer Senior, The New York Times
Professional journalist and amateur drinker Bianca Bosker didn't know much about wine--until she discovered an alternate universe where taste reigns supreme, a world of elite sommeliers who dedicate their lives to the pursuit of flavor. Astounded by their fervor and seemingly superhuman sensory powers, she set out to uncover what drove their obsession, and whether she, too, could become a cork dork. With boundless curiosity, humor, and a healthy dose of skepticism, Bosker takes the reader inside underground tasting groups, exclusive New York City restaurants, California mass-market wine factories, and even a neuroscientist's fMRI machine as she attempts to answer the most nagging question of all: what's the big deal about wine? What she learns will change the way you drink wine--and, perhaps, the way you live--forever. Think:
Eat, Pray, Love
meets
Somm
. --theSkimm As informative as it is, well, intoxicating. --
Fortune
Frequently Asked Questions About Cork Dork: A Wine-Fueled Adventure Among The Obsessive Sommeliers, Big Bottle Hunters, And Rogue Scientists Who Taught Me To Live
Book Reviews
(12)
Did you read Cork Dork: A Wine-Fueled Adventure Among The Obsessive Sommeliers, Big Bottle Hunters, And Rogue Scientists Who Taught Me To Live? Please provide your feedback and rating to help other readers.
A well-written introduction to oenophiles

Derived From Web

, Dec 20, 2021

There is this curious tribe of people out there who live for wine, LIVE! And not just for alcohol. They're into everything about wine... the tastes, the odors, the history and the traditions. They even go so far as to claim that a single sip of a good wine can transport them to faraway places and introduce them to thoughts and feelings they have never experienced before! It is like a bibliophile... but for wines! Ms. Bosker writes about this tribe, their cares, their concerns, their everyday lives and their all-consuming passion in a sympathetic and deeply probing manner, as she herself seeks to gain admission to their ranks. A wonderful introduction to a group of people I did not understand previously!
Please mention water damage

Derived From Web

, Jan 8, 2021

The book was used, with which I am fine. However, it has water damage at the top of the first hundred pages. I would have passed this copy on.
A Look Behind the Curtain

Derived From Web

, Apr 1, 2020

On our journey the author takes us on a tour of the wine world, discussing various topics, including the study of aspiring sommeliers and a discussion of our sense of taste and smell, as it relates to the study of fine wine. The discussion about the fine restaurant business in N.Y.C.. Some additional highlights were added : The proclivities and desires of the preferred dining patrons and their dining requirements were funny, illuminating and sometimes troubling. The dedication of the people in the trade, however, from the top producers to the sommeliers, to the lowly server portrayed in the book, was a journey well worth the effort.
Couldn't finish it

Derived From Web

, Sep 18, 2018

I have recommended this book as I'm a sommelier and beverage director and the author portrayed everyone like arrogant, superficial entitled or sexist a holes. Maybe that's the way they are dining in Nyc - fine dining. I thought the writing was funny and if you're not in the industry and you're very young, you ll like it. ''
I learned so much! Love it.

Derived From Web

, Apr 10, 2018

I don 't even care for wine, but I loved this book! I am not sure how I stumbled upon it, but once I read the description, I kept coming back to it, wanting to purchase it and eventually did. I now know so much about how wine is made, various wine regions around the world and how wines get their flavors and why I could probably become a sommelier if I liked wine, that is. I would have to taste wine to get through the sommelier testing, so that is out! If you have any interest in sommeliers in fine dining restaurants and how they obtain their qualifications and certifications, you should enjoy this book. I think you 'll be glad that you did.
A Fascinating Journey Through Sensory Exploration

Derived From Web

, Dec 28, 2017

Cork tells us how we taste wine and categorize the universe. In Cork Dork, we follow the author's journey through the wine world and the people who inhabit it. We learn about the habits of the rich, who think nothing of spending $1000.00 on a bottle, and the inside story of expensive, extravagant restaurant experiences. We also learn that similar experiences can be obtained for far less money and without the expensive trappings of high culture, but that we have to train ourselves to appreciate and experience. Cork Dork will help you to slow down and smell the flowers in your glass and in your life. You will also learn more about wine and learn how to appreciate wine and experience better. I can 't wait to taste another glass.
An educatuion in wine education.

Derived From Web

, Dec 10, 2017

Well researched, broadly based. A new view of the restaurant business for me.
Love wine? Read this book

Derived From Web

, Sep 16, 2017

As I live in the wine country, this should be pretty soon.
A Wine Lovers Book!

Derived From Web

, Aug 23, 2017

It is really funny at times and she has a way with words to help her see what she is going through to become an expert in wine.
I really enjoyed Bianca's story and felt it was well-written and because ...

Derived From Web

, Aug 14, 2017

I really enjoyed Bianca's story and felt it was well-written and because I considered the Certified Saommelier Level, I particularly enjoyed all her stories.