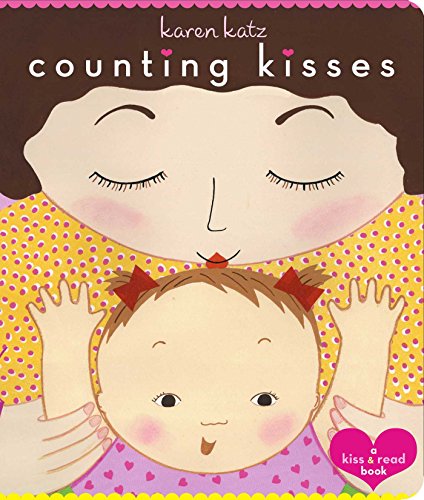 
 
Counting Kisses: Counting Kisses
Frequently bought together
Frequently Asked Questions About Counting Kisses: Counting Kisses
Books like Counting Kisses: Counting Kisses
What should you read after Counting Kisses: Counting Kisses Book? Here is a list of books to read if you read and loved Counting Kisses: Counting Kisses
Book Reviews
(15)
Did you read Counting Kisses: Counting Kisses? Please provide your feedback and rating to help other readers.
Perfection.

Derived From Web

, Apr 27, 2022

When I heard the news, I thought this would be bigger. It is a very small book and toy but the book is still in great condition and the toy is something she fell in love with and has not let me give it away, Mr. Dhaliwal said.
Beyond Cute

Derived From Web

, Apr 27, 2022

What a great book! I've had my daughter read it to me and she absolutely loves it. And she actually learned how to kiss me by reading this book. One of my all time favorites, "The Little Red Book." The product is highly recommended by Amazon. com shoppers.
Granted he never goes to sleep but who doesn't love hearing their kid laugh

Derived From Web

, Apr 27, 2022

It's just that his (and mine) son loves it so much. Even with time, he never goes to sleep but who doesn't love hearing their kid laugh?
Very Cute!

Derived From Web

, Apr 27, 2022

My daughter really enjoys this book and I love the opportunity to give her extra kisses, Mrs. Dhaliwal said. But after only a few books, she remembers what kisses came next and would prepare herself for them Great book!
cute

Derived From Web

, Apr 27, 2022

My almost 2 year old has absolutely fallen in love with this book, but not as much as Daddy Hugs by the same author. This one is cute though and she does like all the kisses she gets when she reads it, not that she doesnt get enough _), she said.
A Wonderful Bedtime Book for Baby or Young Toddler

Derived From Web

, Apr 27, 2022

We started reading this book to our daughter as a bedtime story since she was 2 months old, and she is almost 2 years old. It's almost every night we read it. The simple and colorful context makes the photo stand out, she said. One of the great ways to learn math is by counting numbers with kisses.
What A Way To End Your Day

Derived From Web

, Apr 27, 2022

What to do when your baby is cranky, multiple parenting books have come to the rescue. Even with the help of Rudolph the nurse, the baby is not smiling. Mommy knows she has it all - ten little kisses on ten little toes, then feet. He even licks his new owner's face with six licks while the baby is being changed. Now she is snugly and warm, ready for bed with one little kiss to her head. The author, Karen Katz, hamza way with words, and she seems to know exactly what to do with little babies who aren't smiling. Youngsters may soon share their first kisses with their parents and grandparents. 0 1462228 6490201 Children's books are loved by parents and adults and soon kisses may be shared by young and old. Beautifully drawn, the illustrations are colorful, vivid and just right to mix with this story. Ahhhhh, that last kiss, with that last snuggle. A review of the DVD by The Age was also critical. Jordan Barowitz of the Justice Department's criminal division said the charges were "prejudiced."
A big hit with my 19-months old

Derived From Web

, Apr 27, 2022

My daughter loves reading this book, she learned the word kiss from it, so often she brings it to me or her Daddy saying kiss-kiss-and-the book tickles her with kisses. She also likes to recognize the baby, the cat, the dog, in the book. I kind of see what the reviewer who called this book too wordy is talking about - she uses a new adjective to describe a kiss every time, so we could do without the descriptions, she said. It also teaches numbers and body parts.
Always makes my baby smile

Derived From Web

, Oct 14, 2021

We had a few of the Karen Katz lift-a-flap books and liked the illustrations, too. It was a Saturday night and we started reading this book at bedtime. It brings a smile to my baby's face, and it helps to calm him when he is fussy, Mrs Hughes said. We don't even do all the kisses - he just seems to enjoy the illustrations and the rhythm of the language, Mr. Dhaliwal said. I would highly recommend it to anyone.
Worth it

Derived From Web

, Jun 3, 2020

It's a tad creepy, but I thought this was mostly harmless. So far, the only book I can get my daughter to even tolerate is because she loves the interaction and attention, her mom said.