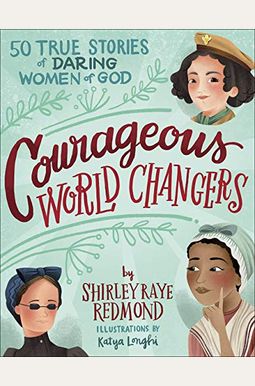 
 
Courageous World Changers: 50 True Stories of Daring Women of God
Book Overview
Women of Fearless Faith

Meet women who have used their God-given talents to live out their faith to the fullest. They come from a variety of backgrounds, eras, and ethnicities, but each one has answered the Lord's call on their life in bold and innovative ways.

Children of all ages will be inspired by the stories of
Corrie ten Boom--activist, author, and Holocaust survivor
Laurie Hernandez--gymnast who won both gold and silver medals in her sport
Florence Nightingale--health care reformer
Madeline L'Engle--author of children's literature
Katherine Johnson--trailblazing NASA mathematician
These and the 45 other female spiritual role models featured in this book have made a profound impact on the world around them, and in many cases changed the course of history. Strong, smart, and sometimes outspoken, these women are tremendous examples of God's love in action.
These inspiring profiles will captivate kids' imaginations and encourage them to discover their own gifts and how they can use them to glorify God.
Frequently bought together
Frequently Asked Questions About Courageous World Changers: 50 True Stories of Daring Women of God
Books like Courageous World Changers: 50 True Stories of Daring Women of God

Book Reviews
(11)
Did you read Courageous World Changers: 50 True Stories of Daring Women of God? Please provide your feedback and rating to help other readers.
One short page per person

Derived From Web

, Jul 29, 2021

These nice are but I do find myself and my kids wishing there was more about each person. However, this is only a short page per person so it leaves many unanswered questions.
Great for girls as they learn about true women of God!

Derived From Web

, Feb 1, 2021

As a grandparent, it is most difficult to find books for young girls that don't involve a snarky attitude, such as "beauty," "makeup" or "magical garbage." This is truly exceptional quality, Mr. Dhaliwal said. With the celebrity culture in their face, it's important for them to value truth, hard work, courage and making good choices to impact the world. 0 1462228 1462201 But, for many girls, it's just not good role models. She also bought three books to give to her daughters next year as well. Order yours today and then a few extra for gifts. But if you're a 3rd-4th grade reader, you can definitely read it during family time. Note there is also a companion book for boys that I bought several of the books. Boys need more than just historical figures to be happy, he said.
MY LITTLE GIRL LOVES THIS BOOK!

Derived From Web

, May 3, 2020

Thanks, thank you, thank you, for a beautifully written and illustrated book about real women heroes. I read a story to my 9 year old every night and she is learning so much. We often make heroes out of people who don't deserve this title, he said. These women are amazing and inspirational,' said Blair. GREAT WORK, GREAT RESULTS, Tunick said. Buy this book, you will not regret it.
This book is a great resource for your home and libraries .

Derived From Web

, Feb 29, 2020

I recommend that readers enjoy this book in different ways. Each story is told in a single page, with an enjoyable illustration of each courageous woman. What a great way to inspire the young reader to delve deeper into the life of these women, and be inspired by their beauty and courage, he said. The book is also attractively priced at $29.99 and includes a detailed summary of each of the 12 books. It could be used as a jumping-off point for more study and discussion, and perhaps even a parody. I love books that give me a brief reading to know more about wonderful people, Rowling said. This book is highly recommended for libraries.
Inspiring

Derived From Web

, Jan 15, 2020

In "Courageous World Changers," illustrated by Barbara Comstock, 50 amazing women are told about the power of compassion. The book tells the story of a strong Christian woman who has made the world a better place. She includes Gabby Douglas, Bethany Hamilton and Rosa Parks. This book would make a great gift for any of the young women in your life as a way to show them that they can do anything they put their minds to, or even just us grown ups who could use a little inspiration now and then, she said.
Just the Book I've Been Searching for!

Derived From Web

, Jan 10, 2020

Not that I mind my daughter playing princess and fairy tales, but it's so refreshing that she now wants to re-enact the lives of the women in World Changers. It's hard to imagine a more dramatic departure from the staid format than Elizabeth Greene, the first female pilot. Personally, I was impressed by the diversity of the selections, and the illustrations were bright, whimsical and attractive, said Mary Elizabeth Winstead, a spokeswoman for Scholastic. Shirley Raye and Katya Longhi danced to the beat of drum.
Beautiful book with inspiring stories!

Derived From Web

, Jan 10, 2020

Shirley Raye Redmond's new book, "The Haunting of Hill House," has been a hit with both children and their parents. From courage and determination to beauty and compassion, these 50 inspiring women changed the world. Beautifully illustrated by Deirdre Mulvey, the book highlights the diversity of women in British culture. My daughter was especially excited to see Ruby Bridges highlighted in this book, as she had written a report on her in 2nd grade and then portrayed herself in her school's wax museum. It's great to have a book that kids can read together and make memories. If you think this is a good deal, you won't be disappointed.
Courageous World Changers 50 True Stories of Daring Women of God by Shirley Raye Redmond

Derived From Web

, Jan 9, 2020

Courageous World Changers: Fifty Women Who Conceived, Revolutionized, and Redefined the Christian Faith tells the inspiring stories of these women. From ancient Egypt to present-day America, the six men are from different eras, backgrounds and conquered a variety of challenges. She writes about women who felt directed by God to follow his guidance and face their opportunities. Adults will enjoy the stories and may be familiar with some of the women, and some may be new to you. It's a wonderful book to share with the girls in your life and a great opportunity to present them with some courageous role models, Raymond said. Shirley Raye Redmond does a great job of portraying these biographies in a story-like manner that will be easy for children to follow, said Mary Peters, executive director of the National Book Foundation. The book is a must-have for any book club or seminar. Nancy Bliss, co-founder of The Bliss Group, said the images were taken June 5, 1963.
Inspiring Women of God

Derived From Web

, Jan 8, 2020

Shirley Rae Redmond's "Courageous World Changers" tells the inspiring stories of 50 women from all different cultures and backgrounds who have one thing in common: deep faith and love for God. The book is a beautifully illustrated collection of pictures of each lady, each with her own story of how they inspired others with their faith.
Courageous Women

Derived From Web

, Jan 7, 2020

This book has been my all time favourite. I've always admired the courage of women to try to walk in their shoes. Many of the women in this book were women I learned about as a child and then again while I was getting my M. Div., she said. The Harrisons are planning on giving their daughters copies of the book. It's never too late for today's women to learn how women of the past changed the world, he said. Shirley Raye, the New York Times best-selling novelist, has died at age 82.