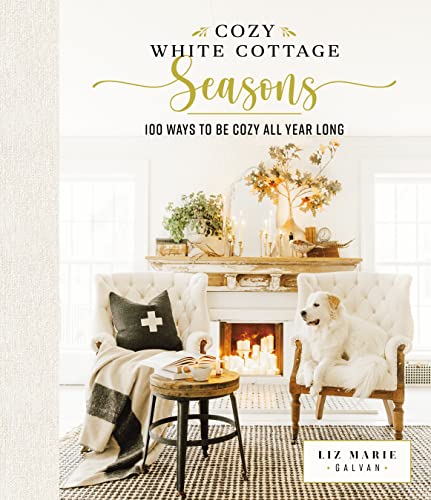 
 
Cozy White Cottage Seasons: 100 Ways to Be Cozy All Year Long
Book Overview
Whether you want to create a cozy winter wonderland in your living room, a blooming summertime welcome on your deck, or an autumn refuge by your fireplace, Liz Marie Galvan's Cozy White Cottage Seasons gives you the inspiring photos, DIY ideas, and fun recipes you need to feel at home on any budget and in every season.
DIY interior designer and popular blogger Liz Marie Galvan helps you create space to snuggle up, stretch out, or kick back at home so you can focus on what matters most during the holidays and every day. Following the popularity of Cozy White Cottage, Cozy White Cottage Seasons is a beautiful, full-color photography holiday lifestyle book with easy-to-do, practical tips to make your home a cozy haven from New Year's to the following Christmas. Here you'll discover how to:
Create cozy celebrations, traditions, and memories indoors and out
Repurpose furniture and decor for every season
Cultivate your flare for vintage, modern, farmhouse, or a unique style all your own
Design a hot cocoa bar--and make other seasonally cozy recipes
Use lighting and color to create loving spaces
Store and manage holiday clutter
Enjoy seasonal plants in outdoor or kitchen sink gardens
Be inspired by family-friendly bucket lists for every Read More chevron_right
Frequently Asked Questions About Cozy White Cottage Seasons: 100 Ways to Be Cozy All Year Long
Book Reviews
(10)
Did you read Cozy White Cottage Seasons: 100 Ways to Be Cozy All Year Long? Please provide your feedback and rating to help other readers.
Not worth buying

Derived From Web

, Feb 10, 2022

Liz and this book really let me down. The second book, however, has nothing new to do with the shows other than wishlists of things to do during each season that everyone is doing already. The lists of styles and colors are organized by season. If there is a project that I might like to do, she will refer you to her blog for instructions. Because, I have a book. The writer of this article must have some explaining to do, because the answer is I don't! Thanks to Amazon, I was able to return it for a refund.
Disappointing

Derived From Web

, Feb 4, 2022

I was so excited to receive this book, Melissa. I didn't open it for days because I wanted to be quiet. I poured a glass of wine and settled on the couch, she said. The photos are so poor quality I can't believe Liz let it go this way, said Blair. And they're often tiny and cramped beneath the tons of text! I bought this book for the pages of writing about decorating for the seasons. I wanted to see the plethora of gorgeous seasonal photos that made me want to buy this book in the first place. Most of these are just a few of the many that she posts on her blog. I wanted a picture book of seasonal inspiration and got 3 minutes from beginning to end before throwing it away in disgust. I'm a major fan of this woman's talent but I'm sorry I spent the money. Where was the editor? Quattrone, one of the leading architects of the space program, said the collaboration was "a huge success."
Beautiful, honest, sweet, and brimming with good ideas!

Derived From Web

, Dec 12, 2021

I've followed Liz's blog for about two years and bought her first book last year, and this new one does not disappoint! I read it from cover to cover in a matter of days, going from season to season, he said. Of those, I would find something new that would make me want to try it with my family. She includes a wealth of useful lists, the self-care tips, the friendly advice and the pictures to illustrate what she means. These are all examples that I can use, and turn into something that works for me and my family, he said. She says she sometimes doesn't have to buy the exact same things she or any other blogger buys in order to create a cozy space. This is a girl who loves white, vintage, and beautiful spaces, but who stays real and simple, Parsons said. And she knows all the meanings of the word cozy! She is a joy to read, and I am so happy with this book.
Retuned the book!

Derived From Web

, Nov 28, 2021

The pictures are so blurry, even the reviewer couldn't say for certain. The content is not very good, and frankly it's information you can achieve if you have Instagram, or follow designer blogs. My main issue is that the content is not very interesting, said Gammerman. I wasn't going to keep it just to have the "coffee table book."
I would recommend her first book!

Derived From Web

, Nov 27, 2021

Thanks to her Instagram account, we get to see her work. The book is a bit disappointing, because the pictures are smaller and the photos are blurry. I would highly recommend the first book of hers, which is very good. Whether you're decorating or just hanging pictures, pictures are everything.
Blurry photos

Derived From Web

, Nov 25, 2021

blurry photos and content no different than what we see daily from blog posts, ig, etc... If everyone was honest they would have agreed that this book was unnecessary, Mr. O'Neill said.
Such a beautiful book 🥰

Derived From Web

, Nov 24, 2021

I love Liz's first book, but this one is by far the best. What a beautiful book, I love her ideas for the different seasons and holidays within each season. I am feeling so cozy just sitting and reading through the book and thinking of new ways to decorate my house, she said.
THe Queen of Cozy

Derived From Web

, Nov 24, 2021

Liz Marie has changed my life through her cozy inspiration on IG and in this beautiful book, she writes. I have been struggling a lot this past year with certain seasons of my life and finding the inspiration to make my home cozy, she said. This could not have come at a better time, Mr. Dhaliwal said. It's one of my favorite seasons of the year. There is always room to be cozy, and I just want to say a big THANK YOU to Liz for always inspiring me, Beckham said. We are so blessed to have you in our lives in this small way, you wont regret it.
Wow… one of the most beautiful books I own…

Derived From Web

, Nov 24, 2021

This is a truly lovely book to own, said Dr. Julie Mason, National Book Foundation vice president. I own both of Liz's books and I just love how she shares her passion for the home, design tips, and a joyful approach to all things home. I really enjoy the photos, said Blair. I continue to gather from inspiration and this book is a must have on the coffee table!
Disappointed

Derived From Web

, Nov 23, 2021

A lot of the photos in this book are blurry, there isn't that much of a contrast to her first book, Very disappointed.