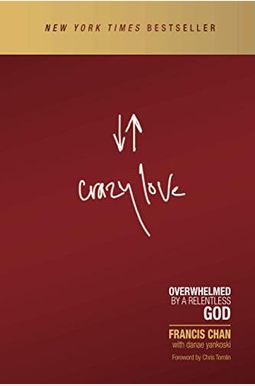 
 
Crazy Love: Overwhelmed By A Relentless God
Book Overview
This Description may be from another edition of this product.
Revised & Updated and now available in Hardcover God is love. Crazy, relentless, all-powerful love. Have you ever wondered if we're missing it?
It's crazy, if you think about it. The God of the universe the Creator of nitrogen and pine needles, galaxies and E-minor loves us with a radical, unconditional, self-sacrificing love. And what is our typical response? We go to church, sing songs, and try not to cuss.Whether you've verbalized it yet or not, we all know something's wrong.
Does something deep inside your heart long to break free from the status quo? Are you hungry for an authentic faith that addresses the problems of our world with tangible, even radical, solutions? God is calling you to a passionate love relationship with Himself. Because the answer to religious complacency isn't working harder at a list of do's and don'ts it's falling in love with God. And once you encounter His love, as Francis describes it, you will never be the same. Because when you're wildly in love with someone, it changes everything.
A study session for individual or small-group use appears at the end of each chapter is included in this book except for bonus chapter 11. If you re leading a discussion, the included notes for discussion leader s guide make this a valuable resource for individual study, small-group study, churches, youth groups, college campus ministries, and retreat weekends.
Learn more about Crazy Love at www.crazylovebook.com.

Frequently bought together
Frequently Asked Questions About Crazy Love: Overwhelmed By A Relentless God
Book Reviews
(17)
Did you read Crazy Love: Overwhelmed By A Relentless God? Please provide your feedback and rating to help other readers.
Challenging, convicting, and a great group study book

Derived From Web

, Apr 20, 2022

There are few books that really have challenged me in the way that Crazy Love by Chan Francis did. There are moments where Chan's honesty and blunt nature really pulls back the excuses that I make when attempting to follow God. This book is a quick read, even including online content for each chapter. This book is a great introduction to the deeper relationships we have with God. As I said before, Chan can be blunt, which at times might come across as harsh. This book is great to read as a group so you can debrief and discuss what you've read.
Thought-provoking and inspirational book

Derived From Web

, Apr 20, 2022

Yes, I love many of his quotes and I agree with most of them. There are a few topics on which I would have further questions and would like to discuss with Mr. Chan, but these will be for another time I suppose.
You will doubt your salvation after reading this book

Derived From Web

, Nov 28, 2020

I am a new believer and since reading this book, I have really struggled with my salvation. Fear, doubt, and anxiety fill the soul. He has made me feel that because I haven't produced enough good fruits in my life, that I should question my salvation, he said. His intentions are good because he wants to push us to be better Christians, they say. But we need to let the Holy Spirit convict us of his timing, at His pace.
I highly recommend this book to anyone trying to go deeper in their relationship with God!

Derived From Web

, Aug 18, 2020

I really enjoyed this book, and the way it challenges us to put all of our focus and energy into our relationship with God, so that we can be our healthiest selves, and live a life that truly glorifies God, he said.
I'm on the fence whether to recommend this book or not.

Derived From Web

, Jul 14, 2020

I'm not a big fan of the book. There is a lot of gold in the book, Mr. Rule told the judge. But there are also a lot of bone chips that you need to spit out. I feel like it's a works-based Christian book, he said. Grace is not there to enable us to be lazy or disobedient, Mrs Hughes said. Grace of God was at work in saving us, he said. It's like you have to serve God or else. Grace tells us that we get to serve God, He has given us all. You don't have to stay pure to stay pure. You have been saved through faith,' said the Lord. This is not your own doing, and LiveCareer is not responsible. it is the gift of God, not a result of works, so that no one may boast, he said. I've had a lot of fun with him, and I love lots of stuff he puts out there.
Crazy Love

Derived From Web

, Jun 25, 2020

This book is very, very remarkable, said Dr. Goin. The layout was easy to understand and relatable to most people. I would highly recommend this book to anyone.
Not For the Faint of Belief

Derived From Web

, Jun 3, 2020

His book "Francis Chan" challenges the Christian faith with a contemporary message of hope. You confess that Jesus is Lord, and He gives you the Ten Commandments. Now, consider this: We as Christians need to consider, and perhaps even heal, the body of Christ. We are saved then called to go do the will of God, which may not line up with what we planned for ourselves. The other goal is to change the game of engineering so that we can take advantage of new opportunities. Get to know the Pope better and you can start having a life of real fulfillment.
I admire Chan's passion for biblical truth.

Derived From Web

, Feb 17, 2020

I admire him for his passion to explain God's word in a way that can be well understood, O'Brien said. But as with many other preachers, he's with each subject, leaving out a few incomplete verses here and there that also pertain to each subject.
New beginnings

Derived From Web

, Sep 16, 2019

I have been in awe from the first page to the last page, this book has opened my eyes and heart to be more open as a Christian and think more broadly, he said.
Good Ideas, but Extreme

Derived From Web

, Jun 11, 2019

He also thanked God for the "miracle" of Chan's life. He also said that "it is perfectly fine to serve Him whatever He has given us." We don't need to feel guilty if God has given us less than what He has given others, he said. I am happy for the examples Chan gives, but would have liked some more encouragement for worker bees in God's church, said Paul. It often seemed aimed at those who want to make big statements with their lives, rather than the music industry.