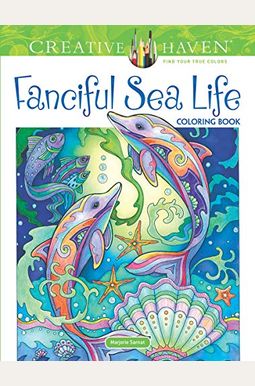 
 
Creative Haven Fanciful Sea Life Coloring Book
Book Overview
This is a very well-design coloring book, with original artworks, even line-widths, and a lovely and playful design style that is as attractive as it is fun to color. Excellent, high quality coloring book -- Daily Greet
This imaginative collection of 31 wondrous designs features a variety of stylized ocean creatures with highly detailed and decorative backgrounds. Images include schools of exotic fish, a sunken ship and treasure chest, a seashell castle, and such underwater dwellers as jellyfish, an octopus, sea turtles, striped angelfish, whales, and more. Pages are perforated and printed on one side only for easy removal and display. Specially designed for experienced colorists, Fanciful Sea Life and other Creative Haven(R) adult coloring books offer an escape to a world of inspiration and artistic fulfillment. Each title is also an effective and fun-filled way to relax and reduce stress.
Frequently bought together
Frequently Asked Questions About Creative Haven Fanciful Sea Life Coloring Book
Book Reviews
(12)
Did you read Creative Haven Fanciful Sea Life Coloring Book? Please provide your feedback and rating to help other readers.
Innovative and unusual designs

Derived From Web

, Oct 30, 2021

I bought this for me to relax during the stressful Covid quarantine nights. I liked the designs, a break from all the Mandelas and Celtic knots and geometrics, I don 't like traditional scenes or animals or fantasy figures, after all I am an adult and my current coloring is more like ART. Well, not really... But I loved coloring as a youngster and never dreamed that I would do it as an oldster. I would recommend that you give this book a try. I use markers, gel pens, pencils... Mixing them really adds to your finished creation.
🚫 Markers/Pens

Derived From Web

, Feb 8, 2020

The designs are wonderful and I love coloring them. But it is best just to use colored pencils. I attached an image showing the backside of a page that I am coloring, and the ink bleeds right through. I tried various markers and pens and just soak them through. And then the paper becomes thicker, I wish these were even printed on a wrinklier paper or cardstock ''. The designs are actually quite wonderful, though. I just don 't like being limited to colored pencils. I saw a review where someone used water colors, so I thought it would be heavy enough for some markers or pens. Let me be clear, I wasn 't thick handed with the markers.
Lots of cute, detailed designs. Great choice!

Derived From Web

, Jul 25, 2019

Great designs and lots of detail. I love this brand of the coloring books. I love this brand of the coloring books. I looked at dozens before purchasing and glad I chose this one! '' Has 31 pages to color, Has 31 pages to have.
Very beautiful coloring book!

Derived From Web

, Jul 14, 2019

I am impressed by this book of coloring. It has abundant pictures with only the right mix of reality and imagination!
Best so Far

Derived From Web

, Jun 8, 2019

My sister is housebound, so I try to get her into these adult coloring books, she really likes it, so I bought her colored pencils, gel pens,highlighters and so far many different books, although she does like the stained glass. This was an extraordinary value with content and quality.
Beautiful designs; fun to color...

Derived From Web

, Mar 1, 2019

I've included a few pictures I've coloured from this book, Fanciful Sea Life, by Marjorie Sarnat. All of her designs are beautiful, very relaxing and a lot of fun to color! Marjorie has a wonderful Facebook group, Marjorie Sarnat's Creative Coloring '', where you can share your colored images of Marjorie's designs or see how others color them. There are also weekly color-alongs and monthly challenges if you want to join the fun! )
Great for Handicapped Folks & Watercolor Pencils!

Derived From Web

, Feb 19, 2019

I love '' this book! I enjoy using watercolor pencils to lay my colors down and then touch it with water. The paper doesn 't seem to buckle quite as much when it gets a little wet. The lousy photos are kindly forgiven. They were placed on my lap because I am severely handicapped, but I can do this and I love it!
Nice images to color, love the single-page images, no worry about bleed thru.

Derived From Web

, Nov 21, 2018

Thought there were some beautiful images in the book to color, and the single page images are great for bleed through containment, no way your coloring can contaminate the next page, because the back of each image is blank. My only con is that I prefer images with the LESS pattern. But that is just my own personal preference. This book has some amazing illustrations to color. Highly recommended. Highly recommend.
I can use water colors on this paper!

Derived From Web

, Jun 30, 2018

I love the paper and I can use my water colors. I can also use my sharpies and gel pens for some fun blending. Like this one a LOT!
Favorite "ocean" coloring book

Derived From Web

, Mar 26, 2018

This has super cute pictures, great quality paper, and perforated pages of you want to tear any out. One of my favorite Odean '' coloring books yet!