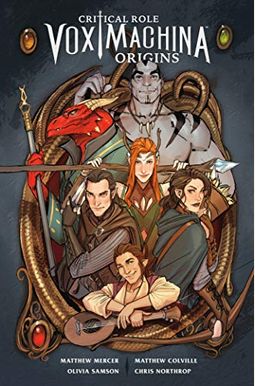 
 
Critical Role Vox Machina: Origins Volume 1
Book Overview
From the creators of the hit show Critical Role comes Vox Machina's origin story Writers Matthew Mercer and Matthew Colville team with artist extraordinaire Olivia Samson and colorist Chris Northrop to bring you the story of where the heroes' journey began.
The band of adventurers known as Vox Machina will save the world. Eventually. But even they have to start somewhere. Six would-be heroes on seemingly different jobs find their paths intertwined as they investigate shady business in the swamp town of Stilben. They'll need to put their heads-- and weapons--together to figure out what's going on.and keep from being killed in the process. Even then, whether or not they can overcome what truly lurks at the bottom of the town's travails remains to be seen Collects
Critical Role Vox Machina: Origins
comics issues #1-6, one of the best selling digital comics ever
Frequently bought together
Frequently Asked Questions About Critical Role Vox Machina: Origins Volume 1
Book Reviews
(9)
Did you read Critical Role Vox Machina: Origins Volume 1? Please provide your feedback and rating to help other readers.
FYI Infant Death

Derived From Web

, May 17, 2021

I am a huge fan of Critical Role and have never cared for any of the content before, but I was surprised that it started with an infant death. I think I should specify the death of an infant. I had to put it down and hug my baby before I came back to it because I loved everything else about it. You don't have to wait in between parts 1 and 2 if you buy both of them together.
Cute to start with

Derived From Web

, Dec 1, 2020

I' ve been watching Critical Role and working my way through the first campaign. I was excited to read the graphic novels and listen to the characters I'd been listening to. I don't think the writing for this particular graphic novel is very good. While watching, there are attempts to be as sarcastic as the game is. The dialogue pacing in this book could have been better.
Good comic, held back by its digital execution

Derived From Web

, Jul 19, 2020

The book is fun, witty, and wonderfully illustrated, but may be a bit heavy on the fan service. It is enjoyable enough. It's a shame the version of the device is not up to date. The small dialogue texts are hard to read because the digital copy barely zooms in on the panels. It is hard to read on an iPad. Don't use a phone. Since horizontal orientation becomes too small, you' re also committed to portrait orientation. This was poorly done. It's probably better to get the actual hardcopy.
Critters are Best!

Derived From Web

, Feb 20, 2020

I don't support the cast and artists enough, and I praise them enough. Everything they create is a testament to the love and effort of this group. If you want to spend money on someone who is deserving in the artcreative world, you should throw it towards Critical Role. As the issues come out, I' ll be buying them. You can't go wrong with the artwork and the stories.
Great Comic, Disappointing Art

Derived From Web

, Dec 12, 2019

The comic follows the story of the beginning of the company. It's nice to see how they met and their first interactions. I was very disappointed to find out that the art on the cover isn't the same as the actual art style of the comic, even though the cover art is very good. The overall art style was not good and this review is based on my opinion. This comic is great if art style doesn't bother you.
This Comic Will Engage You Within 2 Pages.

Derived From Web

, Oct 24, 2019

Within the first 60 seconds of opening this comic, I was hooked. I'm glad I waited for the Volume series to come out, I could only imagine the pain of waiting in between issues as this story is very well- paced and grips you visually and captures your imagination. This is everything a Fantasy Comic should be. Fantastic action and lore, as well as adult flavor and real- to- life characters and decisions. I'm not much of a Comic Book Guy but I'm a big fan of Matthew Coville and the Fantastic Matthew Mercer and I' ve found that playing a game with both of them has turned me into a comic book nerd. The next volume will be purchased once the compilation is done.
Great start for Critical Role comics

Derived From Web

, Oct 16, 2019

The Critical Role comic run is off to a great start. There are a few instances where a scene jumps or dialogue skips a bit, but overall it was a great first volume in what I hope to be a long run!
Beautiful Artwork Inspired by an Amazing cast!

Derived From Web

, Oct 16, 2019

This collection is wonderful and I love critical role. It is easy to read the pages. It's a great read for bothcritters and animals.
Absolutely Beautiful!

Derived From Web

, Oct 15, 2019

Absolutely wonderful! I wanted a physical copy of the comics that I bought through Dark Horse. I'm glad I got this. The pages are printed in bold colors and tell the story of the show as a continuous one. The cover has a dark background and photolettering with a glossy finish. I can't wait to add this book to my bookshelf.