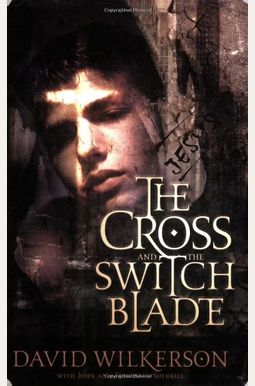  
Cross And The Switchblade
Book Overview
This Description may be from another edition of this product.
Go to New York City and help those boys.

David Wilkerson was taken aback when he heard God speak those words to him late one night as he stared at a picture of seven young gang members on trial for murder. He was simply a country preacher at a small church in Pennsylvania. What impact could he possibly make--especially in New York City?

But God continued to lay those boys on his heart, and he sensed this was his calling. So he uprooted himself from his comfortable life to pursue the dangerous mission God was calling him to. Not long after, he was moving among the most violent gangs and drug users in New York, sharing the Gospel.

This captivating story describes the founding of Teen Challenge--an inner-city ministry that today maintains residential and crisis counseling centers around the globe--and the man who obeyed God's summons to reach out to the least of these. It is also the story of how God can use anyone to save those we may think are beyond saving.

David Wilkerson (1931-2011) founded Teen Challenge and World Challenge (www.worldchallenge.org) and was the founding pastor of Times Square Church in New York City. He authored more than forty books, including the bestselling The Cross and the Switchblade and Have You Felt Like Giving Up Lately? With a particular longing to encourage pastors, he traveled around the globe. On the day of his death, he was still ministering.
Frequently Asked Questions About Cross And The Switchblade
Books like Cross And The Switchblade
Book Reviews
(17)
Did you read Cross And The Switchblade? Please provide your feedback and rating to help other readers.
David spoke about a personal relationship and love with God and the Holy Spirit that left me ...

Derived From Web

, May 5, 2022

This book changed my life. David spoke about his personal relationship with God and the Holy spirit, and I wanted to feel that same love. I found it after searching and my life and beliefs are different. I wish this book would be read by every young person, not a fictional book like Harry Potter. It would help keep young people from getting involved with drugs. They saw the love and joy that this brought to me and they both read it and wanted to know what it had to offer. The Cross and the Switchblade had brought us a lot of joy.
An Oldie, a story of a man who walked where most would dare not

Derived From Web

, May 5, 2022

Someone in prison bought this for that person in a sense that it might hit home. I bought it for a person I knew, but I asked that they find something in it. We are responsible for the input and the outcome, only time will tell, it's always paraphrase. It certainly was for the person I picked it up for. Pat boano is said to have been a part of a film called "David", based on the story of a young man who was forced to leave his home. I was thinking of the book of 1959 titled twiXt 12 and 20, it was sold well but no longer sells today. The streets ofhell were dangerous and the men who lived there would rather not go there. This is a book that is for Him and if it's for you then I'm willing to lend you my services.
The cross and the switchblade

Derived From Web

, May 5, 2022

This book is a favorite of mine. The book was given to us by the youth pastor. It was impossible to put it down. I allowed my friends to borrow it. I gave the book to my boyfriend when he was going through basic training, but it got lost and I hope someone gets to use it. It was still good after I read it again.
Holy Spirit moving today.

Derived From Web

, May 5, 2022

I want to know if the Holy Spirit is moving. This is a good example of how God is moving. The only negative thing about the book is the way it was scanned. There are a few things that are not in the original printed copy.
The Cross and the Switchblade by David Wilkerson

Derived From Web

, May 5, 2022

This is one of the best books I've ever read. I first read it 40 years ago. The story is still being told. The writer's style kept me in the story. This is a wonderful book that every young person should read.
Compelling novel

Derived From Web

, Aug 3, 2020

The story of the beginnings of the Teen Challenge drug rehab program is told in a compelling novel. David is called by the Lord to go to New York and fight gang violence. It is a great read. He relates the Holy Spirit'sbaptism to a cure for drug addiction. I have found this to be the case in the lives of others I have known. How does the Holy Spirit relate to the work of the church? How could he have known about it?
God is a living compass

Derived From Web

, Jul 18, 2020

Sometimes you have to follow your heart. He will make a dollar appear.
Great read!

Derived From Web

, Jul 6, 2020

There are many things in this book that are not obvious. Thank you David... Fantastic... Visionary...
Book badly constructed

Derived From Web

, Jun 13, 2020

The true story is great but avoid this edition. The cover size is not ideal for a paperback, with theprinted pages touch each other, and the binding is weak. Purchase the edition with the green and black cover. The youth edition only has a few of the words that were in regular editions replaced with simpler words.
Awesome!

Derived From Web

, Oct 27, 2019

This is a book that tells a beautiful story about the Holy Spirit. I had a hard time putting it down after picking it up. I was blessed by this book.