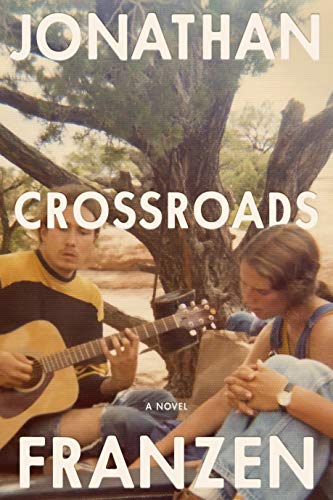  
Book Overview
Jonathan Franzen's gift for wedding depth and vividness of character with breadth of social vision has never been more dazzlingly evident than in Crossroads.
It's December 23, 1971, and heavy weather is forecast for Chicago. Russ Hildebrandt, the associate pastor of a liberal suburban church, is on the brink of breaking free of a marriage he finds joyless--unless his wife, Marion, who has her own secret life, beats him to it. Their eldest child, Clem, is coming home from college on fire with moral absolutism, having taken an action that will shatter his father. Clem's sister, Becky, long the social queen of her high-school class, has sharply veered into the counterculture, while their brilliant younger brother Perry, who's been selling drugs to seventh graders, has resolved to be a better person. Each of the Hildebrandts seeks a freedom that each of the others threatens to complicate. Jonathan Franzen's novels are celebrated for their unforgettably vivid characters and for their keen-eyed take on contemporary America. Now, in
Crossroads
, Franzen ventures back into the past and explores the history of two generations. With characteristic humor and complexity, and with even greater warmth, he conjures a world that resonates powerfully with our own. A tour de force of interwoven perspectives and sustained suspense, its action largely unfolding on a single winter day,
Crossroads
is the story of a Midwestern family at a pivotal moment of moral crisis. Jonathan Franzen's gift for melding the small picture and the big picture has never been more dazzlingly evident.
Frequently Asked Questions About Crossroads
Book Reviews
(16)
Did you read Crossroads? Please provide your feedback and rating to help other readers.
An Instant Personal Top 5

Derived From Web

, Mar 5, 2022

I felt like Franzen was telling a story about my family when he wrote it. I'm attached to these characters as if they were my own family. It's a moving narrative and it's hopeful. I'm looking forward to the next one.
Captivating character development

Derived From Web

, Feb 18, 2022

I bought this book because Amy talked about it on her account. That is how I am, funny lady says something is good. I will be able to get it. I was horrified to see it was over 500 pages long. That is double the length of a book I usually read. I was intimidated when I opened it because it's tiny. I am almost done with it in a few weeks. I enjoy the plot, and am invested in the story. It is a fun way to spend my afternoon. There are two thumbs up.
Franzen's best book

Derived From Web

, Jan 2, 2022

He creates detailed, unique characters. They don't fall into neat categories of good and bad, but instead have the complexity of real people.
Good book

Derived From Web

, Dec 28, 2021

I liked the book. I liked it even though I didn't love it. Character development was very good. The end was rather abrupt.
Franzen gets people

Derived From Web

, Dec 26, 2021

Jonathan Franzen is playing a character. You can feel compassion for their being even when they are notlikable. It's what good fiction is all about. Don't waste your time, just read it.
Franzen's best

Derived From Web

, Dec 20, 2021

It seems like it's more real than life. Through the minds of five characters, Franzen creates an internal and external reality that I did not want to leave. I know this family better than I do. There are unforgettable characters in the novel.
How long do we have to wait for the second birthday ok!

Derived From Web

, Dec 13, 2021

This is the best book he has written yet. I searched the entire tome in one weekend. The man has the ability to write.
Review of crossroads

Derived From Web

, Dec 8, 2021

I'm a big fan of him. He gets into the heart and soul of America and the age we live in.
Beautifully written

Derived From Web

, Oct 21, 2021

This is the first book I have finished. I lost the freedom and the corrections. I am happy I didn't give up. This is a story of a family who had to break up.
Huge waste of money, criminal waste of time.

Derived From Web

, Oct 16, 2021

If you enjoy dull writing, characters with no redeeming qualities on paths to nowhere that take forever to arrive, no insight or ultimate truth, this is the book for you. It was obvious from the beginning that it was going nowhere and taking the long way to its destination, so I read the entire thing out of disbelief. People should skip this book. There are too many good ones to waste your time. I am sorry.