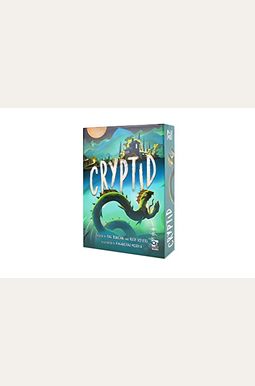 
 
Book Overview
Voted #1 Game of 2018 from GeekDad.com and GameBoyGeek.com
You've studied the footage, connected the dots, and gathered what meagre evidence you could. You're close--soon the whole world will know the truth behind the
Cryptid
. A group of like-minded cryptozoologists have come together to finally uncover the elusive creature, but the glory of discovery is too rich to share. Without giving away some of what you know you will never succeed in locating the beast, but reveal too much and your name will be long forgotten
Cryptid
is a unique deduction game of honest misdirection in which players must try to uncover information about their opponent's clues while throwing them off the scent of their own. Each player holds one piece of evidence to help them find the creature, and on their turn they can try to gain more information from their opponents. Be warned; give too much away and your opponents might beat you to the mysterious animal and claim the glory for themselves The game includes a modular board, five clue books, and a deck of setup cards with hundreds of possible setups across two difficulty levels. It is also supported by an entirely optional digital companion, allowing for faster game setup and a near-infinite range of puzzles.
DescriptionNumber of players:
3-5
Ages:
10+
Time:
30-50 minutes
Components:
5 player booklets, 6 board pieces, 60 cards, tokens & counters
Frequently Asked Questions About Cryptid
Books like Cryptid

Book Reviews
(9)
Did you read Cryptid? Please provide your feedback and rating to help other readers.
Imagination required

Derived From Web

, Mar 11, 2022

The idea of this game sounded exciting, but my desire to play it quickly diminished once I realized that the game's cryptids are not pictured anywhere besides the box. Essentially, you are trying to find a hex on a map more than discovering a cryptid. Its fun deducing with friends, but then you will get it over with and go well that was it? A game with the existence of phenomenal creatures should have more stakes. The game is also a little difficult to set in my opinion, as you have to play the board and give clues as to not give it away to yourself if you intend to play. The game is interesting to say the least, it could serve as a mold to expand in the future. That said, I would not recommend buying this if you expect something exciting or are not a fan of logic - based board games.
great low-key game for people who like deduction, just don't expect it to be about cryptids

Derived From Web

, Nov 16, 2021

The game is quite fun if you like competitive intellectual games. The materials are also nice, though it would be nice to have sealed plastic bags for the components instead of reusable bags. Also, don 't expect the game to be about cryptids ; there is no pure connection, it is a real thematic puzzle.
Enthralling game!

Derived From Web

, Jun 10, 2021

It is reasonably quick, with solid strategic decisions on the way. Generally speaking, I play very casual games and this was still approachable, but with deep critical thinking. Definitely a thinking person's game, but my less analytical friends have seemed to enjoy it as well. I've played 5 or 6 games so far, but seems very re-playable as well.
Great deduction game

Derived From Web

, Mar 27, 2020

Great game! This game is a logical deduction game and makes you think hard about the new information given, which is considerably different from other deduction games that are mostly social deduction. Also the components were great : I would recommend this game if you like to play code names or zendo.
Great logic game!

Derived From Web

, Dec 18, 2019

Each person is given a different rule that describes a specific tile on the board. The goal is to figure out what your opponent's rules may be based on their actions, so that you can then determine the location of the mythical creature. I played this several times and has been a hit with everyone. Since it does require some thinking deduction, it may be a difficult game for younger children.
interesting dedication game

Derived From Web

, Feb 6, 2019

It's a good game and right up my alley, however the game does not include enough components, hopefully the publisher will resolve this issue, as we ran out of components in more than half of the games I played.
Outwit your friends in this creature hunt

Derived From Web

, Jan 25, 2019

I really enjoy this game ''. I have played more than a dozen times and sometimes I feel like I am actually getting better at it. haha, I hope you find it. If I win not affect my enjoyment of the game at all. You want to ask someone about their clue? Make deductions : All without artifical restrictions that are only there to slow a game. Cryptid is fun and crazy, but not so long that you can 't get involved in two or three games with your friends in an evening. The only complaint is those silly game piece colors. It is the one blemish in an otherwise fantastic little game.
Wonderful

Derived From Web

, Nov 29, 2018

This game is easy to learn, beautiful to look at, clever, interesting and most importantly, FUN! We laugh so much as we scratch our heads... You gotta try it.
One of the best deduction games out there

Derived From Web

, Nov 23, 2018

We're huge deduction fans. And this is quickly becoming one of our favorites. Somethings that it does that * Adds a great visual element to classical deduction * Screwups can easily be fixed. Nothing ruins the game more than a mistake that kills it. Great replay-ability : Love the modular board and the different levels of play. You can print some great ones from the boardgame geeks, but it should really have been included. I suggest this game whole heartedly!