Buy 3 Get 1 Free
Our Best Sale Yet! Add 4 Books Priced Under $5 To Your Cart Learn more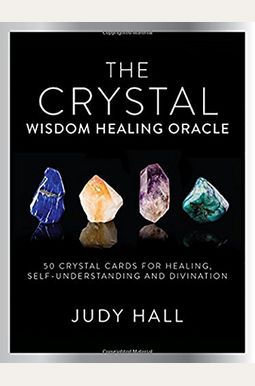 
 
Crystal Wisdom Healing Oracle: 50 Oracle Cards For Healing, Self Understanding And Divination
Product is currently Out of Stock.
You can add it to your wishlist and you will be notified once we receive a copy.
Book Overview
Crystals have been used for divination since ancient times. Their powerful intrinsic energies can serve as mirrors to reveal your true path and link you to that part of yourself that is all-seeing and all-knowing. Created by bestselling crystals expert Judy Hall, The Crystal Wisdom Healing Oracle will connect you to your higher, intuitive self, and, in the process, give you amazing insights into your past, present and future. The kit consists of a fully illustrated book containing 50 crystal profiles and advice on using the Oracle, and a deck of 50 crystal divination cards. Shuffle the pack and draw a card for an immediate insight. Or, for more in-depth readings, spread the shuffled cards according to one of the four crystal lattice designs the author describes, each one suitable for a different type of enquiry: Square (answering what if? questions); Hexagonal (how to move forward); Orthorhombic (hidden obstacles and skills); Triclinic (making decisions). Five card suits reflect the vibrational frequencies of the crystals within them (Earthy, Healing, Cosmic, Integration and Interactive) and allow you to conduct divinations at various levels, from the material to the spiritual. Superb, specially commissioned photography captures the essence of each of the 50 crystals shown on the cards. Perfect for anyone drawn to the beauty and healing energy of crystals, this Oracle shows you how to call upon them, even in card form, for life guidance and self-knowledge.
Frequently Asked Questions About Crystal Wisdom Healing Oracle: 50 Oracle Cards For Healing, Self Understanding And Divination
Books like Crystal Wisdom Healing Oracle: 50 Oracle Cards For Healing, Self Understanding And Divination
Book Reviews
(11)
Did you read Crystal Wisdom Healing Oracle: 50 Oracle Cards For Healing, Self Understanding And Divination? Please provide your feedback and rating to help other readers.
Very informative and nice learning tool

Derived From Web

, May 26, 2022

Inside you will find a very informative 120-page booklet, which tells u how to lay the cards for the healing process, how to apply the stones to the body, and is very detailed in the descriptions, Chakra Imbalances, how to heal the cards on or around the body, AND THAT 'S just in the 1st chapter!!!! There are a total of 3 chapters. I haven 't yet read the book since I received this box in the mail yesterday. I am, however, so excited to try it out, read and learn! Besides the booklet, u also receive 50 crystal cards printed on heavy card stock and each crystal is beautifully printed on the cards! I would definitely order again from this author and recommend this purchase to many others!
Nice cards

Derived From Web

, May 26, 2022

The cards have various information about the good, basic crystals :
Horrible. Crap cardstock and a ridiculous book and deck.

Derived From Web

, Oct 10, 2019

I 'd learn to love them or to give them. Horrible : Crap - Stock Peaking and Cheap. And the basis of all of them was ridiculous. Sooooo disappointed and really needs a beautiful crystal deck. This was not it, it told you to place the cards on the body to heal the visual power of the crystal. In this case, I could print better pictures on the toilet paper.
Love this deck!

Derived From Web

, Sep 28, 2018

It is illustrated beautifully. She gives you all different kinds of layouts that you can draw or you can simply do a card for a message. She goes into detail in the book about each card. She separates the cards into 5 different categories, depending on the type of crystal they are and their energy conversion. I love crystals and I love oracle cards so that combining the two is right up my ally.
13/10. Would buy again.

Derived From Web

, Jul 2, 2018

It is well made and pensive. It is a great accompaniment to the Tarot, but is a stand alone tool for divination, spiritual seeking and journaling, or wherever your great path leads. The cards and book are also of fantastic quality. I was absolutely impressed ''.
Top notch quality as usual from Judy Hall A+

Derived From Web

, Apr 22, 2018

Anything with Judy Halls name on it, I buy because her products are top notch quality and delivers beautiful messages and insightful information. Im always impressed by her objects. I bought a couple of her books and know that this is worth every penny.
Amazing cards. I definitely felt the energy they carry ...

Derived From Web

, Nov 1, 2017

Amazing cards : I opened the energy that they carry as soon as I felt the package. I know that some reviews seem not to like the silver-whitegrey back of the car deck. I thought it was, however, brilliant not to give color to the back of the cards to avoid interfering with the energy that the stone card carries. Given the fact that colors have its own vibrations, it would make sense to make the back silver or colorless. I love how it matches the silver lining on the side of the cards'rims. The booklet was the most complete I ever had and although I will have to get used to reading these cards soon, I feel pretty good. They cards meanings in the book have to be translated '' into your own situations because they are mostly related to healing specific situations.
I have had a crystal deck earlier but these are ...

Derived From Web

, Jul 1, 2017

I have a crystal deck earlier, but these are worth buying. I am just a beginner in crystals, but when I read these cards, it was as if they spoke to me without me opening the book to know about a crystal. For crystal lovers or beginners, must buy crystal. ''
These cards are Excellent

Derived From Web

, Apr 18, 2017

I LOVE these cards, I love these cards! A book of five reading opens a whole new world of understanding. I have a deep desire to move from my current location ; the card led me to move now would not be wise. Once you get into Judy Halls Crystal Wisdom - Healing oracle cards, you're whole world changes. You start seeing things better, I highly recommend these cards, a reading will give you all the answers you seek!
I like them because I can not own all the crystals ...

Derived From Web

, Mar 4, 2017

I used them to make gem water and had a dream to use the Brandenberg Amythist card for healing. I like them because I can not own all the crystals I want to own... and this is perfect.