Buy 3 Get 1 Free
Our Best Sale Yet! Add 4 Books Priced Under $5 To Your Cart     Learn more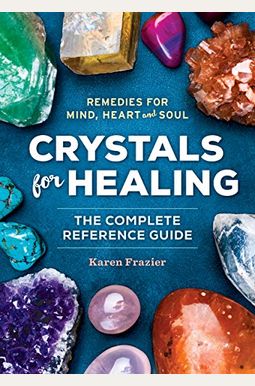 
 
Crystals For Healing: The Complete Reference Guide With Remedies For Mind, Heart & Soul
Book Overview
Unlock the healing power of crystals with detailed crystal profiles and more than 200 crystal healing remedies.
The resonating energies of crystals have long been believed to hold the secrets to healing, well-being, and success. With Crystals for Healing, beginners and seasoned healers can address more than 90 of the most common states people struggle with or aspire to achieve, including:
> Anxiety - Courage - Grief - Inspiration - Emotional Balance - Love - Worry - and Dozens More
From agate to zoisite, this comprehensive crystal bible explores a multitude of stones, their unique healing properties, the influence of color, and each corresponding chakra. It also provides guidelines for creating grids to further harness the positive energy of crystals and gemstones. With daily meditations and mantras, Crystals for Healing offers a truly holistic approach to healing and unearthing the deep connection between mind, body, and spirit.
Create positive change and open yourself to a more fulfilling life through crystals and crystal healing.
Frequently bought together
Frequently Asked Questions About Crystals For Healing: The Complete Reference Guide With Remedies For Mind, Heart & Soul
Book Reviews
(11)
Did you read Crystals For Healing: The Complete Reference Guide With Remedies For Mind, Heart & Soul? Please provide your feedback and rating to help other readers.
Very interesting and well written!

Derived From Web

, Apr 20, 2022

The book is very interesting. I like to read about all different kinds of things I like to read about. I believe that the more educated you are, the more you know. While I don 't necessarily believe in crystal healing, it is a subject that a few of my friends discussed and sounded very interesting. The book is well written and has an abundance of information. It begins by explaining to you what is crystal healing and then moves on to how it can help you. It then shows you how to purchase the right crystals and how to spot fake ones. There is then a page or two on each of the topics you may want to heal, such as anger, anxiety, stress, prosperity, trust, etc... It touches over 100 topics. Then the book ends with a page for each crystal. It shows a picture and describes where each crystal comes from, its primary healing use and what chakra you should place it on to help heal. Very interesting and well written! I received this book for free of charge to read it and share my opinion.
Very Well Structured

Derived From Web

, Mar 29, 2021

This book was written as a labor of love and you can tell that it is very detailed and you can tell that this book was written as a labor of love. Very well structured and really like how she breaks it into Crystal Remedies for a section and Crystal Profiles in the last. Amust have, just love mine!
Good starter book

Derived From Web

, Jun 15, 2019

I purchased this book for my daughter, who was interested in reading more information about crystal. Overall, it is a great beginner book, separated into sections well. It has been excellent in helping her to start her research. I purchased the Crystal Bible at the same time, but this goes deeper into more. It is helpful to know what steps to take next. For my younger daughter, this book was a perfect starting point. I think I would have preferred starting with the Crystal Bible, but i think it is all about preference.
Great start for BEGINNER

Derived From Web

, Jan 20, 2019

I loved the IDEA of this book absolutely. It's super beginner friendly as she describes every step, from getting acquainted with them, to shopping for them, preparing to use them, excesizes for using them to treat different diseases, and a short description of 100 different crystals. She also included mantras to get the most out of the energy they possess, which is a nice element. I love the colors, fonts, and pictures, but I noticed fairly quickly how short the descriptions of these crystals are. I have a collection of about 20 strong now, I still consider myself new, but I found my OWN knowledge exceeded some of the information that this book gives... Karen Frazier knows her stuff, I just wish that this book gave a little more information in the description portion. If you are just starting out, this is a wonderful resource, but somebody who already has a solid understanding of crystals may be a little disappointed.
Great Book

Derived From Web

, Dec 9, 2018

I bought this book for reference work and find it packed with information on crystals. A great purchase. Thanks.
Good for beginners

Derived From Web

, Dec 1, 2018

It is a simple book on crystals with sections on decent ways to use crystals for various situations like abundance, anxiety, creativity, fear, etc. It also contains a section describing 99 different crystals, their primary uses, origins, chakra and placement for crystal works. It is a very simple book, said said. The remedies are very basic and accessible for anyone with a simple crystal collection. Probably good for a beginner, also good for a beginner. I just felt that it was a bit lacking. The paper is inspiring. The only photos are in the section that describes the different crystals and are okay, just nothing special. I don 't know, the book is fine, I guess it just didn 't excite me much. I would have returned it if I could have returned it without having to pay the shipping cost, I would have returned it.
Perfect Birthday gift

Derived From Web

, Jul 9, 2018

I gave this to my brother as a birthday present and it was perfect! It is a great book with lots of nice heavy information. I am glad to have picked this one ''. I am glad to have picked it up.
My Favorite Crystal Book.

Derived From Web

, Mar 26, 2018

This is my favorite book of crystals. This book is very different and organize in sections about pretty Expirations and situations that you can mediate with Crystals and heal with Crystals. I love the layout and everything about this book. I love everything about it. I take this book everywhere with me to reference back to it too for me and my family when I have questions about crystals. I am still learning about crystals and this book is an easy read and breakdown about healing. I even love the solutions she gives. I want to thank this author as you can tell that she took the time to make this book such an easy read, but yet informative. I will order more as a gift, and I will be ordering more. This is a must buy and great reference. I am very satisfied with my purchase and I am very happy with my purchase.
A hefty, definitive resource

Derived From Web

, Dec 27, 2017

I'll be straightforward just : I am not an actual Crystals and Meditation - person. I bought this as a gift for someone who loves new age spirituality, but has not yet delved into crystals, and I have done a lot of reading to find the best book for her. It is a heavy, glossy paperback with thick and present reference pages. You can also search the index by adding crystalmineral or by ailment. Each entry had descriptions of the mineral, what colors it comes in, what it helps with, and a meditation script for this specific thing. If you want to be a level professional on the spirituality of the crystals, this is definitely your guide.
Its alright and does have good information in it

Derived From Web

, Dec 15, 2017

This was the first crystal book I received. It is good and does have alright information in it. But at the time I was looking for a more indept book on crystals. I later received the Crystal Bible 1 and 2 and liked those more. This is a good book for help with specific healing needs, though it gives you only two or three crystals for specific healing and its many crystals that would help could also help. Each person is attracted by the crystal that suits them best. I was also surprised that it does not ever bring up fertility crystals or ones that could help the reproductive system. I also noticed that it is some crystals that are brought up in the beginning that are not in the reference section. Overall, a good book is still.