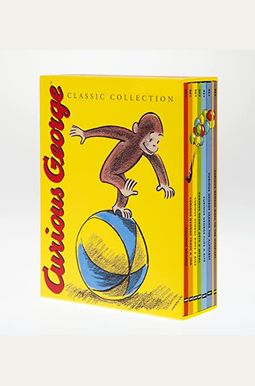 
 
Curious George Classic Collection
Book Overview
Stay Curious at Home with Curious George. and John Krasinski
Here's some good news John Krasinski shares storytime with your little one. This complete collection of the seven original
Curious George
stories, featuring downloadable audio read by John Krasinski, is the perfect bookshelf addition for old and new fans alike. Contains:
Curious George, Curious George Takes a Job, Curious George Rides a Bike, Curious George Gets a Medal, Curious George Flies a Kite, Curious George Learns the Alphabet,
and
Curious George Goes to the Hospital.
Frequently bought together
Frequently Asked Questions About Curious George Classic Collection
Book Reviews
(11)
Did you read Curious George Classic Collection? Please provide your feedback and rating to help other readers.
In love!!!

Derived From Web

, Oct 11, 2021

These books are the true original classics and my four-year-old loves them. He loves Curious George and I love the quality.
A hidden treasure

Derived From Web

, Jul 23, 2021

I LOVE IT! I LOVE IT! '' These books remind me of my childhood love for CG, and are absolutely FABULOUS in quality, and almost twice the cost of a CG book, which contains SIX, REAL SIZE books in an awesome casing. I bought these for my beautiful granddaughter, and she loves reading her these stories to her. If u loved the original books... THIS IS A STAL!
Excellent quality

Derived From Web

, Jan 23, 2021

This hardcover set of Curious George books is for people who appreciate both Curious George and the traditional feel of a well-bound book. I bought them for my three-year-old grandson for Christmas, and I was probably more delighted with them than he was. A few times I ran my fingers over the covers in appreciation. If you're a book person, you know what I mean. Since Christmas, my grandson has grown to love them. He snuggles with the plush Curious Geoge Mimi gave him, along with a book, and pretends he can read.
Arrived on time, just as described, exactly the gift I wanted for a friend's baby!

Derived From Web

, May 16, 2020

I bought this Curious George Classic Collection set of books as a gift for a friend's baby. It was arrived exactly as described on time today. I have also purchased an adorable, soft, snuggly stuffed George as a gift for the same friend's baby. It arrived on time too. It is so soft, and cuddly! It is a pretty good animal stuffed with a very large, high quality, a very good value for money. I can not wait to give these gifts for my baby to my friend! I highly recommend this classic George Classic collection book set and the seller!
Know what you are getting with the classics

Derived From Web

, Apr 23, 2020

My son LOVES Curious George and we have a ton of CG Books. Just know what you are getting with the classics. As others have mentioned, George smokes a pipe, drinks chemicals in a hospital and passes out, goes to prison for a phone call, a lot of people are called fat, etc. I have had to heavily edit as I am reading and am now going to get rid of most of them as he is getting older. For young children, the newer CG books are much better, especially for newer CG books.
Characters shown smoking!

Derived From Web

, Apr 12, 2020

The delivery was good and they are reasonable hard back books of good quality. Curious George sadly means that for some books you have to edit as you read, while others have such terrible content that they should not be used, for example in the first story, Curious George, the main character is tricked into a sack so that he can be transported to the USA by his smiling, laughing captors. This book also shows adults and the main character smoking! On several pages, this book also shows adults and the main character smoking!! George is also shown in prison and escaping by outwitting a fat-shamed guard. Completely inappropriate!
Classic Series

Derived From Web

, Feb 1, 2020

The book set arrived just as described. Although I bought it for my own children, it would also make a wonderful gift.
Beautiful quality

Derived From Web

, Dec 7, 2019

Curious George was my favorite son's favorite 25 years ago. Curious George appeals to boys with high energy, who are sometimes misunderstood. My son was identified with George and enthralled by his antics. I bought this collection and the stuffed George for my next door neighbor for Christmas. When I purchased the pair of items, I thought they were a little expensive, but after I received them, I understood. The box set is beautiful! The box and books are sturdy and it is a good representation of the larger collection. I think the boy I bought them for will understand how special they are.
Best book series ever written.

Derived From Web

, May 14, 2019

Curious George is the best book series ever written and these books, containing them, were made very well and shipped well to my house. None of the books were damaged. They were all okay though. 100% okay, 100% is 100% sane. I know that my nephew will love these books as much as I love my set. And might I say that here is the only place where I could find all the original books by Curious George without any of the newer ones thrown in or missing. GREAT!
Happy Toddler

Derived From Web

, Jan 30, 2018

The collection came quickly and arrived in a wonderful condition, the quality of the hardcovers are excellent, as is the sleeve that the collection comes in! My son is currently having fun slipping the books in and out of the sleeve and was so excited that I had to read him every book that came with the collection, of course his stuffed curios George had to be in his arms the entire time. I am a happy momma!