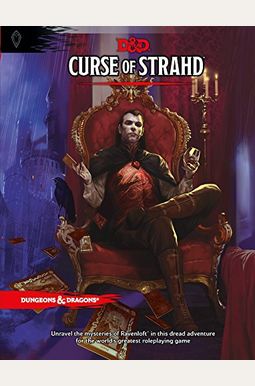 
 
Book Overview
Unravel the mysteries of Ravenloft(R) in this dread adventure for
the world's greatest roleplaying game

Under raging storm clouds, the vampire Count Strahd von Zarovich stands silhouetted against the ancient walls of Castle Ravenloft. Rumbling thunder pounds the castle spires. The wind's howling increases as he turns his gaze down toward the village of Barovia. Far below, yet not beyond his keen eyesight, a party of adventurers has just entered his domain. Strahd's face forms the barest hint of a smile as his dark plan unfolds. He knew they were coming, and he knows why they came -- all according to his plan. A lightning flash rips through the darkness, but Strahd is gone. Only the howling of the wind fills the midnight air. The master of Castle Ravenloft is having guests for dinner. And you are invited.
Frequently bought together
Frequently Asked Questions About Curse Of Strahd
Books like Curse Of Strahd
Book Reviews
(13)
Did you read Curse Of Strahd? Please provide your feedback and rating to help other readers.
Best writing of an old story yet.

Derived From Web

, Apr 20, 2022

I have played it many times in different editions. This is one of the best versions I've seen. The gothic trinket table is great, the background is nice, and the way the characters have been developed is awesome. If you want to start a crew off in this world, there are some rules from 1st to 3rd that are great, since I am playing with some youngsters that are big fans of the walking dead. I haven't played a game yet, but the initial read has been really good, so I will update with more details when I do.
A great adventure book for any D&D lover

Derived From Web

, Apr 20, 2022

Any DandD lover will enjoy this book. The illustrations are beautiful, and the story arcs are well put together. I liked the maps! You are free to build the adventure as you please, since the adventure leaves many things open ended. It's a good re-play value since you can pick and choose when. I wish they gave me more soundbites. You are creating most of his personality, which is great, but I prefer having a good character foundation to start on. He has a lot of history and motivation, but not a lot of his mannerisms. It seemed weak to me, but you can change that with a simple solution. If your characters are from the Forgotten Realms universe, I would like a general timeline to work with. I had to use the internet to find better references. Overall, an enjoyable adventure.
You Never Really Escape The Mists...

Derived From Web

, Apr 20, 2022

It's wonderful to see 5e content for Ravenloft and many outstanding questions since 2e are finally answered.
Did an excellent job with this version.

Derived From Web

, Apr 14, 2021

This is one of the best adventure guides that has been written recently. The first time I played it, it was still amazing. This edition has a great version of Detail that is very easy to play without a lot of changes.
Not necessarily for newbies.

Derived From Web

, Dec 23, 2019

It's a great module for those who've played before. Modifications are required for new players. Great story potential.
Quality is lacking. Edges and corners bent and banged up.

Derived From Web

, Sep 18, 2019

This is the first DandD book I have received from Amazon and it's unfortunate because it was one of my most anxious purchases'. I think I could have returned it for another one. If I had known better, I would have bought a mint condition $50 book instead of the one I just bought on Amazon. Guess not. The corners and edges are banged up. I could not tell if there were ink problems. It's a known fact that book quality and handling is lacking at Amazon Wizards. All in all a great book, which I highly recommend. I gave it a 2 stars because of the damage.
This is a review about the product not the story.

Derived From Web

, Aug 2, 2019

This adventure is absolutely amazing. The way the book was printed is what makes my 3 star review stand out. The map tear out tabs were printed on the wrong side so it was difficult to get them out. Amazon is making the situation right with their convenient exchange policy. 5 stars to the writers, 5 stars to Amazon, and 1 star to the manufacturer.
Tpk all the way!

Derived From Web

, Jul 4, 2019

Tired of laughing at your villains and having your players go through things without any concern for their safety? Fear no more! They will eat their families on Sunday. Yes, he's that bad.
Nice adventure, not so nice product quality.

Derived From Web

, Apr 17, 2019

There are several pages in this book that are bad. The adventure is one of the best 5e DnD has to offer, but Wizards needs to tighten up their quality control. The back cover of my new book is starting to tear away from the spine, so that's great.
gift

Derived From Web

, Jan 3, 2019

My best friend received this as a gift and he loves it! The book is an outline for running a campaign with this story, but it leaves a lot of room to make your own game.