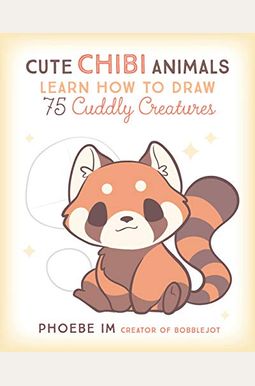 
 
Cute Chibi Animals: Learn How to Draw 75 Cuddly Creatures
Book Overview
In Cute Chibi Animals, popular Instagram artist Phoebe Im (@bobblejot) teaches you the art of chibi, step by adorable step.
Learn how to master this popular anime and manga drawing style with this book that focuses on
drawing 75 animals
, including an anteater, chinchilla, manatee, dolphin, sloth, axolotl, pangolin, owl, narwhal, and much more. Chibi is Japanese slang for short, and the characters in
Cute Chibi Animals
live up to this description with their cute roly-poly bodies that make them extremely lovable and huggable. Learn how to draw adorable:
Mammals
Birds
Fish
Reptiles
Amphibians
Along with the
step-by-step tutorials
, Phoebe shares her tips and tricks for drawing the animals with either pen and pencil or digitally; coloring, shading, and highlighting your characters; and giving them accessories for added cuteness. There are also coloring pages in the back of the book for some extra fun. So, get out your drawing supplies and start creating your animal kingdom
Frequently bought together
Frequently Asked Questions About Cute Chibi Animals: Learn How to Draw 75 Cuddly Creatures
Book Reviews
(10)
Did you read Cute Chibi Animals: Learn How to Draw 75 Cuddly Creatures? Please provide your feedback and rating to help other readers.
Great Book Except for Duplicate Animal Designs

Derived From Web

, Feb 24, 2022

The cover and pages are of high quality, the book says. The artist does a good job of going step-by-step, the reviewer said. The artist re-uses some of the original designs. The deer is basically the same design and position as the reindeer, Sosa said. The raccoon is the same design and position as the red panda. It's frankly lazy and makes me sad that they decided to cut corners for such an otherwise wonderful book, Mary.
One of my favorite drawing books

Derived From Web

, Feb 1, 2022

I am fairly experienced artist and have accumulated quite a few instructional books on drawing. The author demonstrates step by step how to draw cute Chibi-style animals, making this an excellent reference for new and seasoned artists alike. There are a variety of animals, each with its own class of animals. Please attach a picture of the table of contents to your request. The instructions for each animal are on either a single or two-page spread. I felt very successful drawing from the author's instructions, but please remember that only by practicing these skills will you master them. This is an amazing reference for anyone interested in this style of work. Thanks for the recommendation.
Cutest animation ever!!!

Derived From Web

, Dec 28, 2021

I can't even choose which is my favorite because I have a lot of animals to draw as well.
Fun for Kids AND Adults!

Derived From Web

, Nov 4, 2021

I bought this book to bond with my niece. The book is a simple to follow and doesn't waste pages with filler. I highly recommend this product to anyone.
Seriously comprehensive and adorable

Derived From Web

, Oct 12, 2021

In fact, every animal in this book is adorable and looks like what they're supposed to. Both my kids have enjoyed this book so much and, while some are challenging, are also doable, Melissa said. They like it so much, and I almost considered buying a second copy so they could have their own.
Great Drawing Book

Derived From Web

, Aug 17, 2021

Even though the book is fairly new, it does a great job of laying out each step. I have really enjoyed going through the book, said Lois Deutsch, assistant professor of English at Carnegie Mellon University. This is a great addition to any kids' classroom. Amazon's own product, the GPLv3 Universal Serial Library, has added metadata to the search results.
Such adorable creatures inside and helpful in creating my own chibi style

Derived From Web

, Mar 25, 2021

Been following this artist for a while and was definitely excited when the book was announced. I also liked the fact that there are other suggested books to get to help with work on chibi style art, and I ended up investing in those too.
Adorable Chibi Animals! Great step-by-step break down!

Derived From Web

, Mar 23, 2021

If you're a fan of the style, I highly recommend this book. The quality of the book itself feels extremely well made and made of quality material, he said.
Super cute!

Derived From Web

, Mar 5, 2021

My daughter absolutely loves it, her mom bought it for me because she could practice and learn to draw. It's easy to follow and she's already done some really cute chibi animals, Mr. Cowger said.
Great book and amazing advice!

Derived From Web

, Feb 16, 2021

I've been reading the Tori and Samuel comics for a while and I'm a huge fan of the style of the art. This book is amazing and gives plenty of advice and many different chibi animals to pull reference from, Raymond said. I really enjoyed this book and hope Phoebe continues to make more how to draw books in the future, said Ms. D.L.A.L.