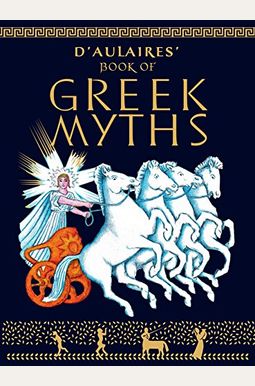 
 
D'aulaires Book Of Greek Myths
Book Overview
I doubt I would have grown up to be the writer and artist I became had I not fallen in love with D'Aulaire's Book of Greek Myths at the age of seven.--R. J. Palacio, author of Wonder.
Now updated with a new cover and an afterword featuring never-before-published drawings from the sketchbook of Ingri and Edgar D'Aulaire, plus an essay about their life and work and photos from the family achive.
In print for over fifty years,
D'Aulaires Book of Greek Myths
has introduced generations to Greek mythology--and continues to enthrall young readers. Here are the greats of ancient Greece--gods and goddesses, heroes and monsters--as freshly described in words and pictures as if they were alive today. No other volume of Greek mythology has inspired as many young readers as this timeless classic. Both adults and children alike will find this book a treasure for years to come. For any child fortunate enough to have this generous book . . . the kings and heroes of ancient legend will remain forever matter-of-fact; the pictures interpret the text literally and are full of detail and witty observation.--
The Horn Book
The drawings . . . are excellent and excitingly evocative.--
The New York Times
A New York Public Library's 100 Great Children's Books100 Years selection An NPR 100 Must-Reads for Kids 9-14 selection
Frequently bought together
Frequently Asked Questions About D'aulaires Book Of Greek Myths

Books like D'aulaires Book Of Greek Myths
Book Reviews
(16)
Did you read D'aulaires Book Of Greek Myths? Please provide your feedback and rating to help other readers.
Great Greek myth book! My favorite!

Derived From Web

, Apr 20, 2022

This was one of my favorite books as a kid, but after a few moves, I lost my copy. I found this and ordered it to share with my daughter to teach her a bit about her Greek heritage. My daughter is 5, so the wording is a bit plain for her but she enjoys the pictures and asks lots of questions about each deity. I wouldn't call this an educational book, but it was a big part of my Greek identity growing up and I like sharing that with my daughter, even if we're not Greek Orthodox. I just think it's an interesting subject and this is one of the best books I've read regarding Greek myth. It's a straightforward read and wonderfully illustrated, suitable for children as young as 8 or 9. The item arrived quickly and in perfect condition, it was ordered within four business days, it was stated.
Understanding the Greek gods

Derived From Web

, Apr 20, 2022

I have found the book has captured my soul. They say that it is a book to read to your child but it sets out the workings of the Greek gods in a way that made me understand them. I can't find them in my neighborhood, but I see references to them everywhere. These legends have deep roots and find easy application in today's world. Michael Jordan's widow, Sandra, said she was "thrilled" by the deal.
Short Review

Derived From Web

, Apr 20, 2022

I initially bought this book in paperback and I recently replaced what was left of my paperback with a hardback. The book includes the entire spectrum of Greek characters, from the legendary Tostoy to the irreverent philosopher. Each story is about two to three pages long, with the exception of the prologue. If you want a more detailed story, you will need to keep looking.
This book is amazing, just as all the other D'Aulaires Books

Derived From Web

, Apr 20, 2022

It may be recommended for 8-12 year olds, but I'm 40 and am learning just as much from the book as my children. Thumbs Up! A passionate Catholic, he said: "There is no room for error."
Classic collection of stories

Derived From Web

, Apr 20, 2022

It's a great British film, one of the greats. It's great for families with curious children, too. We've read through it at least six times and counting, the gods and goddesses have made their way into many games and conversations, and it opened up all kinds of conversations about what people believe, what Greek mythology stood for, and how different worlds can be. We're not yet finding a child who isn't fascinated by the stories.
A Gift With a Long Shadow

Derived From Web

, Apr 20, 2022

Young readers will enjoy the D'Aulaires' story telling. She took over from there and a battered, colored copy of the book is still somewhere in the house. Without knowing the myths and legends of the West, it is virtually impossible to understand the culture. Edith Hamilton, the opera's grande dame, tells them better, but not for the very young. It's just that perfect present.
Not for kids under 13

Derived From Web

, Mar 2, 2021

The writer of the article described it as "a misleading description of a product." For the most part, the boys were 8 to 12 years old. My son is 8 and I can't believe it. Even with its colossal girth, the sloth is not considered a threat. It's a lot of fun, but also the vocabulary is advanced. I really just wanted a book to introduce my son to the Greek gods, Mrs Clinton said. It's a Buy 1 get 1 for 9 year olds. It's probably a minimum of 12 years old, Mr. Rule told the judge.
Best book of Greek Myths

Derived From Web

, Feb 24, 2021

I've read so many reviews for so many Greek Mythology books, and finally settled on this one for my daughter. The pictures are great, the stories are easy to follow, Morgenthau said.
You won't be disappointed!

Derived From Web

, Feb 12, 2021

I have been searching for a book of Greek myths suitable for my 8-year-old that simplifies the retelling but holds true to the basic stories and won't give her nightmares. Each tale in this book is the perfect length for a bedtime story, is wonderfully illustrated, and blends right into the next by cleverly ending one tale with a character or place from the next. Thanks for the recommendation!
Great book to introduce children to Greek mythology

Derived From Web

, May 30, 2020

This book was recommended to me by a teacher as a great introduction to Greek mythology. I'm delighted the book was chosen, said Pauley, "because of the quality of writing and the beautiful illustration." Pauley, also known as Pauley M., was a star in the 1980s and 1990s. If an editor of the book happens to be reading it, I have two suggestions: 1. I went through the book and annotated it with the many etymology and culture references before I gave it to my child to read. I don't mind doing it, but wouldn't it be great if the book came with such annotations? Quattrone said: "There's just too many kids hanging around drinking beer and smoking dope." It would be great to have a guide to pronunciation of names, in the text, in footnotes or in the appendix.