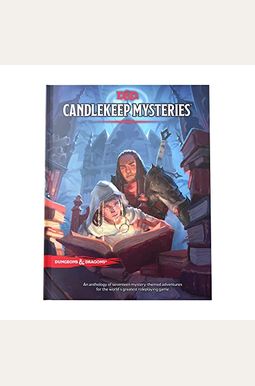 
 
Candlekeep Mysteries (D&d Adventure Book - Dungeons & Dragons)
Book Overview
An anthology of seventeen mystery-themed adventures for the world's greatest roleplaying game.
Candlekeep attracts scholars like a flame attracts moths. Historians, sages, and others who crave knowledge flock to this library fortress to peruse its vast collection of books, scribbled into which are the answers to the mysteries that bedevil them. Many of these books contain their own mysteries ̶--each one a doorway to adventure. Dare you cross that threshold? - 17 mystery-themed D&D adventures, each tied to a book discovered in the famed library fortress of Candlekeep
- Easy to run as stand-alone mini adventures or to drop into your home campaign
- Adventures span play from levels 1 to 16
- Includes a full poster map of Candlekeep, plus detailed descriptions of the various locations, characters, and creatures that reside within it
- Introduces a variety of Dungeons & Dragons monsters, items, and non-player characters (NPCs)
Candlekeep Mysteries
is a collection of seventeen short, stand-alone D&D adventures designed for characters of levels 1-16. Each adventure begins with the discovery of a book, and each book is the key to a door behind which danger and glory await. These adventures can be run as one-shot games, plugged into an existing Forgotten Realms campaign, or adapted for other campaign settings. This book also includes a poster map of the library fortress and detailed descriptions of Candlekeep and its inhabitants.
Frequently Asked Questions About Candlekeep Mysteries (D&d Adventure Book - Dungeons & Dragons)
Book Reviews
(12)
Did you read Candlekeep Mysteries (D&d Adventure Book - Dungeons & Dragons)? Please provide your feedback and rating to help other readers.
The Folks Crying "Woke" Are The Ones That Are Triggered

Derived From Web

, Aug 27, 2021

It's a fun campaign. There is literally a 6 sentence paragraph SUGGESTING that you know of any topics that may be uncomfortable for you players, and a footnote later that says if the gender identity of an NPC is not specified, it is up to the DM. Looks like us people on the right have people crying for brownie points too.
Thanks reviewers for letting me know this was woke propaganda

Derived From Web

, Jun 2, 2021

I looked at this in a local BAM and got the feeling that this was not going to be for me. Thanks for the other reviewers proving that what I saw was not just me. I won 't pay money for a book to tell me that I am evil and ignorant for my beliefs. Hey WOTC, get off the pulpit, you just lost me as a customer, when you could have stayed neutral. I bought tons of your products in the past... but won't again, just like I never purchase a Coca-Cola product.
Shocked by the racist names and stereotypes.

Derived From Web

, Apr 18, 2021

I was shocked by the racist names and stereotypicals in the book of Inner Alchemy. Jade Tigress : Are we serious? This is Tripe! You need to get real Asians to work on your products, this is real! It is very racist and a very harmful stereotype. At the very least, you need to use Sensitivity readers at the very least. We can do better! Asians dont always have to be Kungfu - fighting and mystical and wise, all those are stereotypes used in abundance in them. What were you thinking about? A magic book of Kungfu's kungfu.
Good supplement with some interesting ideas.

Derived From Web

, Apr 9, 2021

I've enjoyed this resource so far ''. While I'm not sure how often Candlekeep would be used as a setting, most of the short adventures themselves and their hooks are easy to adapt and insert in other places. Basing an adventure around a mystical, mysterious book is a beautiful, unique touch and is a great springboard for additional narratives. I am sure I won 't end up using every encounter included in the book, but I will certainly use enough to make this a valuable purchase.
Misleading to New Players, Offensive to Veterans

Derived From Web

, Apr 4, 2021

In these pages, absolute nuttery is displayed in these pages. Bad guys who go out of their way to consider the feelings of their victims? Discouraging improving one's own body? Removal of all character properties so that they are blank faces? WotC is self-destructing to appease a group of people who don 't even play. Those pandemic posers stole PDFs so that they could sell artwork on Tumblr, who was marketed for?
Just a mediocre effort

Derived From Web

, Apr 4, 2021

This is essentially a complete waste of money. The setting reads like a 13 year old DM's first invention, all the NPCs are so overpowered that they should literally run from whatever continent they come from. There is no logical reason for the PCs to ever be involved in any mystery associated to this location, since virtually any NPC could solve virtually any one of the adventures before breakfast and still have time to make toast and coffee. The biggest problem is that this is being sold as a book of mystery-based adventures. It is absolutely not. Not one of these adventures is a mystery, they are all very standard, very common adventures, many of which are either incoherent or ridiculous and many of them will absolutely not fit into your campaign unless your campaign is very high magic and has a ton of higher tech items such as dynamite. This is a waste of money and should not be purchased by anyone.
Woke and Awesome

Derived From Web

, Apr 3, 2021

Bought this book specifically because so many relevant reviews mentioned it as waking and far-left. So many of these reviews loved and purchased the book. Doesn 't necessarily live up to the hype, but I love their attempt at far-left socialist wakingness. If you love being an evil communist lefty, definitely recommend.
Not bad but misleading

Derived From Web

, Mar 25, 2021

I have a lot of 5e products, and don 't get it wrong, I know not all Ghost of Saltmarsh adventures are ghost-related, but this article specifically stated that it was an anthology of seventeen mystery-related adventures. None of these are enigmas. They're only adventures. And I did primarily get it to run mystery games, so that I am now stuck improvising them. While it was written, the team even published a list of authors and their favorite detectives, so it seems fair to assume that these would be actual mysteries.
DnD Lite.

Derived From Web

, Mar 22, 2021

I've read and unimpressed through these adventures. It seems to me like DnD Lite... for which there is a market. It seems that the target audience might be teen adults or young girls. One of the adventures has the players doing exercises with health spa owners. Not really my cup of tea. The publication also seems overly concerned with not triggering people and appealing to Woke culture ''.
Lots to use here as a DM

Derived From Web

, Mar 22, 2021

This is a great resource for a DM, whether it is a one-shot or to add to an ongoing campaign. Each adventure is built around a book, with easily adapted hooks to catch the attention of the players, with an associated story, location, encounters, etc. Each adventure is also targeted at a particular level of character, but DMs can, without much effort, adjust this up or down. I expect that I 'll be able to use every story in this book, something that hasn 't happened when I first used adventure books. The art is beautiful and the many different authors give each story a unique and interesting tone. Highly recommended. Highly recommended.