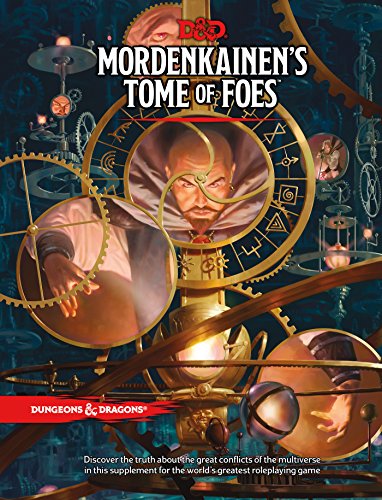 
 
D&d Mordenkainen's Tome of Foes
Book Overview
Discover the truth about the great conflicts of the D&D multiverse in this supplement for the world's greatest roleplaying game.
This tome is built on the writings of the renowned wizard from the world of Greyhawk, gathered over a lifetime of research and scholarship. In his travels to other realms and other planes of existence, he has made many friends, and has risked his life an equal number of times, to amass the knowledge contained herein. In addition to Mordenkainen's musings on the endless wars of the multiverse, the book contains game statistics for dozens of monsters: new demons and devils, several varieties of elves and duergar, and a vast array of other creatures from throughout the planes of existence.
Frequently bought together
Frequently Asked Questions About D&d Mordenkainen's Tome of Foes
Books like D&d Mordenkainen's Tome of Foes
What should you read after D&d Mordenkainen's Tome of Foes Book? Here is a list of books to read if you read and loved D&d Mordenkainen's Tome of Foes
Book Reviews
(11)
Did you read D&d Mordenkainen's Tome of Foes? Please provide your feedback and rating to help other readers.
A Dungeon Master Must-Have

Derived From Web

, Jul 19, 2021

This book was good. The book gives information about the creatures that wouldn't be found online.
Good if you need to know more about demons, devils, and elves.

Derived From Web

, Nov 3, 2020

I don't think they describe the Raven Queen in enough detail, other than that good book with cool monsters to implement into encounters I like the Wretched monsters the most. They look cute.
Very useful backgrounds and monsters

Derived From Web

, Jul 9, 2020

I liked the background information provided on the races and the additional statistics are great.
I love it!!

Derived From Web

, Feb 20, 2020

There are many of them. There are options for the characters and monsters. There are Subraces and Gith as playable races. There is a lot of useful information.
Another amazing book for 5e

Derived From Web

, Nov 8, 2018

I was not planning on buying this, but I am glad I did. It gives in-depth information about all the common player races, as well as giving them with race-specific bonds, ideals, personality traits, and flaws. There are three new elf subraces, two gith races, and duergar as options to play. The boss monsters are the best part of the book. CR ratings range from 21 to 26 for the demon lords and archdevils. There are tons of variations for tieflings and cambions, and tons of material to make a demon or devil cult. The monsters in the book are some of the worst in the world. Great end-campaign bosses could be made out of the ultimate elemental enemies. A solid addition to my library. I wish they had included them in the foes.
WotC is just knocking it out of the park recently

Derived From Web

, Jul 9, 2018

This is the best 5e supplement out there. The care and attention to detail is exceptional. It'll be a while before I can use most of the stuff within, but it's so well presented that it's inspiring for even stuff that isn't high-level adventuring. The lore about the playable races is very good. The first half of the book will benefit both players and GMs, and the second half will benefit GMs who need high level ideas or new ways to challenge players. We can expect a rerelease of Planescape as well so we can look forward to more material in the future.
Getting to know the lore of D&D

Derived From Web

, Jul 4, 2018

A fantastic product that focuses on the lore of the DandD world and has many options for players and managers. It is highly recommended.
Good for advanced DMs, others can pass - Physical book quality continues to disappoint

Derived From Web

, Jun 21, 2018

The book is mixed. On the other hand, it does a good job of covering a few areas. Many people might think that the title covers a broader range of topics than it does. The book is not as good as it could be, but I would recommend it for the advanced DM. My copy was warped as if it had been wet in the factory. The quality of the books has been a problem for the company. The staff has been pushing the expansion of certain areas of the communityplayer base, but no one seems to be hitting the basic business side very hard. Producing a quality book is a basic thing. They need a Steve Jobs type personality in place to insist on quality presentation.
Everything I've ever wanted in DnD book

Derived From Web

, Jun 5, 2018

After reading the first page, I was hooked. I've been playing this since I was 13 and it's everything I've wanted in a DnD book. I would like to know more about angels and Valhalla, but I have to learn about the blood wars. What happened to elves? It's incredible. All of the other franchises pale in comparison to DnD.
Good book, bad shipping packaging.

Derived From Web

, Jun 1, 2018

There is a good book and fun new enemies. Better packaging is needed. The first book had a damaged cover and torn pages. The replacement has mashed corners. If you want your book to look new, look for it in a hobby store.