Buy 3 Get 1 Free
Our Best Sale Yet! Add 4 Books Priced Under $5 To Your Cart Learn more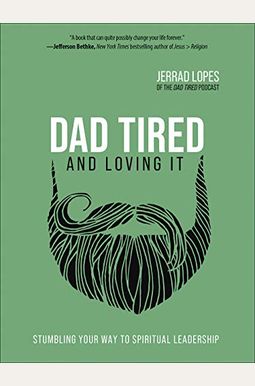 
 
Dad Tired And Loving It: Stumbling Your Way To Spiritual Leadership
Frequently bought together
Frequently Asked Questions About Dad Tired And Loving It: Stumbling Your Way To Spiritual Leadership
Books like Dad Tired And Loving It: Stumbling Your Way To Spiritual Leadership
Book Reviews
(18)
Did you read Dad Tired And Loving It: Stumbling Your Way To Spiritual Leadership? Please provide your feedback and rating to help other readers.
The encouraging kick in the pants evey dad needs

Derived From Web

, Nov 21, 2020

Disclaimer : If you are looking for a deep, high, and lofty theological treatise on fatherhood, look elsewhere. This book is filled with biblical truth that points directly to Jesus, but is written like a conversation with a brother not like a lecture by a theology professor. I bought this book '' because the cover looked cool. Little did I know how much it would challenge me, inspire me, and push me towards loving Jesus and helping my family do the same. Please read this book, but don 't do it for others to see what a hip book collector you are. I promise that you won 't be disappointed. This dude is funny by the way. Read all of the footnotes, they're hilarious.
Must read for us Dads

Derived From Web

, Nov 7, 2020

I haven 't completed it yet, honestly. I am only on page 70 and so far it has been a great read. Very provoking, practical and thought provoking. Just a few quotes from the author Jetta's Lopes that I have highlighted : When it comes to training our children, more is caught and more is loved, to let them know Mommy and Daddy fully and adore themselves. This is what it means to show the gospel to your children. I am excited to continue the chapters ahead. I recommend highly to all fathers this! I am grateful that my wife has given me this book for my birthday.
Easy read with deep truths about leading your family to Christ.

Derived From Web

, Apr 19, 2020

Overall, this was a pretty quick read and it had some seriously funny stories. I think it is this down to Earth style that made the takeaways from this book much more impactful. Here are my main takeaways : 1) Chasing through the things in this world is like stepping over a feast to eat scraps under the table. 2) It is easy to point parts of life, but the Bible is clear that life is an opportunity to integrate with our Creator. Whenever possible, Teach this to your family. 3) Build visual memorials to help remember the faithfulness of the Lord. I tend to forget this very quickly ''. 4) If I achieve nothing else, but to be an intentional disciple, father, and husband that leads my family to the Lord, that is enough. Great read!
An inspiring read and great resource!

Derived From Web

, Sep 17, 2019

I have been following the podcast of Dad Tired for a while now, so I was excited for the book to come out. It was exactly what I expected and that is a very good thing. Jarrad is a great storyteller and proclaims the Gospel with incredible clarity right into the context of many young-ish fathers. There were many things I took away from this book, but mostly it is about equipping men with a deeper vision of what it means to raise children who follow Jesus, while also giving good practical direction. The great joy of a book like this is that I bought it because I want to be a better father for my children and point them towards Jesus, but in it I find myself wanting more of Jesus than I ever could, and I learn to trust that the One who loves my boys far more than I ever can, will work through me to shape their lives. Thanks for writing this and for a great father Tired ministry!
Captivating, Relatable, and Life Changing!

Derived From Web

, Sep 12, 2019

By the first sentence, i was hooked! Jerrad takes you on a journey that leaves you either laughing or crying, but either way it leaves you thinking. This book will challenge you and has the potential to change you. Jerrad created a masterpiece that no one can read and still remains the same with a solid biblical foundation and an incredible sense of humor. The message is fatherhood, with Christ at its core. It does not get any better than this!
Intentional, Applicable, and Understandable.

Derived From Web

, Sep 6, 2019

This book is written by a father who has been where you are. It's like having someone know your thoughts, anticipated reactions and dreams. This book is for dads who are tired. Tired of doing harder, tired of pulling out of your own boottraps, tired of daily routines that aren 't working. It is for the wore out dads who need peace and rest. Paul has given us a leader that points us to Jesus, equips is with tangible ideas and also shows how to implement them through story. The ideas in this book express a keen understanding of discipleship and how this corresponds in all day life to our disciples. This book will help many men stumble on their way to led their house to Jesus because it is Baptist inspired, Bible based and honest. Get it, you won t regret it.
I can't put into words how much this book will change your life

Derived From Web

, Sep 4, 2019

I know the title says : I can 't put how much this book will change your life, but I will try. Jerrad shares so many stories and experiences with which you can connect and find a sense that you are not alone. I am not a reader and I loved this book absolutely! As far as the rest of what Jerrad has to offer, I want to say that the entire Dad Tired ministry is something that I hold close to my heart. I shared struggles in our group and received inspiration, leadership, and wisdom. I also gave encouragement in the group and reached out when these guys were struggling. I would like to thank the Lopes family for allowing Jerrad to pour his time and energy into this ministry that reaches thousands of men worldwide! The Lord is doing with you amazing things!
Solid, simple, and timeless.

Derived From Web

, Sep 4, 2019

Such a great book! It is not some deep version of a parenting manual, but it is not too dumb that it would take months to read. This is a solid empathy piece around what it is like to be a father with the desire to love and lead his family well. Jerrad does a great job of being transparent and also encourages the reader on the way. After reading this, I feel truly equipped and not alone. I am excited to read it again with a group of fathers. Jesus, thank you for pointing us back to Jesus!
A good friend, in book form

Derived From Web

, Sep 4, 2019

I would say it is an incredible guide, no. This book is a good friend and mentor, guiding you on your path to becoming a better father by becoming a better Christian. Plus, you learn some new terminology to share in your life with the other dads.
Every Dad Has a Lot in Common

Derived From Web

, Sep 4, 2019

With his Biblical accounts and humorous and powerful personal expositions on fatherhood, Lopes is spot on. The best part is how he points everything back to Christ and shows us throughout the book that every father will fail, and Christ knows this and is always there for us and our families. He will always lift us and bring us to himself if we are willing to lay our lives for our wives and children. I can 't wait to read it again.