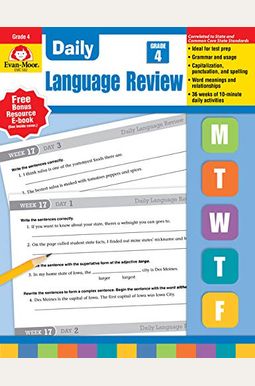 
 
Daily Language Review Grade 4
Book Overview
View Common Core State Standards Correlations and TEKS Correlations (click to download).


With Daily Language Review, students practice language skills covering punctuation, verb tense, conjunctions, word meaning, and more in ten- to fifteen-minute daily lessons.

How it works
Daily Language Review follows the research-based model of frequent, focused practice to help students learn and retain skills.

On days 1 through 4, half-page activities provide four language exercises:

two sentence-editing exercises
two items that practice a variety of language and vocabulary skills
On day 5, a full-page activity provides a more extensive practice of a vocabulary strategy or skill, and gives students the opportunity to practice using the words in their own sentences.
36 weeks of daily practice activities cover:
Grammar and usage
Capitalization, punctuation, and spelling
Vocabulary word meaning and relationships
Using acquired vocabulary
Features and benefits:
Concise daily lessons are easy to scaffold and ideal for daily warm-up, quick informal assessments, and test prep
Frequently Asked Questions About Daily Language Review Grade 4
Book Reviews
(9)
Did you read Daily Language Review Grade 4? Please provide your feedback and rating to help other readers.
Helpful Methods

Derived From Web

, May 26, 2022

The book does not give five pages of adverb exercises, then five pages of adjective exercises, etc. Like many text and workbooks. The student studies corrects at a time all the sentences. It means that the student has a reason to remember the rules because he uses them in context. We do not use this brand as a review only. We use them in everyday schooling, with a little extra explanation. All our children love variety and the fact that the concepts are joined in everyday sentences and mixed. If you are not sure as a parent caregiver of grammatical principles yourself, this will not be the book to use by itself. However, with a few printouts clarifications off the Internet it can be used by anyone.
Great warm ups and free e-book!

Derived From Web

, May 26, 2022

This book has 36 weeks of free-airing warm ups daily. Every day has a different set-up so that the students will not get bored with them. Fortunately, there is always at least one correct sentence. I plan to use this in my classroom as daily warm-ups, and the students will do one day in a warm notebook. The Free e-book has the skills for each of the warm covers for this book, as well as activities that can be used in small groups or stations. I would definitely recommend this for any 4th teacher or parent of ELA!
Great book

Derived From Web

, May 26, 2022

Used daily as a warm up for writing and editing, this book helped keep language rules and concepts in the front of my students'long term memory, while eventually going into short term memory. They worked in cooperative groups to complete the 5-10 minute work time that I allowed. This was followed by a whole class activity to go over the responses for correction. Book is excellent!
Great review activity!

Derived From Web

, May 26, 2022

I teach high school students using Springboard materials and this was a nice supplement for activities or homework to have them practice their revision and become part of speech activities. It is a bit of a challenge because they don't use the skills daily, but after a few weeks they are improving in their writing and in their writing!
Brilliant book!

Derived From Web

, Jan 2, 2021

I have always loved this book! It is really helping my son and because this is '' free work after school ends, and the assignments are short and sweet, so that I don 't have to wrestle him to get one or two done a day!
Good daily reviews

Derived From Web

, Oct 11, 2020

I use it for reinforcing what we have already gone over to help her with her writing.
Use daily or in small review groups-it works either way

Derived From Web

, Jan 5, 2020

Perfect for a snort daily warm up before our language arts lessons. I also use it in small groups for skill review when needed.
Perfect for morning work!

Derived From Web

, Oct 13, 2019

My students had trouble with sentence structure and grammar. I use this as a morning work.
This has been one of the most effective resources in ...

Derived From Web

, Sep 23, 2018

This has been one of the most effective resources in helping my students comprehend the importance of language use as a writer and a reader!