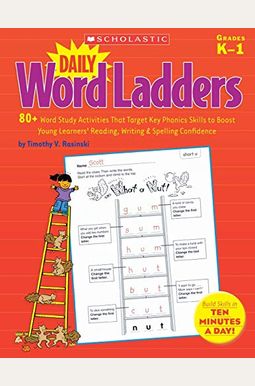 
 
Daily Word Ladders: Grades K-1: 80+ Word Study Activities That Target Key Phonics Skills to Boost Young Learners' Reading, Writing & Spelling Confiden
Book Overview
Students climb to new heights in reading and writing with these fun, engaging, reproducible word-building games Students read clues on each rung, then change and rearrange letters to create words until they reach the top. All the while, they're analyzing sound-symbol relationships, developing phonemic awareness, broadening their vocabulary, and building spelling skills to become better readers. For use with Grades K-1.
Frequently Asked Questions About Daily Word Ladders: Grades K-1: 80+ Word Study Activities That Target Key Phonics Skills to Boost Young Learners' Reading, Writing & Spelling Confiden
Book Reviews
(10)
Did you read Daily Word Ladders: Grades K-1: 80+ Word Study Activities That Target Key Phonics Skills to Boost Young Learners' Reading, Writing & Spelling Confiden? Please provide your feedback and rating to help other readers.
Great and fun concept, but a little more challenging than expected

Derived From Web

, May 23, 2021

Very cute concept. Some words or descriptions are a bit difficult, but it's helping me work with my child on deductive reasoning and logic. She has an advanced vocabulary and still struggles with some of these. It's a fun learning tool, just maybe not as independent as I'd expected. We are still only a dozen or so pages in though, so perhaps it will get easier for him as he learns how to think them through, even with the words and ladders becoming more complex. We shall see what happens.
Excellent for reading, writing, comprehension skills

Derived From Web

, May 7, 2020

We used this book before his son could read. He knew his letters, I read the prompts, and he was able to sound out with help the spellings. He is a super reader, his spelling is great and his writing has improved a lot. Highly recommended.
Not great

Derived From Web

, Apr 13, 2020

Many of the words that the child is expected to come up with are not part of common vocabulary and the language is too complex for a kindergartener to read alone.
Teacher approved! Great for teaching vocabulary and curious kids

Derived From Web

, Mar 8, 2020

As a veteran teacher I am hard to please when it comes to workbooks, but having used them in the classroom for years, I now use them with homeschool students I homeschool. What I like about these is that they challenge students to think by having to work with words, learn and review old and new spelling patterns and rules, and it teaches them new vocabulary. The students climbing the ladder and the sense of accomplishment they feel when they figure out words by themselves or learn the meanings of new words. I use them for spelling, problem solving, group activity time, as well as critical thinking. I extend the lessons by asking students to use new words they use in sentences and to give extra rewards when they use them in conversation or find them in media. In a multi-age classroom these books benefit every child while challenging even the highest thinker. I highly recommend these books to anyone.
Fun with words

Derived From Web

, Jul 24, 2019

Even though I was not a huge fan of the Beatles, this was so interesting, even for me. We did this in the summer between kinder and first grade. Even though my daughter is a good reader, it still challenged her. She said she felt good to complete the challenges.
Don't buy used 🤷🏽‍♀️

Derived From Web

, Jun 18, 2019

This book is amazing as far as content goes, but perfect for small group centers. I bought the book used, so expected some wear and tear and maybe even writing on the pages, so I'm not complaining. I did not expect that over half the book's pages would be cut out. Literally, page 2-45 looked like it had been cut out with a razor blade. Idk why.
fun way to work out the spelling

Derived From Web

, May 26, 2019

In order to go up the ladder, the learner must think about all combinations of the pronunciation. I think it makes a better practice than other types of spelling book which focused on patterns and memorizing.
So much fun!

Derived From Web

, Feb 24, 2019

Our older son has been doing Word Ladders for a few years so I ordered this for my 6 year old, she loves it and can easily do this level by herself. I am sure she will finish it fairly quickly and move on to the next level, but has already learned some knew vocabulary, which is one of the things I love about Word Ladders!
Really impressed!

Derived From Web

, Dec 14, 2018

This is hands down the best spelling workbook I've found in over 10 years of home schooling. My kids get excited to do these workbooks and they are taught in a very logical yet fun manner, Mrs. Pearson said.
Great for critical thinking!

Derived From Web

, Dec 27, 2017

I use these word ladders with my 1st graders and they LOVE them! Great for spelling and following directions practice, too. They have to read the directions for each letter, otherwise they miss the clue. At this level, the book has students practice short vowels, then digraphs, later on. The book is more challenging, but I use it at the beginning of the year for my younger, less mature students. You won't regret the purchase.