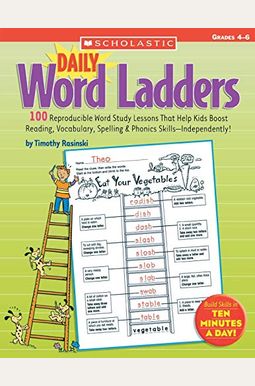 
 
Daily Word Ladders: Grades 4-6: 100 Reproducible Word Study Lessons That Help Kids Boost Reading, Vocabulary, Spelling & Phonics Skills--Independently
Book Overview
Kids climb to new heights in reading and writing with these engaging, reproducible word building games Kids read clues on each rung, then change and rearrange letters to create words until they reach the top. All the while, they're boosting decoding and spelling skills, broadening vocabulary, and becoming better, more fluent readers. For use with Grades 4-6.
Frequently Asked Questions About Daily Word Ladders: Grades 4-6: 100 Reproducible Word Study Lessons That Help Kids Boost Reading, Vocabulary, Spelling & Phonics Skills--Independently
Book Reviews
(17)
Did you read Daily Word Ladders: Grades 4-6: 100 Reproducible Word Study Lessons That Help Kids Boost Reading, Vocabulary, Spelling & Phonics Skills--Independently? Please provide your feedback and rating to help other readers.
Great tool to get the kids to think critcally on the context clues.

Derived From Web

, Apr 20, 2022

Very few of the hints did not make sense, but it presents as a learning opportunity to think in a different direction than originally thought. I used this to keep my 3rd going to 4th grader sharp during the summer, and am really glad that I did. We tested a new page 4 times a week and then I did a random test on the words presented. This summer we'll probably finish the workbook. Once my son got the hang of thinking critically on context clues, it became second nature to him. When we read books together and he doesn't really recognize the word, he'll check the text to give me a synonym so that he can move on with the story without losing the meaning. His reading comprehension scores are leveling him at the 7th grade level, while he is in 4th grade. Good investment.
Great for Spelling and Vocabulary Words

Derived From Web

, Apr 20, 2022

This is a wonderful book. My son is a bad speller. We dedicate our summer 2014 to improving his spelling by improving his spelling. This book is tep 1 and boy is it fun. He has to do 2 pages every day. An example would be the word Lion. The second clue, building on the word Lion, is a male horse. The clue says add 4 letters to the word Lion to know what a male horse is STALlion. Get it. Get it. So he learned to spell stallion and meaning. I think that he will be able to solve crossword puzzles by the time he finishes this book. Very educational and a lot of fun. The answers are in the back. Rip those pages out before leaving it with the child ) before leaving it with the child.
Definitely helped to improve my son's spelling

Derived From Web

, Apr 20, 2022

This is my second time purchasing from this series. We have used the book for grades 2-3 this year for our homeschool school grade 3. We have been using the book for grades 3-4 this year for our secondary school. My son has been struggling with spelling since kindergarten and these books have definitely helped him to see that spelling is not that hard if you can see a pattern. You begin with a word such as mop and follow the clues up the ladder to make new words. For example, you start with mop and then you might go to shop and then to hope and then to mope and so on. I use this coupled with Spectrum Phonics and a free spelling list from the Internet for his spelling curriculum. I am very pleased with his progress and we will use this particular book in our fourth grade curriculum next year. He completes the sheets by himself in about 2 minutes unless he needs help to understand a clue. I highly recommend this series for homeschools and parents looking for additional spelling practice at home. Happy learning! Happy learning! '' ! !
Well worth the price!!

Derived From Web

, Apr 20, 2022

Love these!!!! Love These!!!! '' I use them with my 5th graders and they really look forward to Word Ladder Day. They are an interesting mix of very difficult and then very interesting words. My kids have developed their own strategies for solving using dictionaries, clues provided, and working from the bottom up or top down method. I wish I had found these earlier in the year. I wish I had found them earlier. They will definitely be a staple of the reading program for the next year next year! !
Very good for building Spelling and Vocabulary skills

Derived From Web

, Apr 20, 2022

I'm a home schooling mommy. I really love this book ''. Once I had to give orders to my son, i.e. With the first page, it is with the second. After that, the directions are the same throughout the book. The contents change only the contents. This is a book that I can assign to him and he knows what to do. Most of the words are easy for him to figure out. This is good because if they all posed a challenge, he would dread the exercises. On each page there are usually a few difficult words. Those with whom I have to help him are : They serve as his new vocabulary words. They serve as his new vocabulary words. Sometimes I have him write sentences with these words and sometimes I have him look up words in the dictionary that he doesn 't understand whether they are from the clues or the word ladder itself. Get yourself a favor and do this book yourself. It'll add a nice touch to any curriculum.
Not for the reading/spelling challenged

Derived From Web

, Apr 20, 2022

I bought this book to improve the vocabulary skills of a couple of fourth graders I tutor. These things aren 't easy, and with children whose language skills aren 't great, the word ladders are really tough. I did the first one with my fourth graders yesterday, and they were totally lost. I read the suggestions and tried to hint without giving them the answers, but it was a pretty frustrating experience for all of us. I am not sure that I continue with this book. For children with limited vocabulary already, it is just too hard. I am tutoring some ESL adults, and this book may be of more use with them.
A great tool, I'm using it to teach my 9-year-old-- ...

Derived From Web

, Apr 20, 2022

A great tool, I use it to teach my 9-year-old to live abroad and this has helped him improve his English vocabulary. He enjoys the game-like aspect of the drills. The only issue is that some of the vocab words are very specific to American English, but overall we're really pleased with the book.
Good vocabulary builder

Derived From Web

, Apr 20, 2022

My daughter likes climbing ladders. Helps her with her vocabulary and helps her see how changing a letter or two can change it into a different word. We also bought the previous book of the grade level and liked it. The ladders give clues to the next word and give hints of what letter to change.
This book is a great way for spelling practice

Derived From Web

, Apr 20, 2022

This book is a great way to practice spelling - practice. It builds words and shows how adding a letter or a letter makes a word different.
Great for spelling.

Derived From Web

, Apr 20, 2022

This book is great and teaches our daughter all the new words she is helping with spelling. She loves doing and doing it all the time. On the down side, you will be asked three thousand questions.