Buy 3 Get 1 Free
Our Best Sale Yet! Add 4 Books Priced Under $5 To Your Cart Learn more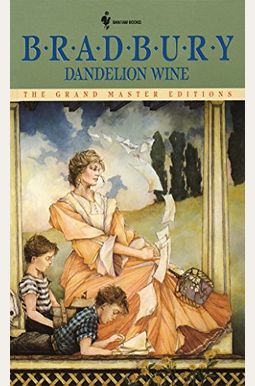 
 
Book Overview
This Description may be from another edition of this product.
Ray Bradbury's moving recollection of a vanished golden era remains one of his most enchanting novels. Dandelion Wine stands out in the Bradbury literary canon as the author's most deeply personal work, a semiautobiographical recollection of a magical small-town summer in 1928. Twelve-year-old Douglas Spaulding knows Green Town, Illinois, is as vast and deep as the whole wide world that lies beyond the city limits. It is a pair of brand-new tennis shoes, the first harvest of dandelions for Grandfather's renowned intoxicant, the distant clang of the trolley's bell on a hazy afternoon. It is yesteryear and tomorrow blended into an unforgettable always. But as young Douglas is about to discover, summer can be more than the repetition of established rituals whose mystical power holds time at bay. It can be a best friend moving away, a human time machine that can transport you back to the Civil War, or a sideshow automaton able to glimpse the bittersweet future. Come and savor Ray Bradbury's priceless distillation of all that is eternal about boyhood and summer.
Frequently bought together
Frequently Asked Questions About Dandelion Wine
Book Reviews
(12)
Did you read Dandelion Wine? Please provide your feedback and rating to help other readers.
You've been here....read your way back!

Derived From Web

, May 20, 2022

One of my favorite reads is absolutely one of my favorite. Now reading it with my adult grandson... on very long distance calls of over 2 hours... we read paragraphs back and forth... relate our own Dandelion WIne summers. Now we write our experiences and place the pages between the pages that take us back... he has to continually stop reading because his own memory kicks in... as mine does... I return to the Blueberry Summers of my youth... and find the time not so long ago.
Outstanding nostalgia.

Derived From Web

, May 20, 2022

This is a beautiful written novel by young people in the 1920s. In it, there is little of the supernatural or futuristic. It is probably somewhat dated in that people of my age 76, who grew up in small towns, can relate to every page. I think that younger people would enjoy the book, but the episodes fall outside their experience and so a household with several generations, plus borders, will find it difficult to relate in a personal way.
Bradbury at his best

Derived From Web

, May 20, 2022

It was perhaps the small town and description of people chatting away on porches, but it reminded me of my aunts and uncles in my Pop hometown of Minooka PA. I love, love, and love, the almost poetic style and his myriad analogies that make every scene so familiar and comfortable. Like to write a little Dandelion wine while I drink my next book, Back to the Glen, and hopefully have a touch of Bradbury rub it off with it. Carla Coon, thanks Ray.
wonderful copy

Derived From Web

, May 20, 2022

The size makes it so easy to hold-the paper quality is the best, the print type is great! I bought all the Bradbury titles available. Ray Bradbury is America's premier 20th century sci-fi writer, however he writes best of the inner workings of humankind. Bradbury gives the reader a glimpse of the later works of Dandelion Wine. This book is the quintessential summer read-he captures the freedom that being young in summertime brings. This book of the age presents the gamut of emotions that human posses and the age at which this is discovered.
Good if you like Ray Bradbury.

Derived From Web

, Feb 14, 2022

I read this as a book from my book club that we were reading. It was a little out there, but ok. If you like RB and this genre, you will enjoy it!
Pleasant story

Derived From Web

, Feb 25, 2021

I just didn't care for it, it was not the writing or subject matter, I didn't care for a story about a small town and the characters growing up there. There is humor, adventure and even murder. It reminded me a little of Stand By Me and maybe a little bit of Douglas replacing Tom with Tom replacing Tom. I'll do the same maybe.
Perfect read in tough times

Derived From Web

, Mar 14, 2020

There might not be a better book to read when the world runs scared. Bradbury's fictionalized memoir takes one back to the summer of 1928. He is not saying that it was better then. In fact, his main character, Douglas Spaulding, begins a rough summer as be to realize that he is not immortal. But the writing is so good that the air of empathy and kindness, which pervades the book, transcends any fears. There are a few unexplained moments, as in any Bradbury book, but seem perfectly placed as the 13-year-old observes the world around him. Highly recommended for book groups, and anyone who thinks that Bradbury writes only sci-fi or dystopian books.
Like drinking dandelion wine- it grows on you over time

Derived From Web

, Jun 8, 2019

Initially, I was not terribly engaged with this book. Poetic is a dialect of Poetic. But I had been warned and had been told to stick with it, and the advice was good. There is a nostalgic build as the reader comes to know the town and swim in its slow poetic melancholy. The book was, ultimately, a beautiful read. Never gripping, but reflective and perfect for a contemplative read. Our eccentricities serve as our strengths. It is a picture of a white town in 1928, in summer if you were small and middle class. Life in its truest sense speaks of life.
Dandelion Wine is Timeless

Derived From Web

, Oct 28, 2018

But I feel drawn in as if I am the hero, his feelings mirror mine own. Ray Bradbury was a genius, evoking the feelings that I have buried for decades. This story is simple and timeless. If you haven't read it for 30 years, it is time to revisit your summer vacation memories.
A Spa Day For Your Brain

Derived From Web

, Apr 1, 2018

I have never enjoyed a book for the sheer pleasure of reading, as I have this one. I did not want the book to end, but like the midwestern summer of 1928, this book ends with autumn and a yearning to read about another delicious season.