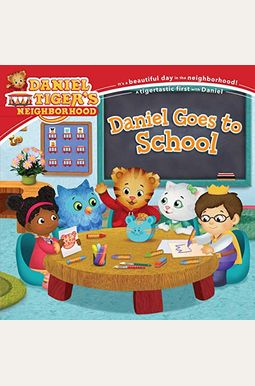 
 
Book Overview
A new generation of children love Daniel Tiger's Neighborhood, inspired by the classic series Mister Rogers' Neighborhood
Daniel Tiger is excited to go to school--but he is worried when his dad can't stay with him--in this back-to-school story for fans of
Daniel Tiger's Neighborhood
. Daniel Tiger is excited to go to school, but he's not happy that his dad can't stay at school with him. Daniel learns that grown-ups come back and has lots of fun with his teacher and classmates in this sweet 8x8 storybook that will ring true for children just starting school. (c) 2014 The Fred Rogers Company.
Frequently Asked Questions About Daniel Goes To School
Books like Daniel Goes To School
Book Reviews
(12)
Did you read Daniel Goes To School? Please provide your feedback and rating to help other readers.
Really helped my son adjust to preschool

Derived From Web

, Apr 20, 2022

My son cried every day ALLLLLL day when he first started preschool. After 3 weeks of absolutely nothing working, I decided to give this book a try.
Great for intro to preschool

Derived From Web

, Apr 20, 2022

Daniel Tiger is so cute, Stewart said. My daughter has a number of his books. Before we adopted our daughter, I researched a lot of first day of school books. I settled on this book and another because the stories were so positive, Frey said. Prior to starting school, my daughter had been at home and wasn't used to being without me or my husband. She also told the interviewer she didn't really like being around a lot of kids. We were really worried about how she'd do at preschool, we were told. I started reading this book to her over the summer. Even when Daniel is a little concerned about his dad dropping him off, he's reminded that grow-ups come back. I practiced this saying with my daughter and her first day of preschool was so easy, I couldn't believe it! I am positive that this book was a huge help, Mr. Dhaliwal said.
Great book...

Derived From Web

, Apr 20, 2022

We love Daniel, and when our granddaughter was about to go to pre-school, this adorable Tiger little book saved the day. Daniel Tiger is such a positive series, he said. A new book about the Beatles, "Reunion" by Simon & Schuster.
Was a hit with my three year old

Derived From Web

, Apr 20, 2022

Bought this for my 3 year old before he started school.
Nice introduction to school

Derived From Web

, Apr 20, 2022

My 18 grand daughter is a huge Tiger fan. She is only allowed 30 minutes of TV a day and has no choice of a husband. The books are great because we can read them and talk about the characters afterward, he said. The book is based on the life of James Rodgers. The program teaches adults how to talk to children in a respectful and understanding way. This book has longer sentences than the Ready to Read books. It would probably be at the level two-to-seven-year-old reader level, but great for talking with younger kids about school and she loves the pictures, too.
Cute story, but more about school drop-off and pick-up

Derived From Web

, Oct 5, 2021

I bought this book for the transition from virtual to face-to-face school. My kids didn't get much out of it because it focuses more on the parent drop-off-pick-up aspect and less on the school aspect, Melissa said. We got what we asked for, Mr. Rule told the judge. It's a cute book, but it's geared toward toddlers and preschoolers.
Great Seller, Cute Story

Derived From Web

, Aug 20, 2021

Very happy with the book, the seller replaced the first one with a new gift-able copy. The book was shipped with a hefty hardcover book that must have moved around a lot during shipment causing rips and tears in the paperback. Within days of my request, the seller had a new copy. But, for now, I would like to see Amazon do a better job of multiple-packaging. One small strip of bubble wrap that is not even wrapped around an item will not work. In her first year of school, she fell in love with the Daniel Tiger Book.
BUY BUY BUY

Derived From Web

, Jun 25, 2021

We were less than a week out from her first day of preschool, and she was saying she didn't want to go. It was a total disaster waiting to happen, Hannigan said in an interview. But she'd never seen a Daniel Tiger Zimba star before. Young readers might find themselves drawn to the story by the end of the book, and the focus is that grown-ups say goodbye but always come back. The focus isn't on how many kids have parents who drop you off, but rather on making her worry about something she wasn't worried about, Blair said. It was love at first sight for Book.
Focuses on Kids Anxiety, not the Fun of School

Derived From Web

, Dec 5, 2020

In "Frog's Leap," Elizabeth talks about the fun aspects of school, like drawing, seeing friends, playing outside, and school parties. Instead of focusing on the sadder aspects of missing their parents, the book focused on the happy times when their parents came back. It's kind of funny reading this with her because she just points at every picture and says, 'Oh my God,' or 'This is really sad,' she added. Mission accomplished.
The pictures are great.

Derived From Web

, Jul 2, 2018

She has never been in daycare and is headed off to pre-K this fall. She is not keen to be left with anyone but very close family, McCartney said. She has been acting excited about going to school, her mom said. It has prepared her for what to expect, Mr Hughes said. Great pictures, said Dr. Chester Floyd, director of the Royal Holloway clinic in London.