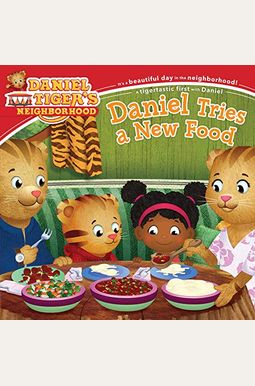 
 
Book Overview
A new generation of children love Daniel Tiger's Neighborhood, inspired by the classic series Mister Rogers' Neighborhood
Daniel Tiger puts his taste buds to the test in this charming new 8x8 storybook based on a popular episode of
Daniel Tiger's Neighborhood
Miss Elaina is coming over for dinner, so Mom Tiger is making two super-special foods But Daniel and Miss Elaina are nervous about trying them. With some help from Mom and Dad, Miss Elaina Daniel learns that they've got to try new foods because they might taste good This delightful story is perfect for helping little ones understand that trying new things--especially new foods--can be fun (c) 2015 The Fred Rogers Company
Frequently Asked Questions About Daniel Tries A New Food
Books like Daniel Tries A New Food
Book Reviews
(11)
Did you read Daniel Tries A New Food? Please provide your feedback and rating to help other readers.
It worked!

Derived From Web

, Apr 20, 2022

I bought this book for my picky eater 2 year old, who has devoured all the Harry Potter books. It opened my eyes to try new foods and I was so happy! Although he has only just begun reading the book, Mr. Powell says he will try new foods. I just strum the little jingle try a new food, you might like it and he says 'at least take a bite,' like Daniel Tiger. I really like that this and other Daniel Tiger books tackle feelings and other tricky issues within fun, simple stories that are easily understood by little ones, he said. If you have a picky eater, this may be your go-to.
good if you watch the show

Derived From Web

, Aug 28, 2021

I don't like some of the catch phrases that they use, Bruno says. It's just odd to call Daniel Toots and I have no idea why it ends with "ugga mugga," but if your kid watches the show they might be familiar. I just skip that part. This book did get my toddler to try new things, most notable was a smoothie as she was not a fan of the blender and didn't want to try it before, but after the book she called it a banana swirl and drank it up. It's just that I use the phrase try a new food, it might taste good if she shows hesitation.
Teaches toddler

Derived From Web

, May 11, 2021

I like how all these Daniel tiger books have a good message and actually teach my toddler something, Mrs. Booher said. It's just that the title is kind of wordy.
Great motivator for young kids that are picky eaters

Derived From Web

, Sep 29, 2020

Two very young autistic grandchildren who struggle with trying new foods. 0 3171171616 Like many other parents, we struggle with trying new foods. They love him so much, they call him Tiger Woods. I often can get them to at least try something by singing the little ditty and talking about the book, Mr. Dhaliwal said. But if you think it might taste good, try a new one.
Good book for picky eaters.

Derived From Web

, Aug 7, 2020

My son has autism and doesn't have a wide range of food he likes and he has been reluctant to try new things. He said the book has helped him a lot. He has his helper make meals just so he touches new things and we talk about what they're called with no pressure to try, she said. It's also helped on my end to not get frustrated or force him to try things. I let him know he might like it or he might not and that's fine. Great book, said Gillian.
It works!

Derived From Web

, Jul 25, 2020

I am so thankful for this book, Diana said. It has helped me open to trying new foods. We made spaghetti with carrots on the side, and he ate it all. It's huge for some kids that might not be a big deal but for us it's huge. It has also helped him to try other foods.
Cute and helpful.

Derived From Web

, Dec 25, 2019

I don't want to give credit to a book for something that I've been working on with my kid for a while, but it was about a week after we got this book that my kid started to willingly try new foods. She's a very picky eater, and we bought this book while we were frantically trying to get her to try new things. It's a good book, I think. It's just that it's cute, as all of these books are.
Overall good

Derived From Web

, Mar 15, 2019

Cute book, but maybe could have used a better example than frozen banana treat because what kid doesn't love that?
A bit wordy

Derived From Web

, Dec 19, 2018

I think this is a good book for Daniel Tiger fans that describe trying new foods, but it has a lot of words. It was a tough read for the average reader, especially for children who lose interest fairly quickly. Pictures are nice and clear, and the music is great. Even if Hamdi agrees, I think the point may get lost in all the words.
Toddler loves this book.

Derived From Web

, Nov 25, 2018

Daniel goes on to say that the book is about trying new food. My almost three-year-old grandson loves this book, but it's pretty tedious to read over and over, as there is a lot of text. Even for a child who doesn't like a variety of food, this book is very useful.